Some of my family called in last Saturday, when I had 'coincidentally' just finished recipe testing these vegan spelt baked donuts with raw chocolate glaze (they all know Saturday's a shoot day). ☺ Now my dad is not usually one for liking 'healthy' desserts, but after trying these vegan donuts straight from the oven, he couldn't stop at one. Good news for me! Did I also mention they're refined sugar free?!
These doughnuts are a little more cake like in texture than usual, which helps them keep longer as they don't go dry and 'bready'. This also means there's no need to eat them all on the one day, but hey, no judgement here. ☺ 
Today I've used raw vegan chocolate for coating the doughnuts, but you could use any dark chocolate you like. For the toppings I've used some of my favourite ingredients, but again feel free to use anything you like. Some freeze dried berries or dried fruit could also be a delicious addition. 
I do realise that I say this so often in my recipes, but these really are SO easy to make, and a great recipe to get the kids involved in too!
Let me know how you go with the recipe! Also remember to tag me if you upload a photo to social media, I'd love to see! @gatherandfeast #gatherandfeast
Enjoy!

Props I used in this post:
Dipping Bowls: Aura Home
Serving Plate: Country Road
Ingredients Bowls: Mud + Marmoset Found
Napkin: MUJI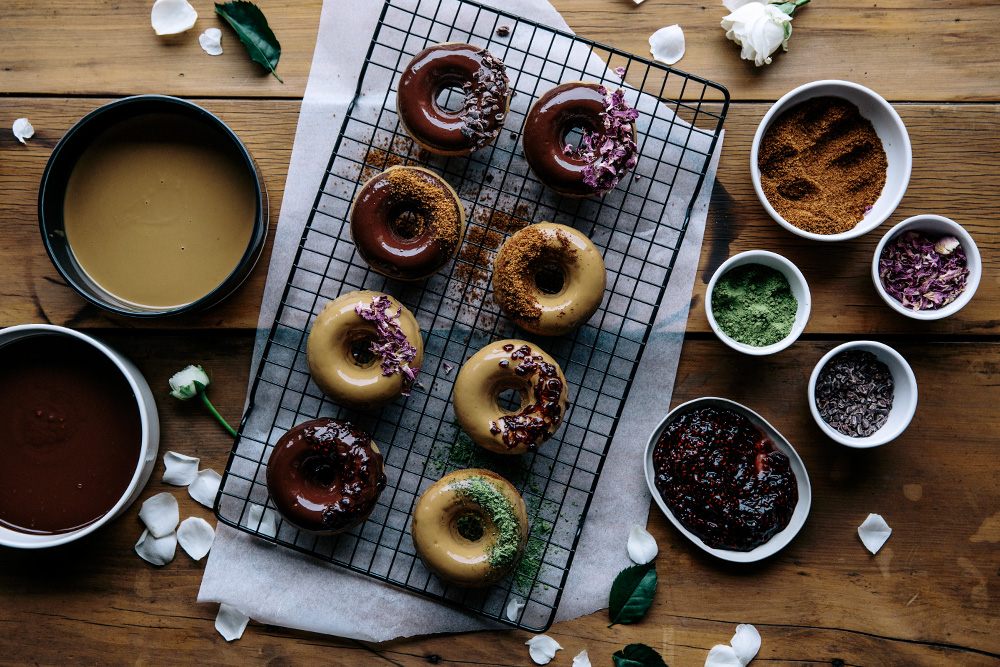 Ingredients

RSF, VGN

25 mins

12
Doughnuts
1 cup almond milk, or alternative (I usually buy a coconut & almond milk blend)
⅔ cup coconut oil, melted
1 cup coconut sugar
1½ cups spelt flour
1½ tbs baking powder
Generous pinch sea salt
1 tbs vanilla powder
2 chia eggs (2 tbs chia, 6 tbs water blended)
1 tsp apple cider vinegar​

Toppings
Melted raw vegan chocolate (or any dark chocolate of your choice)
Matcha powder
Raspberry jam
Cacao nibs
Rose petals
Cinnamon coconut sugar​
Method
Pre-heat your oven to 180 degrees celcius.
Mix all the ingredients together in a large mixing bowl.
Scoop the dough mixture into a lightly greased donut tray.
Bake the donuts for 12 minutes.
Once cooked, remove the donuts from the oven and turn out onto a wire rack to cool.
Dip the donuts into the melted chocolate and sprinkle with toppings of your choice. Enjoy! 
Free Resources
Click on the links below to print or save this recipe to your device.

Print friendly recipe PDF