This week's new recipe, my 'crispy buckwheat breakfast flatbreads', make the perfect breakfast or brunch for that slow Saturday morning with family or friends. They are super delicious, easy to make, and a little different to your 'usual' breakfast.
Today I've used some of my favorite toppings on the flatbread, but feel free to adjust and tailor the toppings to suit your likings. You could even make scrambled eggs instead of fried, with a delicious tomato relish, aioli and fresh rocket... or create a sweet version, with fresh ricotta and stewed fruit with coconut sugar! Yummm! I think I might have to try the sweet breakfast flatbread idea myself!! ☺ 
These flatbreads are not just restricted to the 'AM', but would also make a great lunch option or pre-dinner snack. If you don't have time to create the flatbreads using the recipe above simply create your own using store bought flatbreads from the shops. You could also use your favourite fresh bread or toast.
What are some of your ideal breakfast flatbread toppings? Let me know in the comments below!
Enjoy the recipe and have a wonderful week.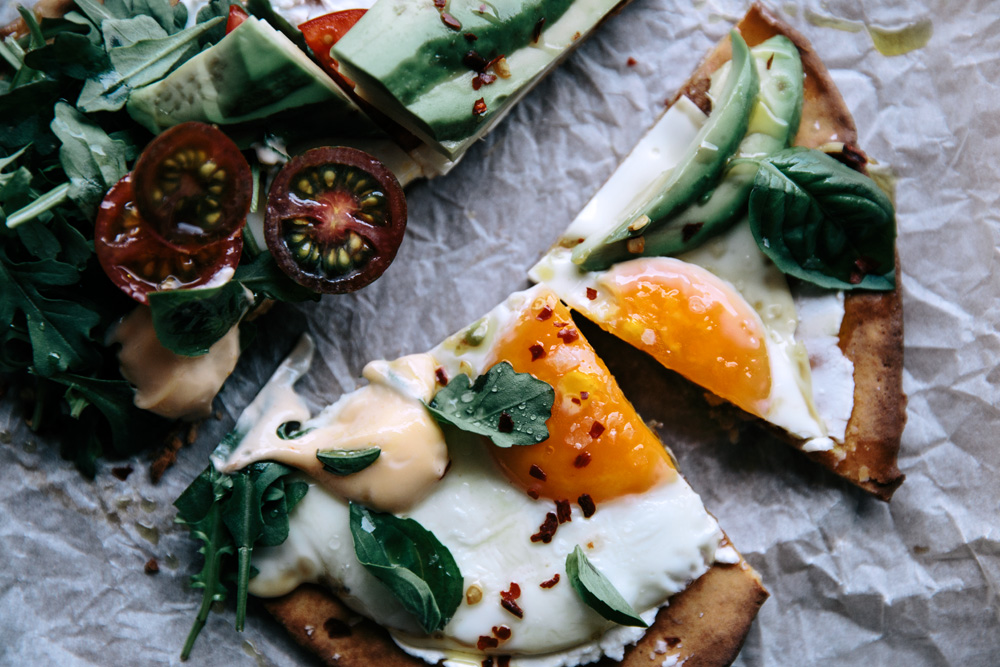 Ingredients

GF, RSF

30 mins

Makes 8 flatbreads
Flatbreads
2 cups light buckwheat flour
1 tsp gluten-free baking powder
1½ cups natural greek yoghurt or coconut yoghurt
1 tbs water
2 tbs olive oil

Toppings
8 eggs, fried or poached
100g goats cheese
2 avocados, sliced thickly
1 punet fresh cherry tomatoes, sliced in half
A few handfuls fresh rocket
Small bunch fresh basil
Chili aioli
Chili flakes
Flaked sea salt
Extra virgin olive oil
Method
Mix the buckwheat flour, baking powder, yogurt, water and olive oil in a large bowl until well combined.
Knead until a soft dough forms. 
Divide the dough into 8 portions and form into balls.
Roll the dough balls into rounds and then flatten to about ½ cm thick (I like to roll them between two pieces of baking paper as the dough is quite sticky).
Place the rolled out dough onto a paper lined baking tray, then drizzle with olive oil and sprinkle with flaked sea salt.
Cook the flatbreads for about 15­ minutes at 200 degrees celsius until crisp and golden brown. 
Remove from the oven and set aside to cool slightly.
While they are still warm, spread each flatbread with a little goat's cheese, top with a fried egg, a few cherry tomatoes, a few slices of avocado, a small handful of rocket, a spoonful of chili aioli, a few basil leaves, a pinch of chilli flakes, a drizzle of olive oil and a sprinkling of flaked sea salt. Enjoy!
Free Resources
Click on the links below to print or save this recipe to your device.

Print friendly recipe PDF