This new dessert was super fun to create. It's a delicious spiced parsnip and carrot cake with burnt honey cream cheese frosting and root vegetable chips.
The guys from Miele reached out and challenged me to create an extraordinary dish using ordinary ingredients for their #ChefsAtHome campaign currently running on social. 
For this recipe, you can go 'all-out' and create the cake with the two layers, add the burnt honey, and the textural root vege crisps -OR- simply create the cake as one layer, top with the frosting, and a drizzle of honey - choose your own adventure! 
I hope you love the recipe and please let me know if you have any questions.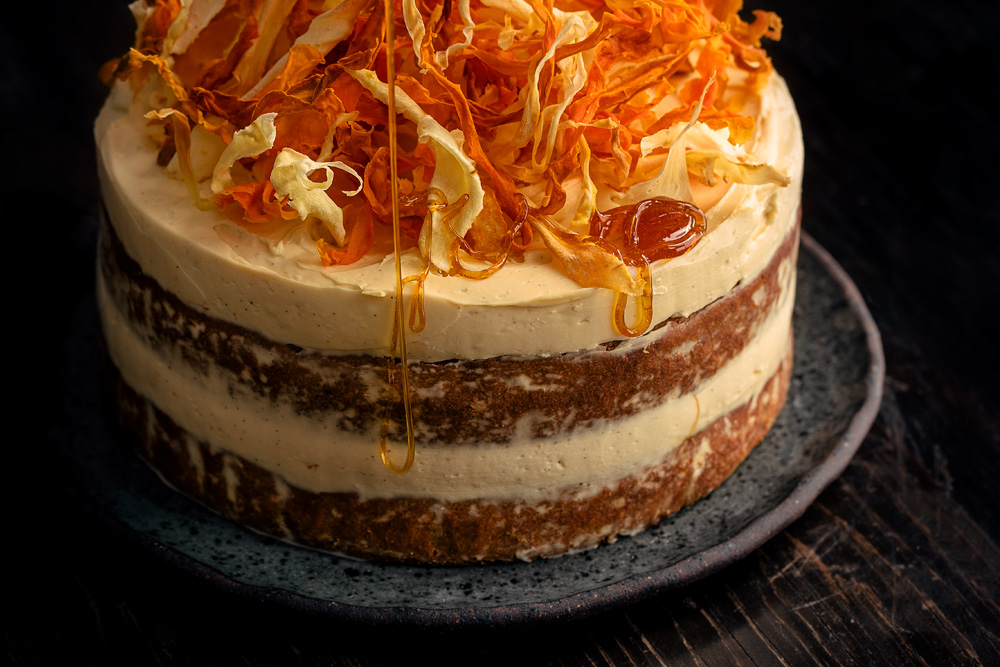 Ingredients

VEG

90 minutes + cooling time

12-16
Cake
1 cup mild and fruity extra virgin olive oil
1½ cups coconut sugar or 1 cup firmly packed brown sugar
3 eggs
1 tbs vanilla extract or vanilla bean paste
1¼ cups (200g) firmly packed cup grated carrot (roughly 4 large carrots)
1¼ cups (180g) firmly packed cup grated parsnip (roughly 5-6 parsnips)
1 tsp ground cinnamon
½ tsp ground nutmeg
½ tsp ground allspice
¼ tsp ground cloves
2 cups plain (all-purpose) flour
1 tsp of baking powder
½ tsp bi-carb soda
1 tsp apple cider vinegar or lemon juice
¾ cup thick natural unsweetened yoghurt
¾ cup roasted walnuts

Salted Burnt Honey (optional)
½ cup honey
¼ cup water
½ tsp salt

Cream Cheese Frosting
500g cream cheese
¼ cup salted burnt honey syrup OR simply ¼ cup honey
1 tbs vanilla bean paste or vanilla extract

Vegetable Crisps (optional)
2-3 carrots, peeled into long strips 
2-3 parsnips, peeled into long strips
Method
Cake
Line two 20cm / 8 inch round cake tins with baking paper and set aside. Or for a single layer cake 1 large 25cm / 10 inch round cake tin.
Preheat your oven to 180°C / 350°F (fan forced).
In a large mixing bowl whisk together the olive oil, sugar, eggs, and vanilla, until smooth.
Add the grated carrot, parsnip, and spices, and mix well.
Next, fold in the flour, baking powder, bi-carb soda, apple cider vinegar, yoghurt, and walnuts.
Now pour the mixture evenly into the two 20cm round cake tins (or one large if doing a single layer cake).
Bake at 180°C / 350°F (fan forced) for 45 minutes.
Remove from the oven and allow to cool completely.

Salted Burnt Honey (optional)
In a small saucepan add the honey, water, and salt.
Simmer for 5-7 minutes until deep golden in colour.
Set aside to cool completely.
​
Cream Cheese Frosting
Whip the cream cheese using a stand mixer or hand beaters until smooth. 
Add the vanilla and ¼ cup of the completely cooled burnt honey (or ¼ cup honey).
Whip until smooth.
Set aside in the fridge until ready to use.

Vegetable Crisps
Arrange the carrot and parsnip peels onto two paper-lined trays and bake for 15-20 minutes at 150°C / 200°F.
Set aside to cool until ready to use.
​​​​​​
To Assemble​​​​​​​
Ensure the cakes are completely cold before frosting.
Place one of the cakes onto a serving plate and add half of the frosting to the top.
Gently smooth with a spatula or back of a spoon.
Add the second layer of cake and gently press down.
Add the remaining frosting to the top of the cake.
Using a long spatula smooth the frosting around the sides of the cake and the top until smooth.
Decorate the top of the cake with the vege crisps and drizzle with the remaining burnt honey just before serving.
If you're making a one layer cake simply top the layer with the frosting, smooth the frosting with the back of a spoon, then drizzle with honey and sprinkle crushed walnuts.
​​​​​​​
*To speed up the cooling process before frosting the cakes (if you're short on time), place the cakes into the freezer to cool completely. This will halve the cooling time.