This weeks new recipe is this super simple and speedy "date night" pancetta, goat cheese, and herb loaded spaghetti. Perfect for Valentine's this weekend, or anytime really.
I recommend having all of your ingredients chopped and prepped ready to cook as this pasta dish comes together very quickly. The time it takes the pasta to cook is all you need to prepare the sauce, roughly 8-10 minutes. The perfect "fast food".
If you're not a fan of pancetta or bacon or are looking for a vegetarian option use some finely chopped mushrooms (200g roughly chopped), along with 1 tsp of smokey paprika. Make sure to cook the mushrooms thoroughly until browned and crispy. This will help replicate a similar flavour and texture.
Enjoy the recipe and please let me know if you have any questions.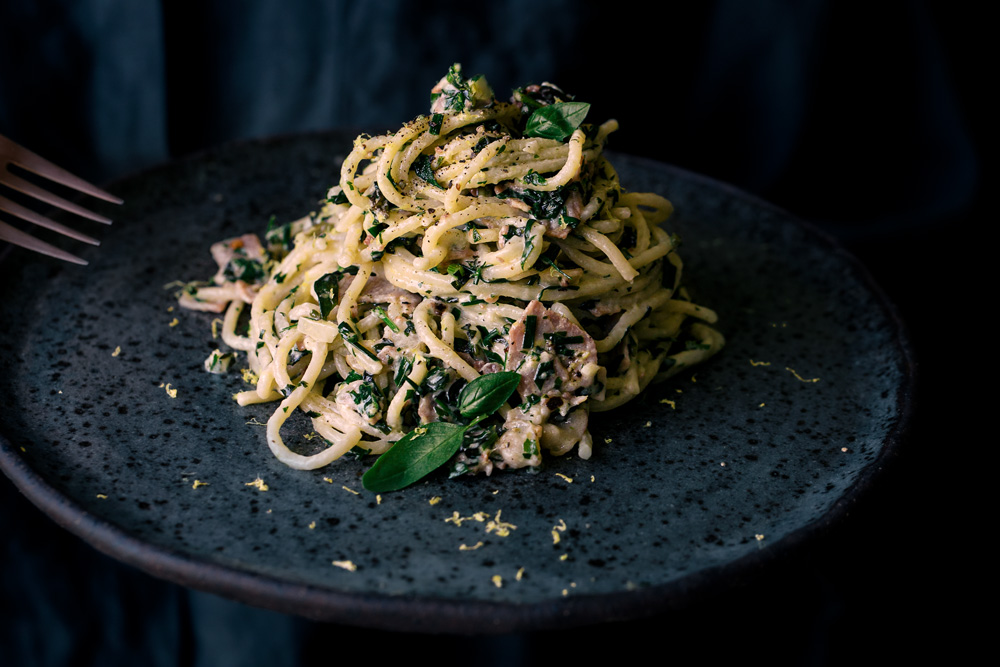 Ingredients

15 minutes

2
250g spaghetti
Extra virgin olive oil
Pinch chili flakes, to your taste
150g pancetta or bacon, roughly diced
2 cloves fresh garlic, crushed or finely grated
Large handful of fresh basil, finely chopped
Large handful of fresh parsley, finely chopped
Large handful of fresh chives, finely chopped
Zest of 1 large lemon + a squeeze of the juice
75g marinated goats cheese
Freshly cracked black pepper
Method
Cook the spaghetti in a large pot of salted water one minute under the directed packet time.
While the spaghetti is cooking place a large saucepan on medium heat.
Add a generous drizzle of olive oil, add chili flakes to your taste, and the pancetta.
Cook until the pancetta is golden brown.
Turn down the heat and add the garlic, then sauté for 30-60 seconds on low heat.
Add the fresh herbs, lemon zest, and goats cheese.
Reserve some of the pasta water and set aside.
Once cooked, drain the spaghetti and add directly to the sauce.
Toss together to combine and add some reserved pasta water to loosen the sauce a little.
Taste for salt and add if needed. I find it doesn't usually need any due to the saltiness in the pancetta, goat cheese, and the added pasta water.
Serve topped with freshly cracked black pepper. Enjoy!