This week's new recipe is this all-in-one-pan chicken bake with halloumi and peaches. It's super easy, packed full of flavour, and has very little hands-on time, a perfect midweek dinner.
You can prepare this dish in the morning or even the day before and keep the chicken and potatoes marinating in the baking tray in the fridge ready to bake on demand. It's also an easy recipe to scale up if you're having dinner guests.
Enjoy the recipe and video and please let me know if you have any questions.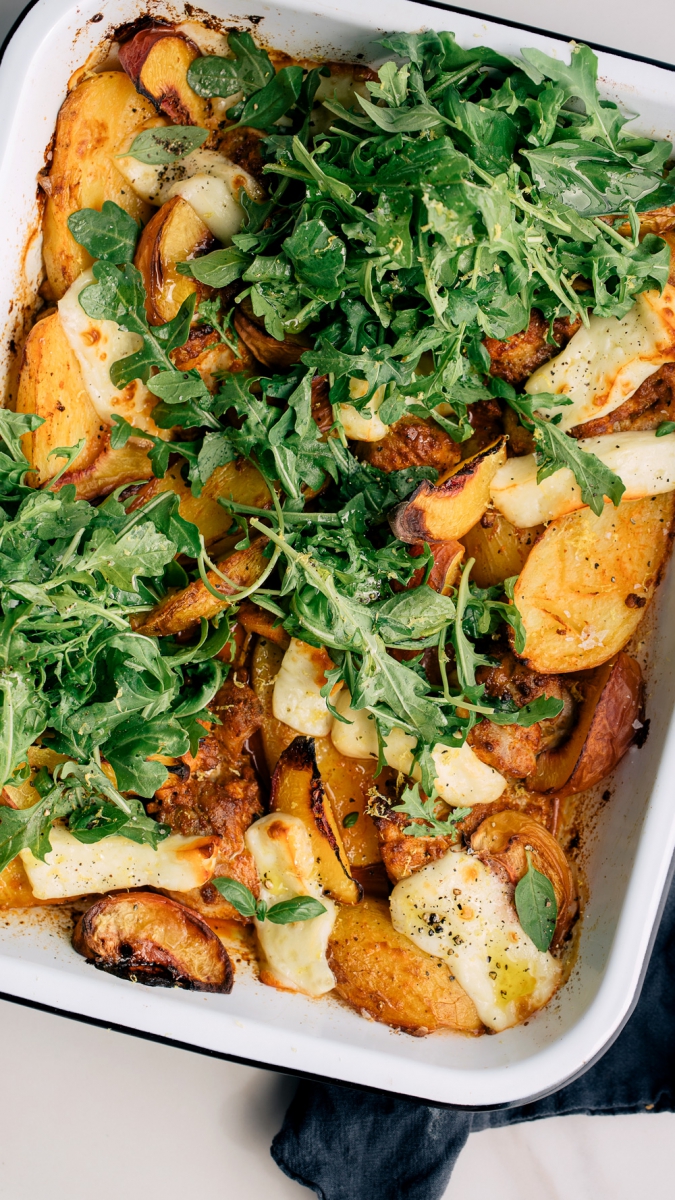 Ingredients

1 hour (45 minutes baking time)

4-6
4 medium-sized potatoes, sliced into 1-inch slices then boiled or steamed & allowed to cool
1 tbs smokey paprika
3 large garlic cloves, crushed or finely grated
3 tbs extra virgin olive oil
Pinch sea salt
8 small to medium-sized chicken thighs -OR- 4 large thighs sliced in half if they are quite large
2 large peaches, sliced into eighths
225g halloumi, sliced into 1-inch slices
A few large handfuls fresh rocket
Zest & juice of 1 lemon
Method
Preheat your oven to 200°C/390°F (fan forced oven).
In a large deep baking tray add the smokey paprika, crushed garlic, olive oil, salt, stir to combine.
Add the chicken and coat evenly in the marinade.
Add the cold pre-boiled or steamed potatoes and coat them in the marinade.
Now arrange the peaches over the chicken and potatoes.
Bake at 200°C/390°F for 30 minutes.
Remove the tray from the oven and add the halloumi.
Now bake for a further 10 minutes and until the halloumi is golden.
Once baked remove from the oven and add the lemon zest.
Next, squeeze half of the lemon juice over the rocket and toss to combine.
Now squeeze the other half of the lemon over the chicken and halloumi.
Top the chicken with the rocket and add a sprinkling of freshly cracked black pepper and sea salt to taste.