Morning routines, we all have them right? I usually wake up, exercise, get ready, and then prepare a juice or blend to kick start the day. Into my trusty blender goes what I think is a great concoction of fruits and vegetables. Sometimes it's yummy (winner!) and then sometimes, very occasionally, I get a message from my husband saying "What's in this? Maybe don't try this one again". Oops sorry love. ☺ That's the price of experimentation I guess? However my friends, this green blend recipe is a winner! It's vibrant, fresh and packed full of greens.
GREENS are GREAT! They contain nutrients our bodies need to function in their prime. They are an excellent source of fiber, folate, and carotenoids. They also contain vitamins C and K and the minerals iron and calcium. Dark green leafy vegetables also act as antioxidants in our body. Excellent!
Down this green blend as a power kickstart to your morning or add as a great addition to lunch or dinner. Your body will be thankful for these healthy greens at any time of the day!
Enjoy!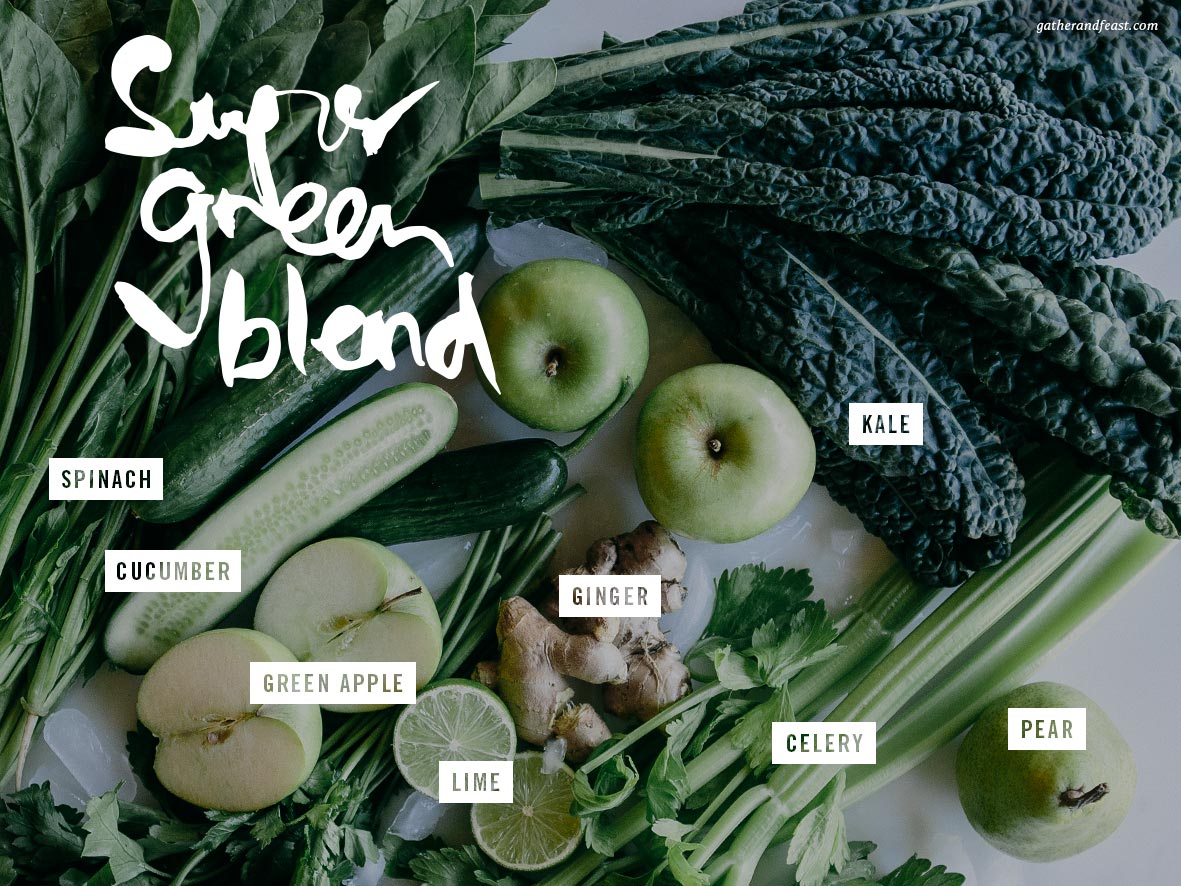 Ingredients

GF, VGN

10 mins

2 large / 4 small drinks
1 green apple
1 Lebanese cucumber
1 large handful of baby spinach
1 handful of kale (about 6 small leaves)
1 stick of celery
½ a pear
1 cm piece of fresh ginger, grated
½ fresh lime, squeezed
½ a cup of water
1 cup of ice
Method
Add all the ingredients, apart from the ice, into a blender. Add leafy greens first as they seem to blend best if they are closest to the blender blades.
Blend all the ingredients until combined.
Add in the ice and pulse the blender a few times. (I find adding the ice in after the first blend keeps it a bit cooler and more textured)
Pour into glasses and serve.
Drink up, get that green goodness into you!
Free Resources
Click on the links below to print or save this recipe to your device.

Print friendly recipe PDF

Tablet friendly recipe PDF