These past few days have been so very cold, some might even say a bit frosty (for Melbourne standards anyway). Last night I sat in a dreamy daze staring through the window, watching ridiculously large hail fall from the sky and gather in our little courtyard outside. It was so nice and relaxing to watch, but I was definitely very grateful to be sitting inside enjoying the warmth of the central heating with my oversized mug of green tea! ☺ 
There is just something about the cold weather that makes me want to head to the kitchen and prepare a warm, cosy, comforting meal. This baked berry oatmeal is one of those dishes, paired with an oversized mug of green tea of course! This baked oatmeal is so easy to prepare you could make it with your eyes closed. I guess it's what you would call a 'one-pot-wonder'. All ingredients into one bowl, mix to combine and pour into a baking dish. Then, into the oven it goes, and voila! A perfect cosy comforting bowl of baked oatmeal. Oh yea. It doesnt get much easier than that friends.

I love to serve this dish warm, with almond milk and some extra fresh berries. It's also great served cold in the warmer months and can be kept in the fridge for a few days.
So, fire up the oven, grab a baking dish and give this baked berry oatmeal a go. It's berry nice!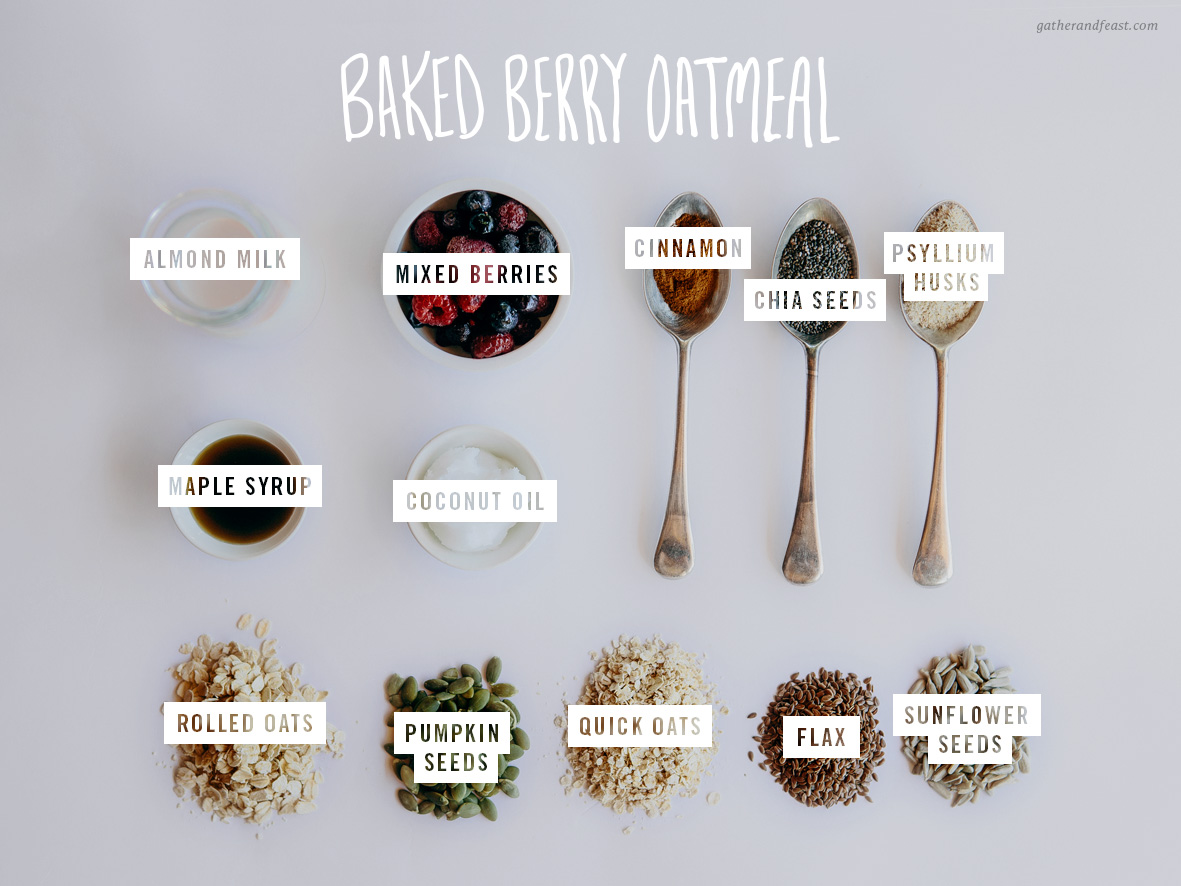 Ingredients

VGN, RSF

40 mins

6
1 ½ cups rolled oats 
¾ cup quick oats
2 tbs ground flax
¼​ cup whole flax
2 tbs psyllium husks
3 tbs chia seeds
¾ cups pumpkin seeds
¼​ cup sunflower seeds
1 tbs cinnamon powder
A pinch of salt
2 cups frozen or fresh mixed berries
2 tbs coconut oil
¼​ cup maple syrup
1 tsp vanilla
3 cups almond milk
Additional berries & almond milk, to serve
Method
Pre-heat your oven to 190 degrees. 
Place all the ingredients into a mixing bowl and mix until combined. 
Pour oatmeal batter into a medium sized oven dish and place in the oven. 
Bake for 30 minutes.
Take the dish out of the oven and let it cool for 5 - 10 minutes.
Serve with extra berries and almond milk. Delish!
Free Resources
Click on the links below to print or save this recipe to your device.

Print friendly recipe PDF

Tablet friendly recipe PDF