Growing up as a kid there were only a few certain foods that I hated to eat. Olives were one (fair enough), and mushrooms! I hated mushrooms, like really disliked them. The texture, the flavour. Then somewhere along the way something changed, and now as an adult I love them?! Is this a thing, or is it because my mum forced me to eat them?! ☺
Today's recipe was originally inspired by a dish I created from ingredients I needed to use up in the fridge. I had some mushrooms and herbs, found some gluten free spaghetti in the pantry, added a few walnuts, parmesan and lemon and this new recipe was born. It turned out to be one of the quickest and tastiest little pasta dishes that now makes a regular appearance at our dinner table.
ALSO if you're new to Gather & Feast, make sure you download my FREE recipe eBook - 'Morning, Noon & Night' with over 40 of my favoutrite recipes!
Enjoy!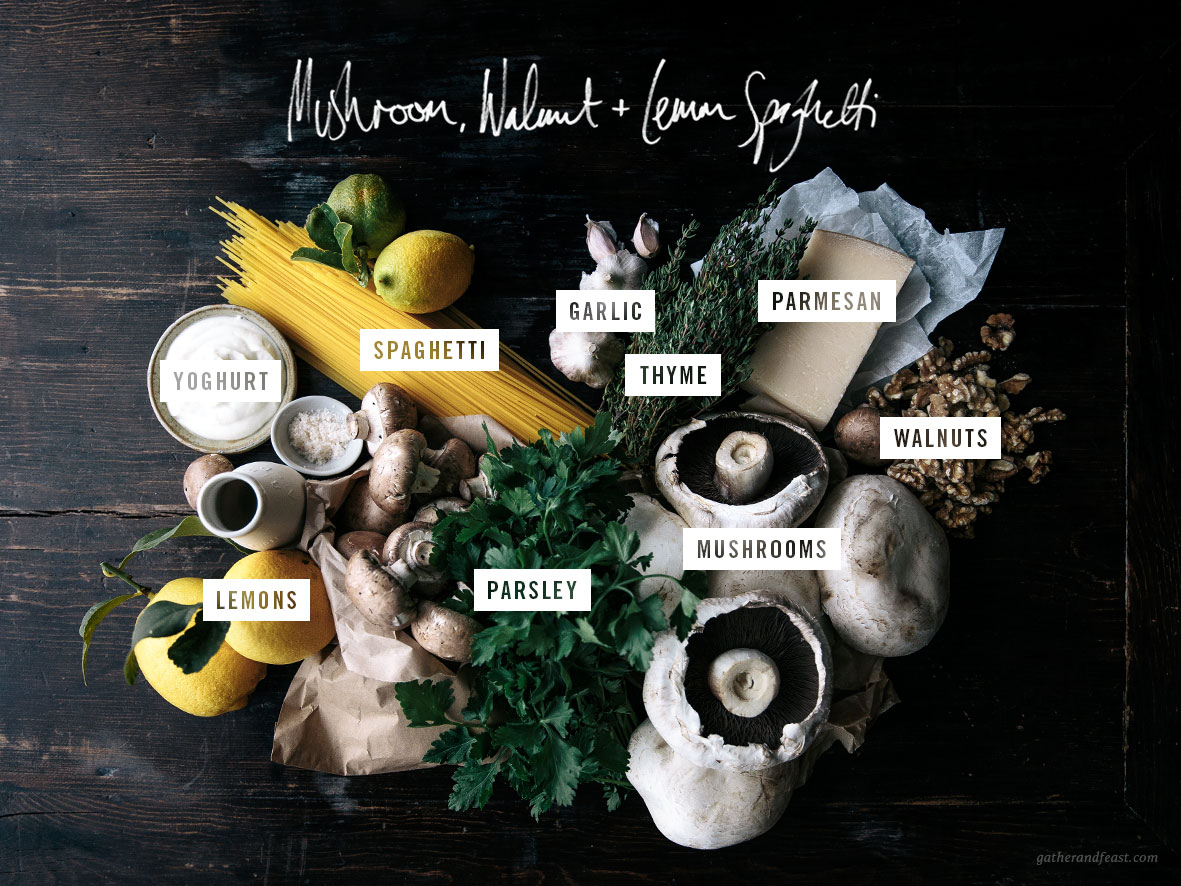 Ingredients

VEG, RSF, GF

30 mins

4-6
400g mushrooms (I used a mix of 'Portobello' & 'Swiss Brown') 
¾ cup toasted walnuts, roughly chopped 
2 cloves garlic, finely chopped 
Zest of 2 large lemons 
1 small bunch thyme (leaves only, discard the stalks) 
1 bunch parsley, finely chopped 
1 cup natural yoghurt 
100g parmesan, finely grated 
350g spaghetti (I used 'Barilla' gluten free spaghetti) 
Olive oil 
Sea salt 
Freshly cracked black pepper
Method
Add a little olive oil and sea salt to a large pan, add half the mushrooms and thyme and cook on high heat until browned.
Remove the mushrooms from the pan and then repeat with the second batch of mushrooms.
Add the first batch of mushrooms back into the pan with the second batch then add the garlic, lemon zest, and walnuts and saute for a couple of minutes.
Remove the pan from the heat, add the natural yoghurt and parsley and stir through.
Cook the pasta according to packet instructions.
Once the pasta is cooked, drain the pasta but keep ¾ cup of the pasta water.
Drizzle the pasta with a little olive oil and stir in the mushroom mix, pasta water and the parmesan.
Serve with freshly cracked pepper and an extra drizzle of olive oil.
Free Resources
Click on the links below to print or save this recipe to your device.

Print friendly recipe PDF

Tablet friendly recipe PDF