If you are looking for a sweet, protein packed treat with no nasties, then this is the loaf for you! This delicious orange, vanilla and raspberry loaf is easy to prepare, great for work or school lunches, and is the perfect healthy snack for when that 3pm snack attack hits!
I was thinking, it would be super easy to adapt this recipe using different flavours. I might try a few new variations over the next couple of weeks; cacao and orange or maybe blueberry, maple and pecan. The options are endless! What flavour combination would you love to see? If you do have any suggestions, let me know in the comments below!
This recipe requires a food processor, but if you don't have a food processor you could alternatively mash the dates into the coconut milk with a fork. It will be a little chunkier but still work fine. I also like to make my own almond meal using a food processor. I find it gives the slice a little more interest and a lovely texture. Unfortunately this time around if you don't have a food processor, mashing the almonds with a fork may not work too well. ☺
Have a great week friends and enjoy!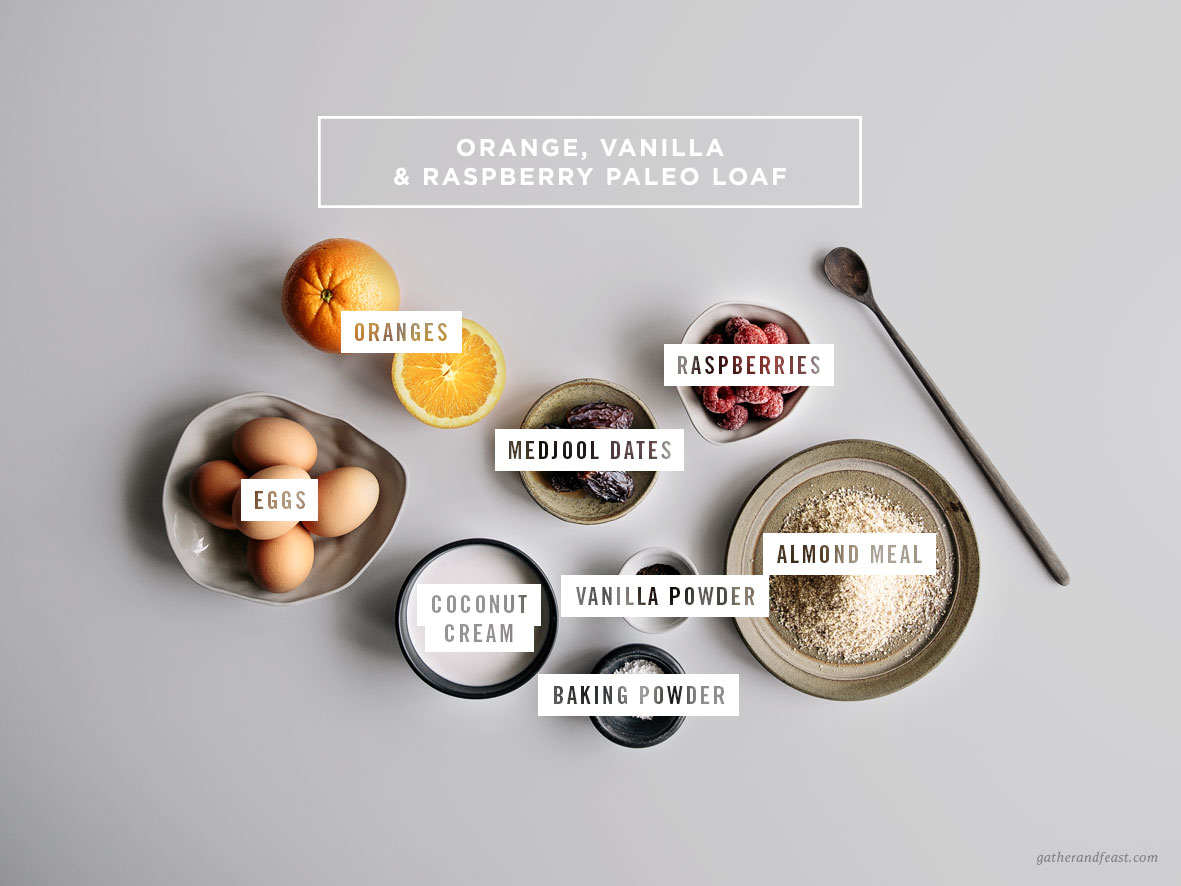 Ingredients

GF, RSF, VEG, PALEO

1 hr

10 large / 20 small serves
250g pitted medjool dates 
270ml coconut cream 
1½ tsp vanilla powder (or extract) 
4 eggs, lightly whisked 
Zest of 2 oranges 
3½ cups almond meal 
1 tsp baking powder 
Pinch of salt 
¾ cup raspberries (I use frozen raspberries)
Method
Pre-heat your oven to 180 degrees celcius.
Add the dates, coconut cream and vanilla to a food processor and process until really smooth. This will take a few minutes.
Pour the date mixture into a large mixing bowl and add the eggs and orange zest.
Then fold through the almond meal, baking powder and a small pinch of salt.
Pour the mixture into a paper lined loaf pan.
Press the raspberries into the top of the mixture.
Place in the oven and cook for 45 minutes. 
Remove pan from the oven and let cool for 15-20 minutes before slicing. Enjoy!
Free Resources
Click on the links below to print or save this recipe to your device.

Print friendly recipe PDF

Tablet friendly recipe PDF