I love roasted stone fruit, like really love. It's also the only fruit I will break my 'no fruit in savoury dishes' rule for. Now, it's winter here in Australia (and very cold!), and I know a lot of my American and European friends are in the middle of summer, so I thought I'd create a salad that is the best of both worlds... perfect for winter and summer!
Today's recipe is a delicious combination of sweet, chewy stone fruit, peppery rocket, creamy buffalo mozzarella and crunchy seeds. Yum!
The roasted peaches are delicious, but if you are tight on time, or the weather is too hot for roasting, fresh peaches will work just as well. If you are preparing this salad ahead of time, add the olive oil and balsamic just before you serve, so the rocket doesn't wilt.
Enjoy!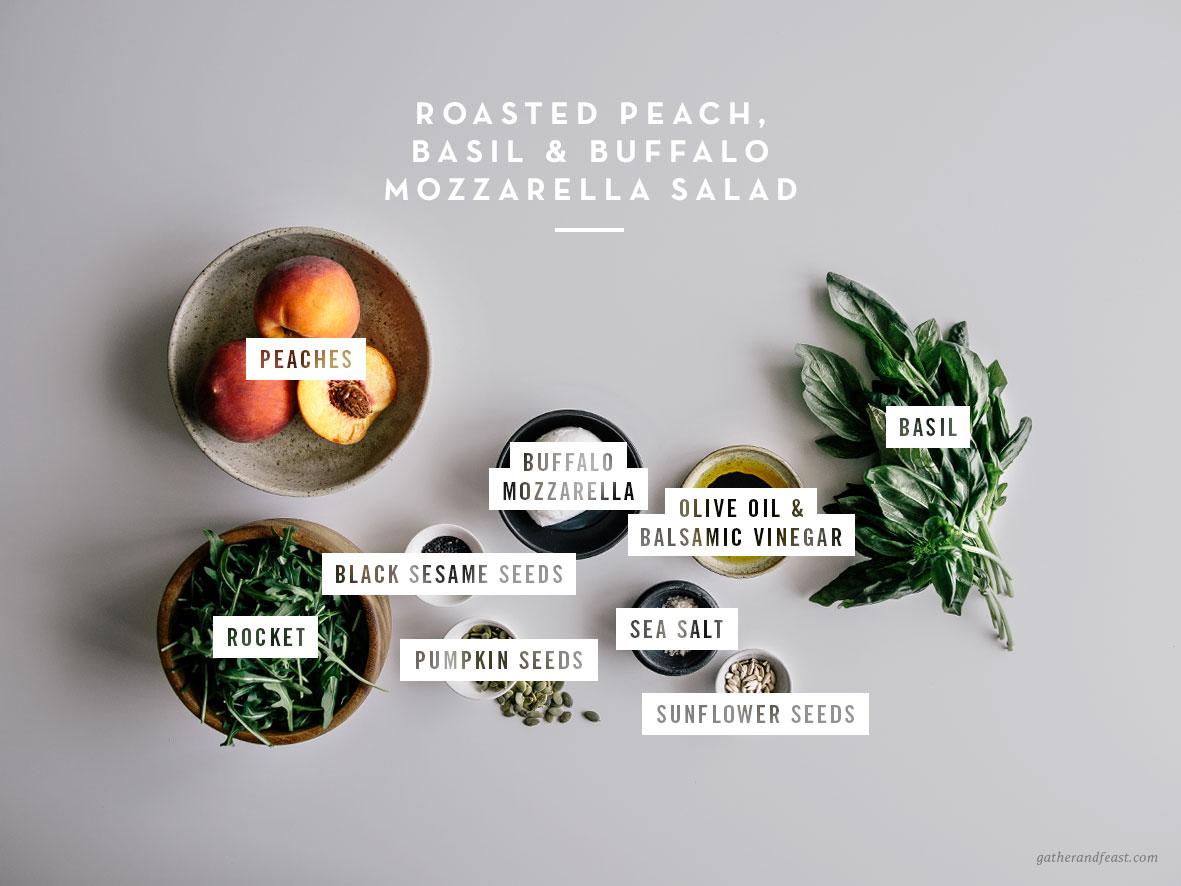 Ingredients

GF, RSF, VEG

6-8

1 hr (15 mins if not roasting peaches)
4 large handfuls rocket 
5 large peaches 
250g buffalo mozzarella 
1 small bunch basil 
¼ cup pumpkin seeds (pepitas) 
¼ cup sunflower seeds 
1 tbs black sesame seeds 
2 tbs olive oil 
¾ cup balsamic vinegar 
Sea salt
Method
Slice the peaches into quarters and place them onto a paper lined baking tray.
Drizzle the peaches with a little balsamic, then place them into the oven for about 1 hour at 180 degrees celsius (if you are tight on time you could use fresh peaches instead of roasting them).
Once cooked, remove the peaches from the oven and set aside to cool until warm.
In a small pot, simmer the balsamic vinegar for 10-15 minutes until reduced.
Toast the seeds in a pan with a pinch of salt until lightly browned, remove from the pan and set aside.
Place the rocket into a large serving bowl, add olive oil and mix through with your hands.
Tear the basil leaves up and add them to the rocket.
Add the warm peaches, buffalo mozzarella and sprinkle the toasted seeds.
Pour over the balsamic reduction and serve.
Free Resources
Click on the links below to print or save this recipe to your device.

Print friendly recipe PDF

Tablet friendly recipe PDF