This week's NEW recipe is the perfect sweet treat and contains one of my favourite flavour combinations; sea salt and honey! With protein from the macadamias and tahini, and antioxidants from the cacao (especially when using a 'raw chocolate'), these salted honey millet bars also contain great nutritional value! Oh, and they're also super easy to make (I feel like I say this about a lot of my recipes, but it's true!). ☺
I have cut them quite large, but for bite sized bars you could halve or even quarter them. Also if you are tight on time (or maybe patience ☺), simply pour the melted dark chocolate over the pre-cut bars and then slice them, rather than fully coating each bar individually.
These bars will keep in the fridge for a number of weeks so feel free to prepare them well in advance of a special occasion or event, or to simply keep on hand for those friendly 'drop ins' from family and friends. They also make a great treat for the kids too (if nuts are a problem simply swap them out for seeds like sunflower and or pumpkin).
Enjoy!




PS: Also if you're on SNAPCHAT join me for a bit of fun and a behind the scenes look at Gather & Feast... my user name is: gatherandfeast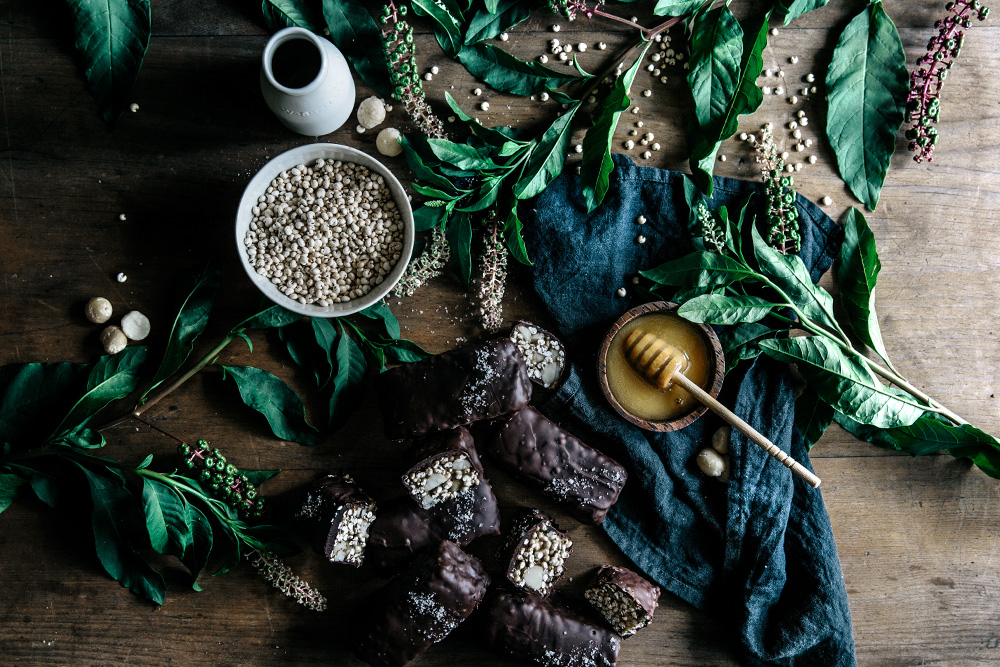 Ingredients

GF, RSF, Dairy Free

20 mins + setting time overnight

24
3 cups puffed millet (if you can't find puffed millet you could use puffed brown rice instead)
2 cups raw macadamias (or any nuts/seeds of your choice)
2 tbs black chia seeds
¾ cup raw honey or pure maple syrup for a vegan treat
¾ cup rice malt syrup
½ cup hulled tahini (sesame seed paste)
1½ tsp fleur de sel (flaked sea salt)
200g good quality dark chocolate (I have used Pana raw chocolate)
Method
In a large mixing bowl combine the puffed millet, macadamias and chia seeds.
In a small saucepan combine the honey or maple and rice malt syrup and bring to a simmer, then remove from the heat and stir through the tahini and fleur de sel.
Pour the mixture over the puffed millet mix and stir well to combine.
Scoop the mixture into a paper lined 27x20cm brownie pan and press down firmly.
Place into the fridge overnight to set.
Melt the chocolate in a heatproof bowl over a pot of simmering water. 
Option 1: Pour the melted chocolate over the pre-cut bars while still in the pan, then place back into the fridge to set, then slice into bars. Option 2: Cut the slice into bars first and then dip the cut bars into the chocolate so they are coated (as I have done here). Then place them back into the fridge to set, until the chocolate is hard, ideally overnight. This way is a little more fiddly and time consuming.
Store the bars in the fridge. They will keep in there for a couple of weeks. Enjoy!
Free Resources
Click on the links below to print or save this recipe to your device.

Print friendly recipe PDF