Warm chewy chocolate chip cookies fresh from the oven, is there anything better?! In this weeks recipe I have given the classic chocolate chip cookie a little healthy makeover. I have replaced the butter with coconut oil and the white flour with a mix of nut and spelt flours. The result is a deliciously chewy cookie.
I have baked a few batches of these cookies over the last few weeks and they have been a big hit with the family and friends.
For a gluten free alternative I use buckwheat flour in place of the spelt flour and 'Loving Earth' dark chocolate for a 100% refined sugar free cookie.
Enjoy friends!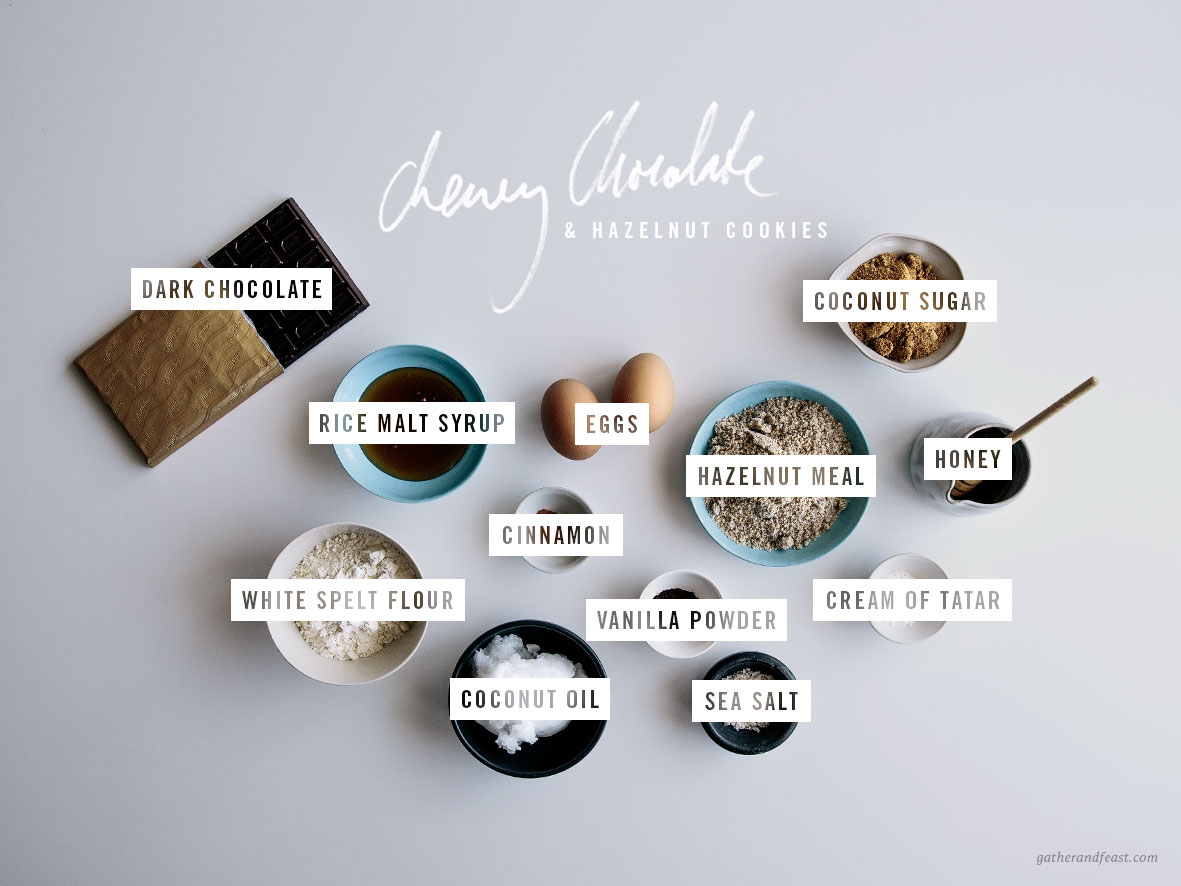 Ingredients

GF, RSF, Dairy Free

45 mins

16
110g coconut oil
¼ cup rice malt syrup
¼ cup honey
1 cup coconut sugar
2 eggs
1 tsp vanilla powder
½ tsp cinnamon
1 tsp cream of tartar
1¾ cup white spelt flour (or buckwheat for Gluten Free)
1½ cups hazelnut meal
200g dark chocolate, roughly chopped (or for sugar free I use 'Loving Earth' dark chocolate)
Pinch sea salt 
Method
Pre-heat your oven to 170 degrees celcius.
In a large mixing bowl combine the coconut oil, rice malt syrup, honey, coconut sugar, vanilla powder and cinnamon and beat until smooth.
Add the eggs to the mixture and stir to combine.
Fold the cream of tartar, flour and hazelnut meal through the wet mixture.
Mix in the dark chocolate and sea salt.
Roll the mixture into balls and place onto 2 paper lined baking trays.
Flatten the dough balls a little with your hand before placing them in the oven for 15 minutes.
Remove from the oven and cool for a few minutes. Enjoy! 
Free Resources
Click on the links below to print or save this recipe to your device.

Print friendly recipe PDF

Tablet friendly recipe PDF