I love salads, and I especially love to create salads with warm, hearty, and filling ingredients (particularly in the winter months). I will often add in roasted vegetables, warm farro with feta, or a mix of rice and grains (like in today's recipe).
This salad recipe was inspired by a cafe in Melbourne that serves its 'breakfast salad' with chai soaked raisins (yes chai soaked raisins! YUM!), and combining that with a beautiful grain salad that I often make for the family at home. The peppery rocket, earthy grains and sweet spiced raisins work perfectly together to create the ideal mix of flavour and texture.
This recipe comes together quite quickly once the grains are cooked and cooled. You could even cook your rice, quinoa and couscous the day before and leave them in the fridge overnight. Just make sure the ingredients come to room temperature before serving as they will have a nicer texture and taste if they are not cold.
This salad is perfect for BBQ's, a dinner side, or on its own as a light lunch.
Enjoy!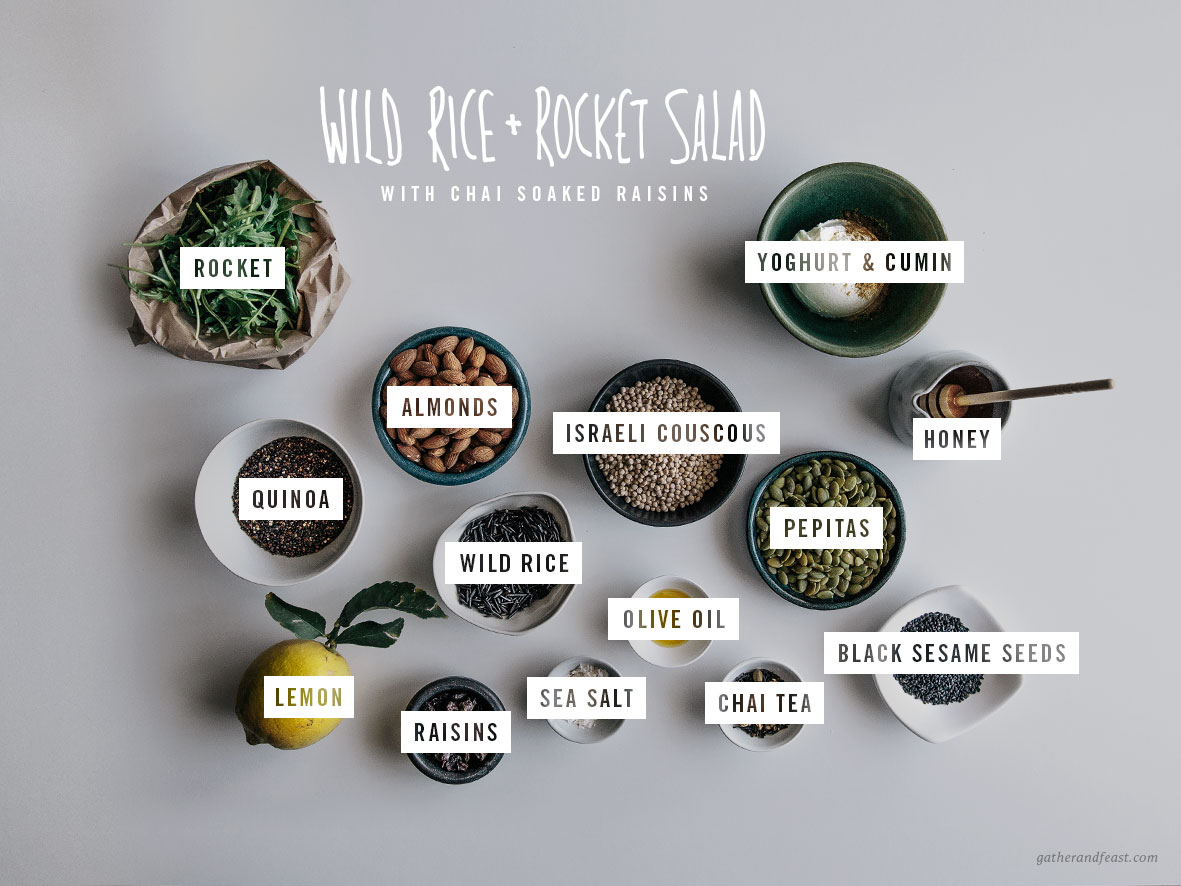 Ingredients

GF, RSF, VEG

1 hr

6 - 8
200g rocket
1 cup black quinoa
½ cup wild rice
1 cup Israeli couscous or freekeh
½ cup raisins
1 cup strong freshly brewed chai tea
1½ cups natural greek yoghurt
1 tsp cumin
1 tbs honey
¾ cup roasted almonds, roughly chopped
¼ cup pepitas
2 tbs black sesame seeds
Juice of 1 lemon
2 tbs olive oil
Sea salt 
Method
Make one cup of strong chai tea, pour into a small bowl, add the raisins and let them soak overnight (or a few hours if you're short of time... the chai flavour just won't be as strong).
Cook the wild rice, quinoa and couscous according to the packet instructions and set aside to cool.
In a medium mixing bowl combine the natural yoghurt, cumin and honey, then set aside.
In a large mixing bowl combine the rocket, olive oil, lemon juice and a large pinch of sea salt, toss well.
Drain the raisins and set aside.
Add the wild rice, quinoa and couscous to the rocket mixture along with the raisins, pepitas and half of the almonds.
Spread the yoghurt mixture around the bottom of your serving dish.
Now add the rocket and grain mixture on top.
Sprinkle the salad with the remaining chopped almonds, black sesame seeds, a drizzle of olive oil and a pinch of sea salt. Enjoy! 
Free Resources
Click on the links below to print or save this recipe to your device.

Print friendly recipe PDF

Tablet friendly recipe PDF