A few weeks ago my brother Brandon, sister Taya, Mike (behind the camera) and I went for a little adventure to one of Melbourne's beautiful surrounding mountains, Mount Dandenong - 'An Autumn Escape'. We packed a box of snacks, hot drinks and headed for the hills for a day of sightseeing, relaxing and exploring. 
The star of our snack box was most definitely the Almond, Pistachio & Quinoa Dark Chocolate Bars I prepared a few days before the trip. Packed full of nuts, seeds and a generous layer of lush dark chocolate, these bars are the perfect little wholesome sweet treat and are super easy to make.
If you have trouble finding quinoa puffs, try using rice puffs or something similar in their place. You could also use a raw chocolate layer instead of the dark chocolate if you prefer.
Enjoy, and let me know how you go!  @gatherandfeast  #gatherandfeast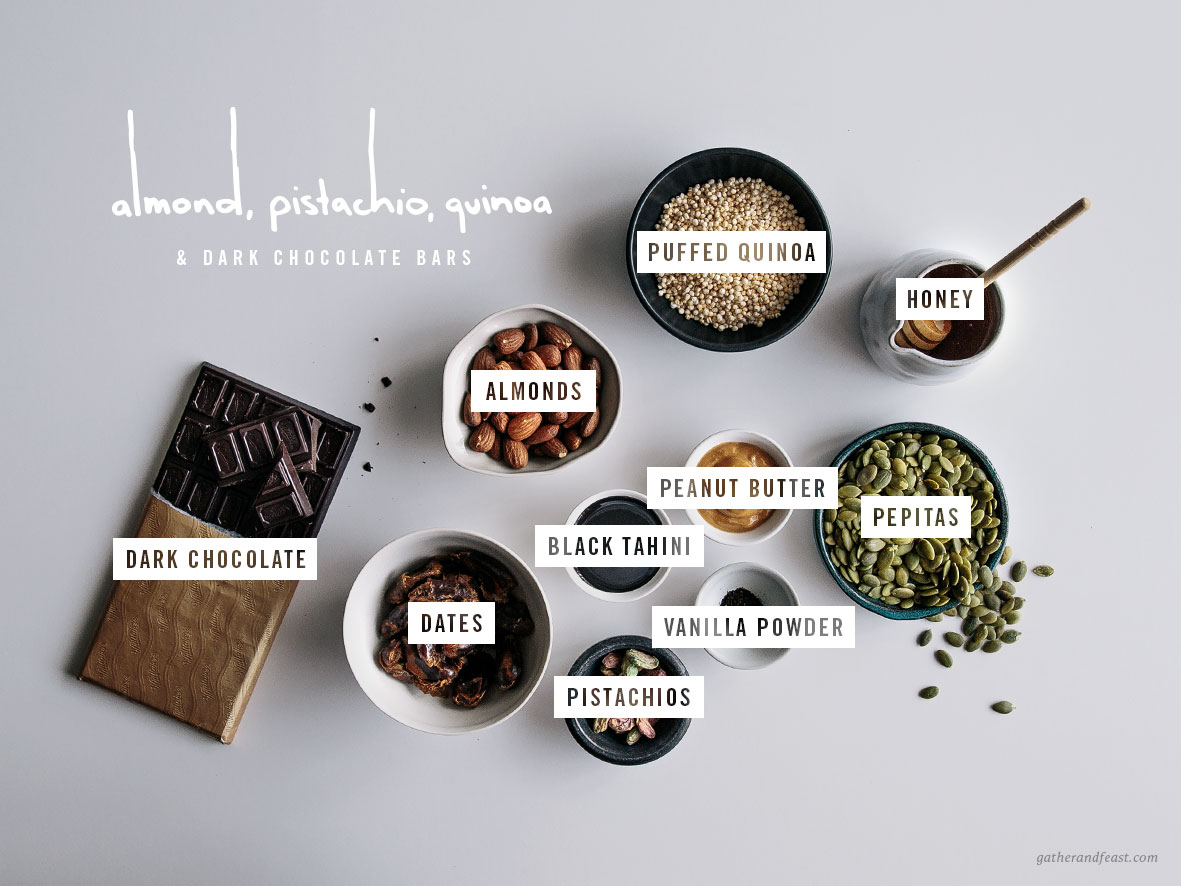 Ingredients

GF, VEG

20 mins (+ setting overnight)

24
1½ cups dates
⅔ cup smooth natural peanut butter (I use 'Pics Peanut Butter')
¼ cup black tahini
¼ cup honey
½ tsp vanilla powder
½ cup roasted almonds, roughly chopped
½ cup pistachios, roughly chopped
½ cup pepitas
1¾ cups puffed quinoa
400g dark chocolate (I use 70%)
Flaked sea salt for sprinkling
2 tbs finely chopped pistachios for sprinkling 
Method
Blend the dates, peanut butter, tahini, honey and vanilla powder in a food processor until a smooth ball forms.
Remove the mixture from the food processor and place into a large mixing bowl.
Add the almonds, pistachios, pepitas and puffed quinoa to the date mixture and mix together with your hands.
Press the mix into a paper lined 18cm x 30cm brownie tray and set aside.
Meanwhile, melt your dark chocolate in a heat proof bowl over a saucepan of gently boiling water.
Pour the melted chocolate over the slice mix and sprinkle with sea salt and extra chopped pistachios.
Place in the fridge to set overnight.
Remove from the fridge and cut into slices or bite sized pieces. Enjoy! 
Free Resources
Click on the links below to print or save this recipe to your device.

Print friendly recipe PDF

Tablet friendly recipe PDF