This week's new recipe is a delicious and no fuss butter-baked fish with lemon, tomato, and dill. This one is light and fresh, and perfect paired with a crunchy green salad and crusty bread. 
For this recipe, I teamed up with the guys from Westgold. I've loved using their high-quality butter in my cooking and baking recently. It has a rich and creamy flavour and is made with milk from grass-fed cows, farmed on the West Coast of New Zealand's, South Island.
I've used snapper in this recipe but feel free to use your favourite fish, like salmon, rockling, blue grenadier, flathead, etc. 
You could also cook the fish on a barbecue. Simply wrap the fish in baking paper then foil, and bake in a BBQ with the lid down for the same amount of time as you would in an oven. Keep in mind, if your fish fillet is quite thin reduce the cooking time by 3-5 minutes. 
If you're feeding a crowd simply increase the quantities based on the number of people you are serving and wrap each fillet individually.
As always, please let me know if you make the recipe @gatherandfeast and feel free to ask any questions.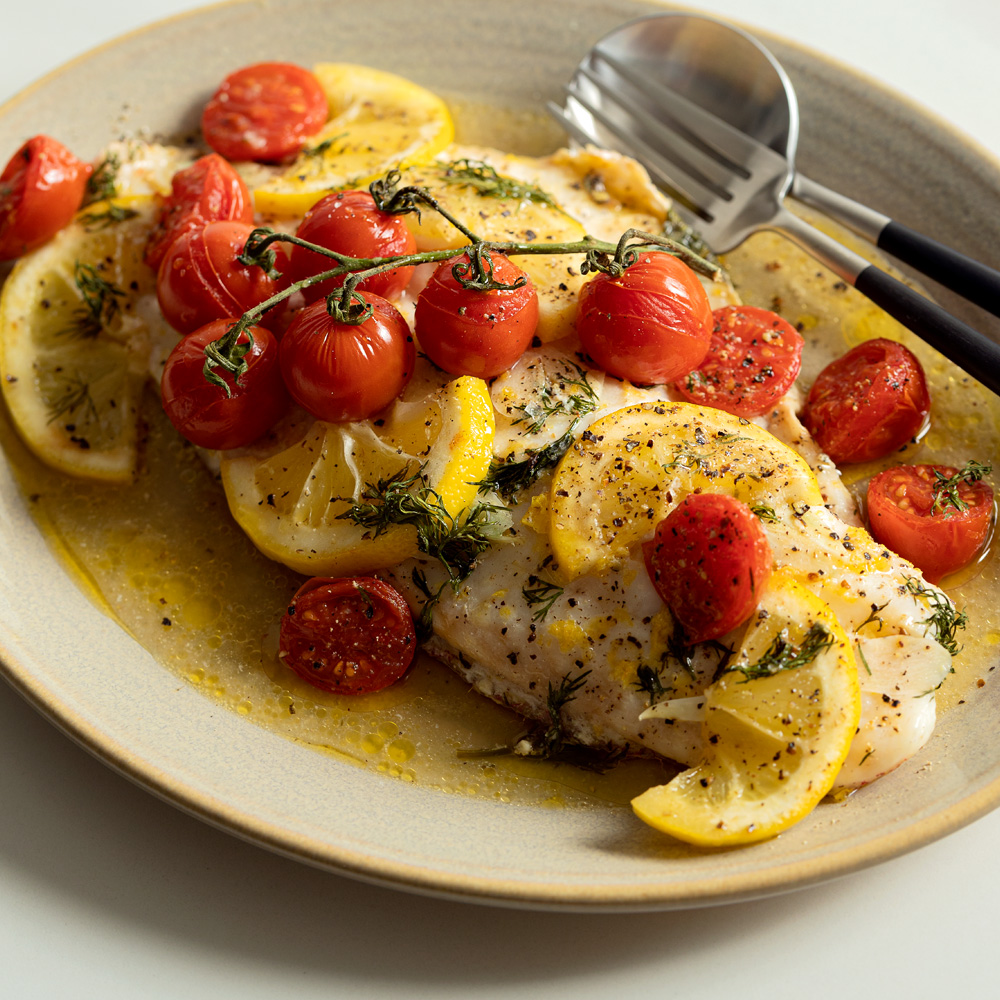 Ingredients

GF

25 minutes

2
1 fillet of fish, big enough to serve 2 (I've used a snapper)
30g Westgold salted butter (or butter of choice)
1 medium to large sized clove garlic
A handful of cherry tomatoes
1 small lemon
A small handful of fresh dill fronds
Freshly cracked black pepper
Sea salt flakes
Method
Preheat your oven to 180°C/350°F (fan forced).
Place the fish fillet onto a paper-lined baking tray ensuring the paper is large enough to fold and enclose the fish within it.
Place 2 slices of butter, roughly 15g each, on the fish.
Thinly slice the garlic and scatter it over the butter and fish.
Add a few whole cherry tomatoes then slice and add the remaining.
Thinly slice half the lemon and place it over the fish.
Add some freshly cracked black pepper and flakey sea salt.
Sprinkle with fresh dill fronds and squeeze over the juice of half the lemon.
Close the paper around the fish, folding the paper together in the middle and around the edges. This will seal in the steam when baked. 
Bake at 180°C/350°F for 15 minutes if your fillet is thinner than normal, and 20 minutes if the fish is thicker than 2 inches.
Serve with a fresh green salad and crusty bread. Enjoy!