I posted an image of these vanilla buckwheat waffles on Instagram a little while ago, and now many people have been asking me for the recipe. Problem though!! I just threw a whole heap of ingredients together on the day and hoped for the best. The waffles turned out to be a winner!! (yay) but I hadn't documented the recipe! (sigh). Lucky for us all (including me) I've been busy testing, and I think I now have it!! ☺
This recipe produces waffles that are deliciously fluffy on the inside, and a little crispy on the outside. The perfect kind of waffle if you ask me.
Feel free to top the waffles with anything you like; maple and blueberries, poached pears with salted caramel, freshly grated apple with cinnamon… the options are endless! Back then I used lemon curd and natural yoghurt (as I had the ingredients left over from a Christmas meringue). You could make your own lemon curd or purchase some from the local shops. If you're purchasing, try to choose a homemade lemon curd with the same ingredients as if you were to make it yourself, with no unnatural nasties.
I hope you enjoy the recipe, and if you post an image on social media be sure to tag me @gatherandfeast! I'd love to see your creations! 


Props I used in this post:
Serving Plates: Bridget Bodenham
Napkin: MUJI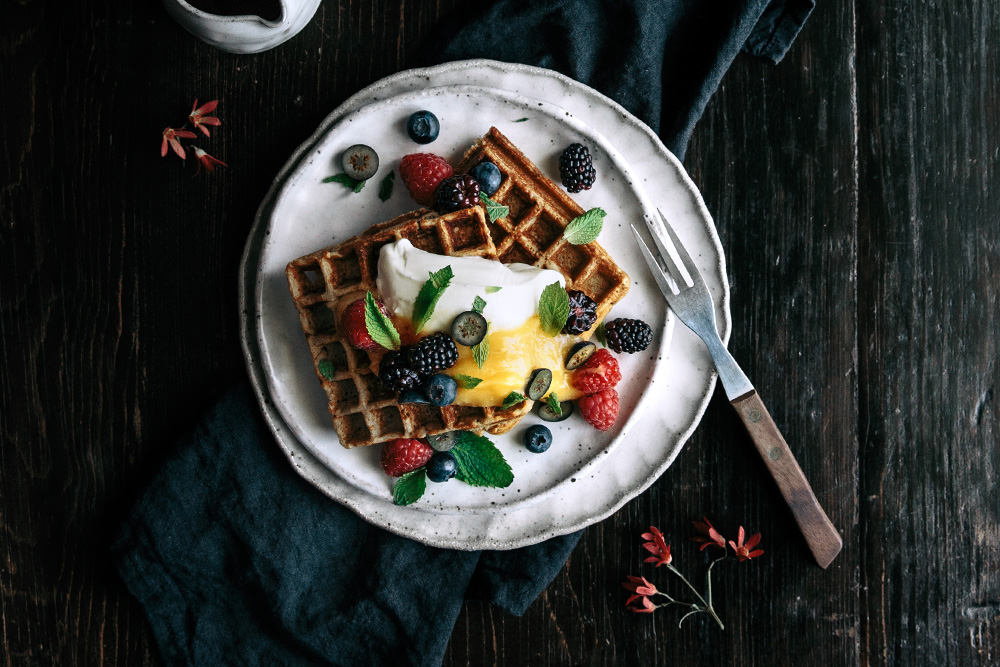 Ingredients

GF, RSF

20 mins

6-8
2 cups buckwheat flour
½ tsp baking soda
½ tsp sea salt
1 tsp vanilla powder
3 tbs coconut sugar
2 cups almond milk
3 eggs, separated
2 tbs coconut oil, melted  
Lemon curd
Natural yoghurt (unsweetened)
Pure maple syrup
Fresh berries (I used blueberries, raspberries & blackberries)
Fresh mint
Method
Place the buckwheat flour, baking soda, sea salt, vanilla powder and coconut sugar into a large mixing bowl.
Then add the almond milk, coconut oil and egg yolks and gently stir to combine.
In a medium bowl whisk the eggwhites until stiff and then fold into the mixture.
Place your waffle pan onto the stove to heat up. Once hot lightly spray with oil.
Place the mixture into the waffle pan. The amount will vary depending on the size of your waffle pan. My pan takes about ¼ cup each side of the pan.
Cook for about 2 minutes on high heat, then turn the waffle pan over and cook for a further few minutes. 
Remove the cooked waffles from the pan then repeat with the remaining mixture. 
To serve, place the waffles onto a plate, add a generous dollop of natural yogurt, lemon curd, a glug of pure maple, and sprinkle with berries and fresh mint. Enjoy!!
Free Resources
Click on the links below to print or save this recipe to your device.

Print friendly recipe PDF

Tablet friendly recipe PDF