This week's new recipe is a rich tomato and balsamic spaghetti with fresh basil and burrata. This dish is super quick and easy to put together as you can see in the step-by-step video featured above.
For this recipe, I've partnered with Pomi and used their delicious organic strained tomatoes and tomato concentrate paste to give the sauce a rich and sweet tomato flavour. I've topped the pasta with burrata but you could also use buffalo mozzarella or a cheese of your choice. I've also used coconut sugar but feel free to use any sweetener of your choice.
Enjoy the recipe and let me know if you have any questions. I LOVE hearing your feedback and seeing the photos you all send me of your beautiful creations - @gatherandfeast #gatherandfeast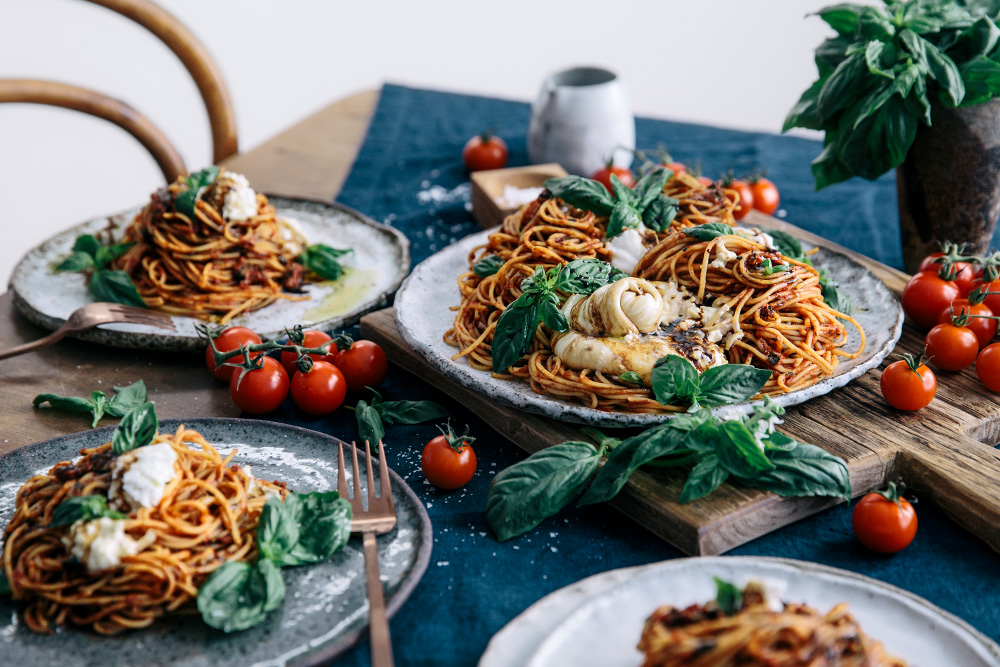 Ingredients

VEG

30 minutes

4-6
1 tablespoon extra virgin olive oil
1 tablespoon butter
5-6 garlic cloves, peeled and crushed or finely grated
A pinch of chilli flakes, to your taste
3 tablespoons Pomi Double Concentrated Organic Tomato Paste
2 tablespoons coconut sugar (or sweetener of choice)
1 tablespoon balsamic vinegar
1 bunch fresh basil, finely chopped (keep a few whole leaves for garnishing)
80g Parmigiano Reggiano, finely grated
1 tablespoon butter
Sea salt to taste
500g spaghetti
125g burrata or buffalo mozzarella
Extra virgin olive oil
Thick balsamic vinegar for drizzling
Method
Place a large saucepan on medium heat.
Add 1 tablespoon olive oil, 1 tablespoon butter, the garlic and chilli, and sauté for 1-2 minutes.
Add the concentrated tomato paste and sauté for a further 1-2 minutes.
Add the jar of strained tomatoes.
Pour 1⁄3 cup water into the jar, shake well, and pour the water and remains into the saucepan then simmer for a further 1-2 minutes.
Add the sugar, balsamic, finely chopped fresh basil, parmesan, butter, and stir to combine then allow to simmer for 2-3 minutes.
Taste for salt and add as needed.
Cook the pasta as per packet instructions in salty boiling water.
Reserve about a 1⁄2 cup of the pasta water.
Drain the pasta and add to the sauce, stirring quickly to coat the pasta.
If needed, add a little pasta water to loosen the sauce.
Top with the burrata or buffalo mozzarella, fresh basil leaves, and a generous drizzle of extra virgin olive oil
and balsamic vinegar.
Serve immediately and enjoy.