This week's new recipe is a deliciously smooth pumpkin turmeric and ginger soup. It's one of my favourite soup recipes at the moment, especially now that we've just hit winter here in Australia, and has a 'secret' ingredient that makes it stand out.
I feel as though everyone has their own little secret ingredient for the perfect homemade pumpkin soup. For me, I love to add a tablespoon of natural peanut butter to bring out the nuttiness of the pumpkin. I also like to sauté the vegetables and spices in a couple of tablespoons of ghee before adding the stock and water. It gives a lovely flavour to the soup and compliments the earthy fresh ginger and turmeric. YUM!
Do you have a 'secret' homemade soup ingredient?
Enjoy the recipe and let me know if you have any questions.

Props I used in this post:
Serving Plates: Provincial Home Living
Ingredients Bowl: Marmoset Found
Napkin: MUJI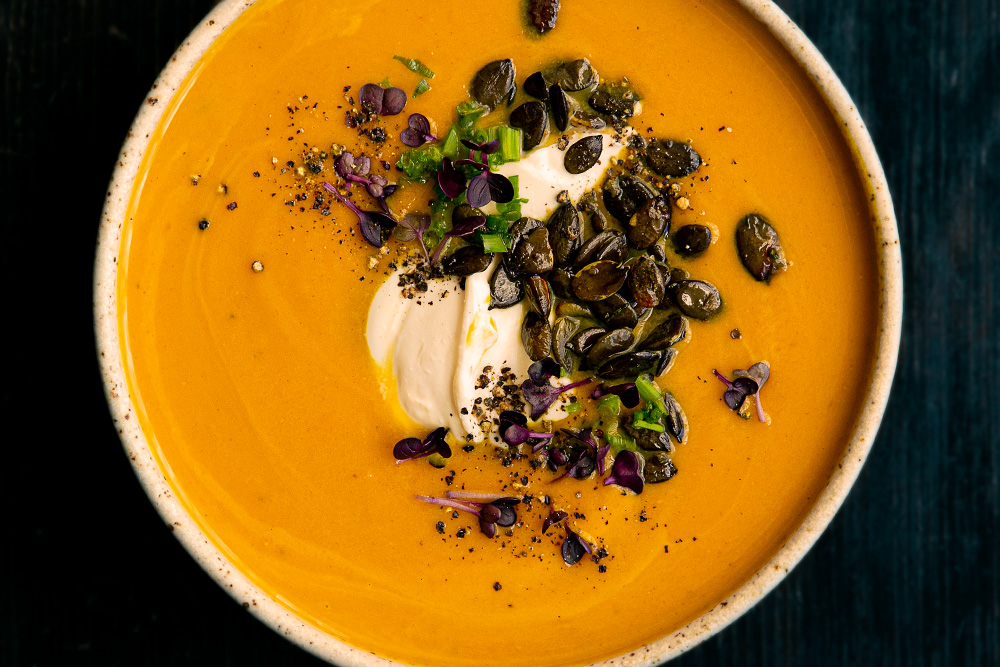 Ingredients

RSF, VEG

1 hr

8
Soup
2 tbs ghee (coconut oil for vegan option)
1 large brown onion
2cm piece fresh turmeric, finely chopped -OR- 1 tsp ground turmeric
2 inch piece fresh ginger, finely chopped
2 cloves garlic, finely chopped
¼ tsp chili flakes
1.2 kilos Japanese pumpkin (kabocha squash), peeled & roughly chopped (or pumpkin of your choice)
5 large carrots, peeled & roughly chopped
1-2 tbs peanut butter
1-litre vegetable stock
1-litre boiling water

Toppings
Plain yoghurt
Fresh herbs - sage, or chives, etc
Something crunchy - roasted walnuts, pumpkin seeds, or hazelnuts, etc 
Method
Place a large deep pot over medium heat, add the ghee and melt.
Add the onion, turmeric, ginger, garlic and chili flakes to the pot with the ghee.
Next, add the chopped carrot and pumpkin into the pot with the onion mixture, and saute for 5-10 minutes until the pumpkin and carrots begin to soften and caramelise on the edges. 
Add the peanut butter and mix well.
Add the stock and boiling water, ensuring the pumpkin and carrot are completely covered. If not, add a little more water.
Cook on medium/low heat for 30 minutes.
Once the pumpkin and carrot are soft, blend the soup with a handheld stab mixer until smooth.
Serve with toppings of your choice or simply on it's own. Delicious!