Light and fresh with flavours of lemon, caramel and vanilla. This lush vegan, gluten and refined sugar free 'cheesecake' is the perfect treat to enjoy with friends on a lovely spring or summer day. It's also a great dessert for the festive season (which is fast approaching), especially if you or your friends have specific dietary needs and can't partake in the usual Christmas puddings and treats.
The recipe is super easy to make, although you will need to use a food processor or vitamix to blend the ingredients.
In other news, I am currently working on some fabulous new Christmas posts that I can't wait to share with you all. Look out for those over the next few weeks!
Enjoy!

Props I used in this post:
Serving Plates: Country Road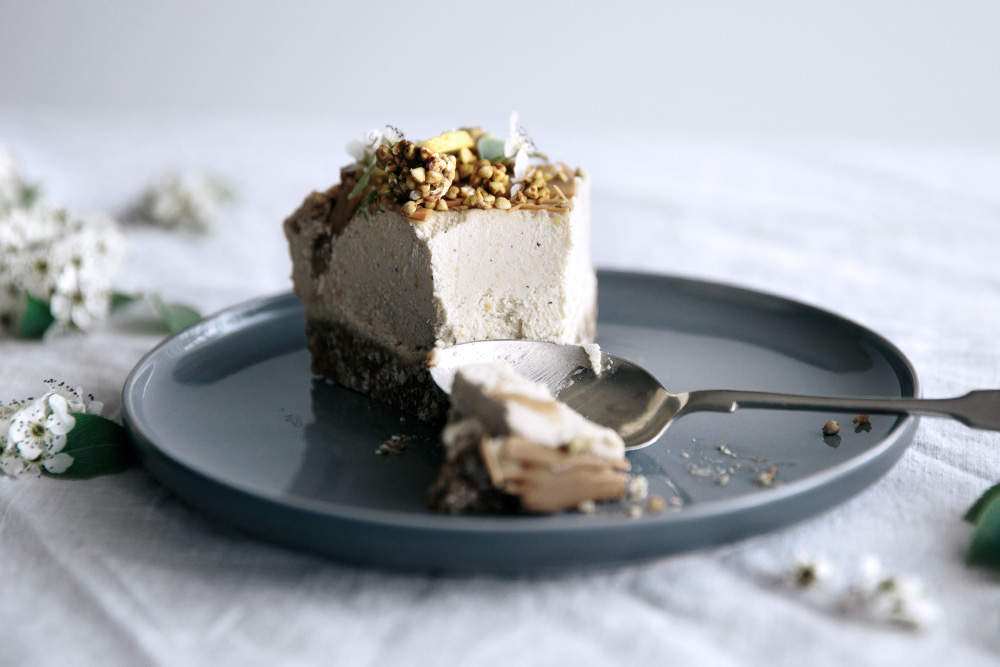 Ingredients

RSF, VGN, GF, PALEO

30 mins

10
Base
1½ cups 'Loving Earth' Caramelised Buckinis OR plain buckwheat groats
½ cup coconut flakes
1¼ cups pitted dates
1 tsp vanilla extract or paste
2 tbs coconut oil
Pinch sea salt flakes 

Filling
2½ cups raw, unsalted cashews (soaked in water overnight, then drained)
150ml coconut cream
½ cup coconut oil
¾ cup pure maple syrup
2 tsp vanilla extract or paste
Zest of 3 lemons
Juice of 1 lemon
Pinch sea salt flakes
80g 'Loving Earth' Lemon Caramel chocolate OR vegan chocolate of choice 
Method
Line a 20cm springform pan with baking paper and set aside.
In a food processor add the coconut flakes, dates, vanilla, coconut oil, sea salt and half the buckinis and blend until combined. This will take a few minutes.
Next, place the mixture into a mixing bowl and add the rest of the buckinis, mixing together well with your hands.
Press the base mixture firmly into the pre-­lined pan and set aside.
Now add the filling ingredients to the food processor and blend until very smooth. This can take up to 10 minutes of stop start processing, but it's worth it!
Pour the creamy cashew mixture onto the base, then cover with cling wrap and place in the freezer to set overnight.
When you are ready to serve, remove the cake and the tin from the freezer and place onto a serving plate.
Gently melt the 'Loving Earth' Lemon Caramel chocolate over low heat, then drizzle it over the cake.

*Remove the cake from the freezer 15-­20 minutes before slicing and serving. Keep the leftover cake in an airtight container in the freezer.