This week's new recipe is a rich bolognese sauce, thick and lush with so much flavour! This is my delicious take on a classic bolognese but I have also listed vegetarian and vegan options too.
One of the keys to the richness of this bolognese is to let the sauce simmer for 2 to 2.5 hours. Another is the length in which the veggies are sautéed and caramelised before the other ingredients are added.
Because this recipe is quite time consuming (simmering for 2 to 2.5 hours) I've crafted it to make a large quantity of sauce that will then last you for multiple meals. This recipe will make enough for at least two generous family-size meals and it freezes brilliantly for future super quick delicious dinners. Simply freeze the leftover sauce into portions. 
Feel free to serve the sauce with your favorite pasta. It's also the perfect sauce to make a lasagne with.
Enjoy the recipe and please let me know if you have any questions in the comment section below.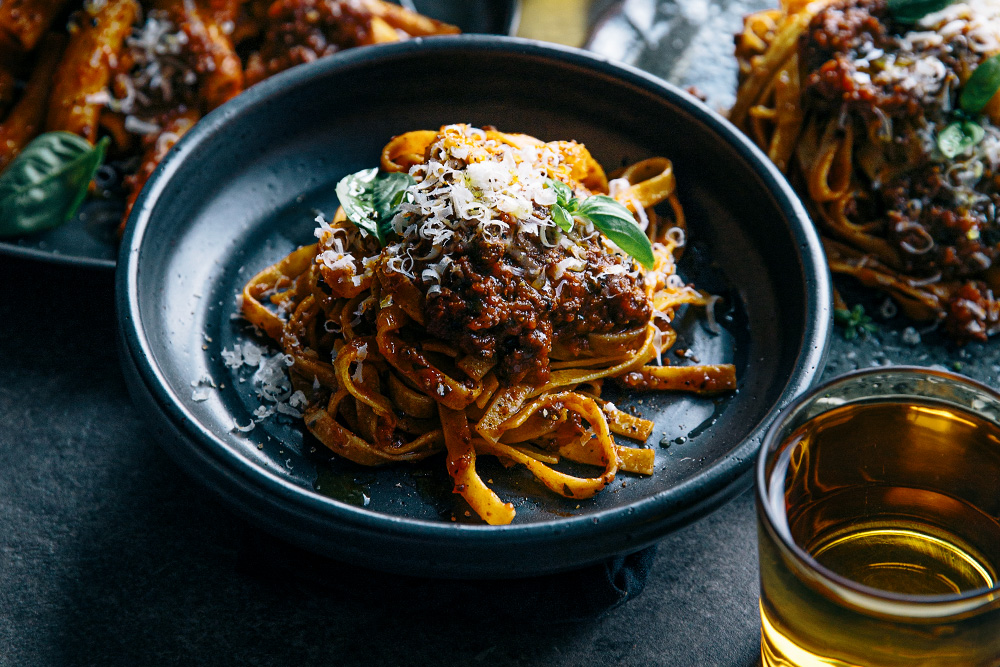 Ingredients

VEG & VGN Options

30 minutes prep time + 2.5 hours cooking time (max)

12-24 (freezes for futures meals)
3 tbs olive oil
6 large carrots
6 large stalks celery (including leaves)
1 tbs smokey paprika
1 large red or brown onion
3 tbs fresh rosemary leaves
3 tbs fresh oregano leaves
5 medium to large cloves garlic
1kg (2.2lb) grass-fed beef mince --OR for VEG-- 3 x 400g (14oz) cans of lentils, drained and 500g (17oz) mushrooms, finely chopped
1-2 tbs plain flour
1 tsp sea salt
750ml red wine (1 bottle)
4 anchovy fillets, finely chopped (you won't taste them specifically but they add to the flavour!)
1 x 700g (24oz) jar passata
2 x 375g (13oz) jars tomato paste
500ml beef OR vegetable stock
1 tsp nutmeg
4 fresh bay leaves
2-3 tbs sugar (to balance the acidity in the tomato)
Sea salt to taste
Medium-sized parmesan rind - if you have one (leave out for vegan/vegetarian version)
1 cup fresh basil, finely chopped
½ cup fresh parsley, finely chopped
Parmesan, finely grated - for serving (use a vegan cheese for vegan/vegetarian version)
Method
In a food processor, blitz the carrots and celery until fine. If you don't have a food processor simply grate the vegetables.
Put a large deep saucepan onto medium heat.
Add a couple of tbs of olive oil and then the vegetables to the saucepan.
Add the smokey paprika and stir to combine.
In the food processor (no need to clean) now blitz the onion, garlic, rosemary and oregano (or finely chop) and add to the veggie pot mix.
Continue to stir over medium to high heat stirring constantly for another 10 minutes (add a little extra olive oil if you need).
Remove the veggies from the saucepan and set aside.
Now add a little extra olive oil to the saucepan (no need to rinse) along with the beef mince or lentils and saute for a minute or two. 
Add the flour and sea salt and saute until brown.
Next, add the red wine and chopped anchovies (leave the anchovies out for the vegetarian version).
Add the set-aside veggies back into the saucepan.
Now add the passata, tomato paste and beef or vegetable stock.
Add the nutmeg and bay leaves.
Add 2-3 tbs coconut sugar (or sugar) 1 tbs at a time, tasting after each addition. The added sugar is to balance the acidity of the tomatoes.
Add salt to taste.
At this point, I like to add a medium-sized piece of parmesan* rind to the sauce. This adds an extra rich flavour.
Now let the sauce simmer for 2 to 2.5 hours for maximum flavour. You could simmer for a minimum of 30 to 45 minutes but the flavour intensifies and improves the longer it simmers.
Stir through the fresh basil and parsley.
Serve the bolognese with your favourite pasta and a sprinkling of fresh parmesan. Freeze the leftover sauce into portions for the perfect quick and easy meal. The sauce is also perfect to make a lasagne with.

*I buy my parmesan in blocks and keep the rinds (the tough edges of the cheese) in the freezer for sauces like this and also soups.