For this week's new recipe I teamed up with the guys from Ocean Spray and created this lush, spiced carrot cake using their delicious Craisins Dried Cranberries - which add the perfect texture, tang and chew!
I'm super excited to share this one with you - the texture and flavour are amazing. I've also included dairy-free and refined-sugar-free alternatives if needed.
This carrot cake didn't last long in our household and I'll definitely be making it again soon. Let me know if you have any questions in the comments below.
Enjoy!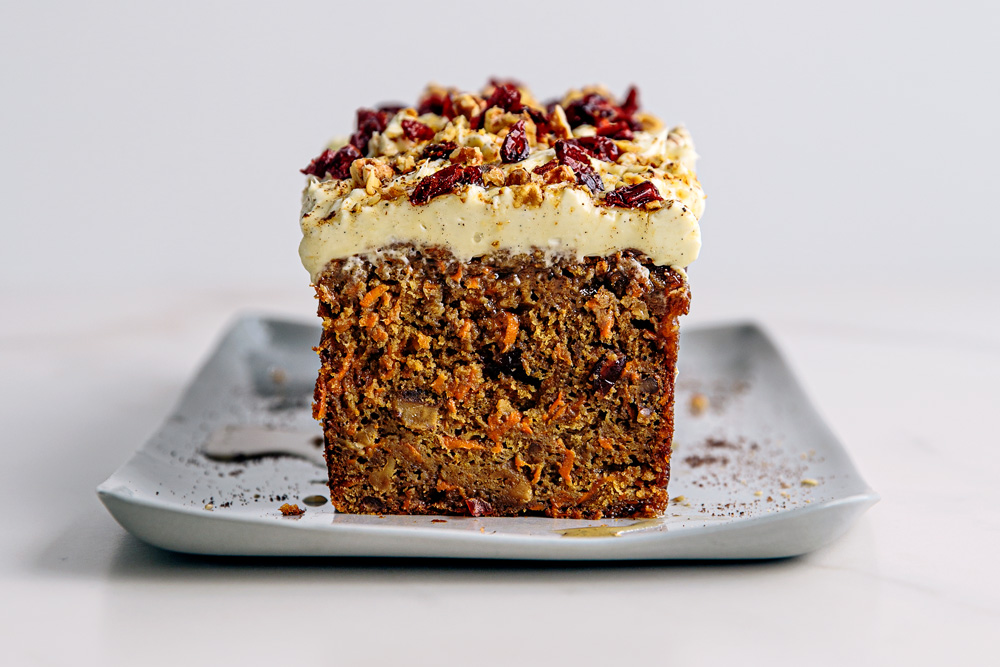 Ingredients

90 minutes (30 min prep time + 60 min cooking time)

10-14
Cake
1 cup olive oil
3 eggs
1 tbs vanilla extract or paste
1 banana, mashed
1½ cups coconut sugar or 1 cup firmly packed brown sugar
2 firmly packed cups grated carrot (roughly 370g / 6 carrots)
1 tsp ground cinnamon
½ tsp ground nutmeg
½ tsp allspice
⅛ tsp ground cloves
2 cups plain flour
1 tsp of baking powder
½ tsp bi-carb soda
1 tsp apple cider vinegar
¾ cup thick natural yoghurt or dairy-free coconut yoghurt
¾ cup toasted walnuts, roughly chopped
½ cup dried cranberries OR raisins

Cream Cheese Frosting (optional)
500g cream cheese
¼ cup pure maple syrup 
1 tbs vanilla extract or paste
Method
Cake
Preheat your oven to 180C / 350F (fan-forced).
In a large mixing bowl whisk together the olive oil, eggs, vanilla, banana and sugar until smooth.
Add the grated carrot and spices and mix well.
Next fold in the flour, baking powder, bi-carb soda, apple cider vinegar, yoghurt, walnuts, and dried cranberries.
Now pour the mixture into a paper-lined loaf tin 31cm (12inch) long and 13cm (5inch) wide and 8cm (3inch) in depth.
Bake at 180C / 350F fan-forced for 60 minutes.
Enjoy the cake warm from the oven or allow to cool completely and top with cream cheese frosting, dried cranberries, and crushed toasted walnuts.

Frosting
Whip the cream cheese using a stand mixer or hand beaters until smooth. Add the vanilla and maple and beat until smooth.
Set aside in the fridge until ready to use.