This week's new recipe is a hazelnut and date granola. It's perfectly spiced, has a touch of sweetness, and a delicious texture.
I've packed it full of seeds, coconut, oats, along with the hazelnuts and Medjool dates. If you're not a fan of hazelnuts you could swap them out for walnuts, almonds, or macadamias. 
This granola is perfect served with poached pears or your favourite poached or fresh fruit and yoghurt. I also have a delicious poached pear recipe here on the website that will 'pair' perfectly with this.
You can store the granola in an airtight container in the pantry for a few months.
Enjoy the recipe and please let me know if you have any questions.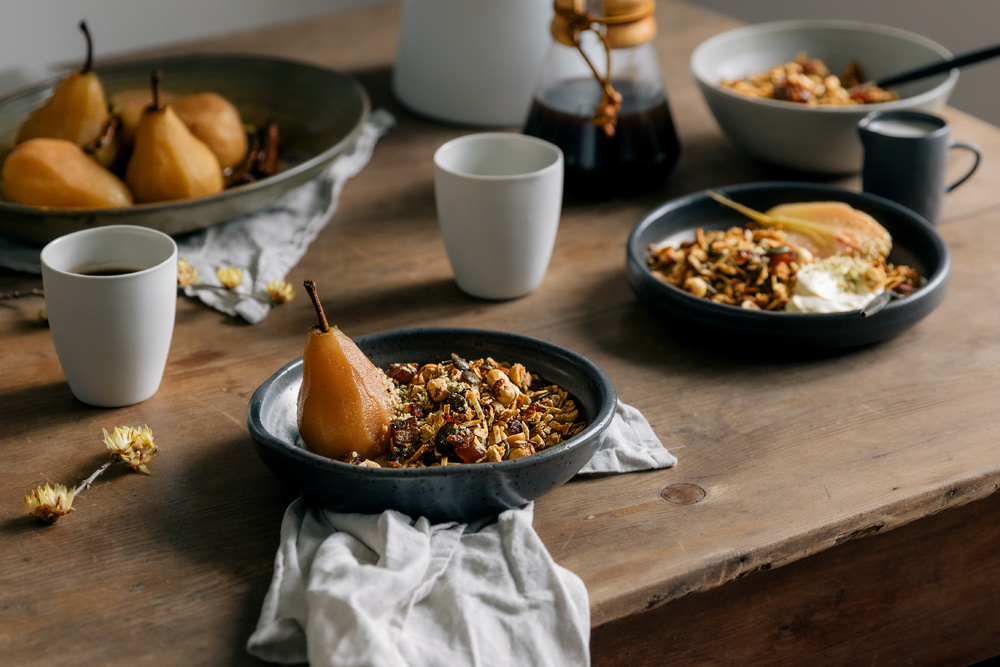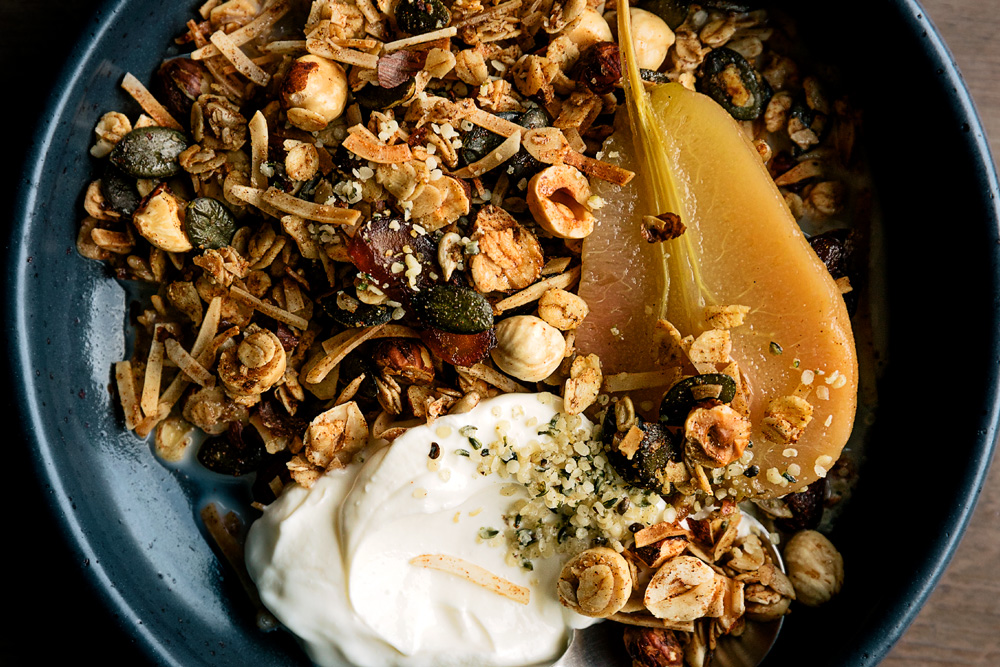 Ingredients

VGN, VEG, DF

20 minutes

10-12
1 cup (90g) rolled oats
¾ cup (100g) hazelnuts, very roughly chopped
¾ cup (40g) shredded coconut 
¼ cup (40g) sunflower seeds
¼ cup (40g) pepitas
3 tablespoons (50g) pure maple syrup
2 tablespoons (25g) extra virgin olive oil 
1 tablespoon (10g) vanilla bean paste or extract
1 teaspoon (4g) ground cinnamon 
½ teaspoon (2g) ground cardamom
6-8 Medjool dates, pitted and finely chopped
Method
Preheat your oven to 180°C/350°F (fan forced).
In a large mixing bowl, add the 1 cup rolled oats, ¾ cup hazelnuts, ¼ cup pepitas, ¼ cup sunflower seeds, ¾ cup shredded coconut, 1 teaspoon cinnamon, ½ teaspoon cardamom, 1 tablespoon vanilla, 2 tablespoons extra virgin olive oil, 3 tablespoons maple syrup, then stir to combine.
Pour and spread the mixture evenly onto a paper-lined baking tray.
Bake at 180°C/350°F for 12-15 minutes, tossing the mixture every 5 minutes to ensure even baking.
Once golden brown, remove the mixture, add the chopped dates, stir to combine, then allow to cool.
Serve with poached pears, or your favourite poached or fresh fruit and yoghurt.
Store in an airtight jar in the pantry or fridge.