This week's new recipe is a lush and decadent spaghetti using just a few simple good quality ingredients; Creamy Lemon Spaghetti with Olive Oil Fried Lemon Zest.
This one's quick and easy, but still that little bit special. A perfect pasta for a cosy night in, served with a fresh and crunchy green salad.
Enjoy the recipe and please let me know if you have any questions.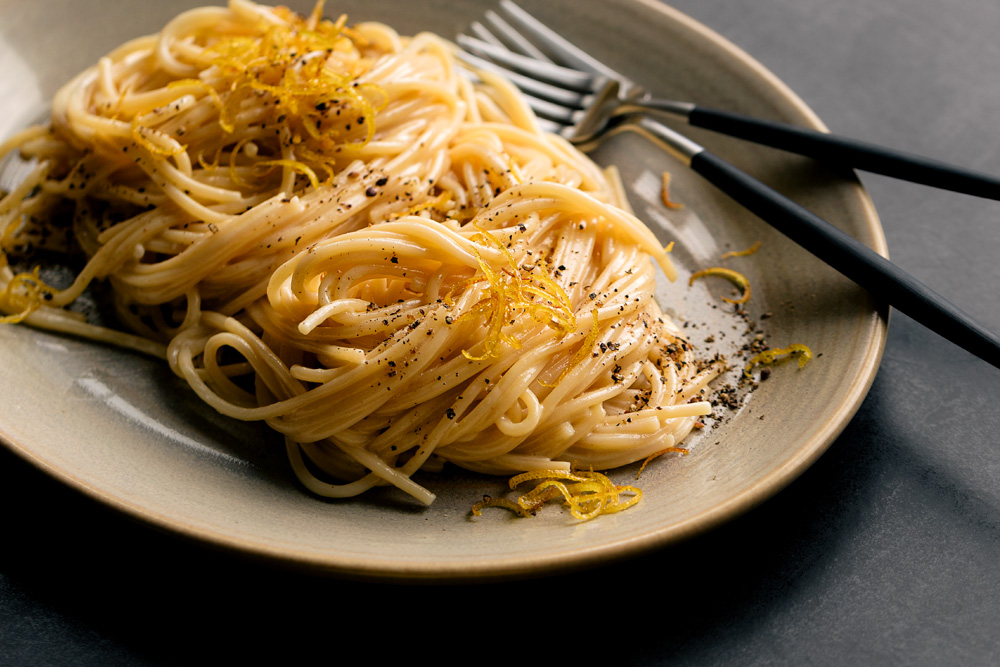 Ingredients

VEG

15 minutes

2
1 tablespoon extra virgin olive oil
3 lemons
1/3 cup pure cream (runny/pouring cream is best)
Roughly 1 teaspoon freshly cracked black pepper
35g butter
40g freshly finely grated parmigiano reggiano
Sea salt to taste
250g Barilla Spaghettoni
Method
Place a pot of salted water on to boil.
Add the Spaghettoni and cook as per packet instructions.
Peel the zest from one of the lemons and finely slice to create thin ribbons of zest.
Now place a large frypan on medium to high heat.
Add 1 tablespoon of olive oil and the zest ribbons then fry on medium/high heat until crispy.
Turn off the heat, remove the zest, and set aside.
In that same pan (without washing) add the cream and place onto low heat.
Finely grate the zest of 2 lemons into the cream.
Add a generous pinch of freshly cracked black pepper and simmer for roughly a minute.
Add the butter and stir until melted.
Add the juice of half a lemon and stir to combine.
Add the finely grated parmesan and stir to combine.
Just before the Spaghettoni is cooked, add 3/4 cup of the pasta water into the sauce and stir until combined.
Once the Spaghettoni is cooked add it directly into the pan.
Stir to combine, taste for salt, and add as required. A generous pinch is usually required but this may vary depending on the amount of salt in your pasta water.
Simmer the Spaghettoni in the sauce for roughly a minute.
Remove from the heat and continue to stir.
As the sauce cools slightly it will thicken into a rich and glossy sauce.
Serve topped with the olive oil fried lemon zest and some more freshly cracked black pepper.