This week's new waffle recipe forms the perfect base for whatever topping ingredients you may have in your kitchen. I love recipes like that! It's a 'choose your own adventure' type dish. I had a few peaches in the fruit bowl, some raw vegan dark chocolate in the fridge and pistachios in the cupboard... perfect! 
This recipe makes such a good combo, but you could also use any kind of stone fruit you may have; pears or banana. A few other topping ideas (that you may already have in your fridge) might be; natural yoghurt with berry jam, coconut oil and pure maple, and natural yoghurt with fresh banana and pure maple. The options are endless!
I've also posted recipes for these Vanilla Buckwheat Waffles with Lemon Curd, Fresh Berries & Mint and Buckwheat Blueberry & Ricotta Hotcakes with Maple & Seeds that you may also love to check out!
Enjoy the recipe!

PS: Also if you're on SNAPCHAT join me for a bit of fun and a behind the scenes look at Gather & Feast... my user name is: gatherandfeast
 
Props I used in this post:
Serving Plates: Country Road
Ingredients Bowl: Marmoset Found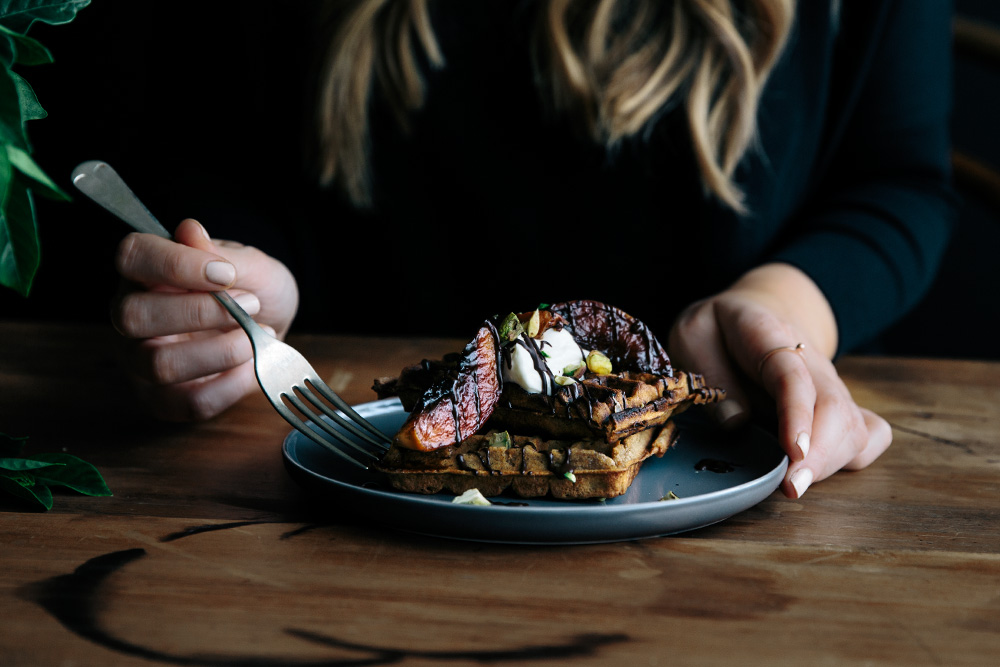 Ingredients

GF, RSF

20 mins

6-8
2 cups buckwheat flour
½ tsp baking soda
½ tsp sea salt
1 tsp vanilla powder
3 tbs coconut sugar
2 cups almond milk
3 eggs, separated
2 tbs coconut oil, melted  
3-4 large peaches, sliced
3 tbs extra coconut sugar (for caramelising the peaches)
1 tbs extra coconut oil (for caramelising the peaches)
100g dark chocolate (I use a refined sugar free chocolate; 'Pana Chocolate' or 'Loving Earth'. I have used a mix of both today)
¼ cup pistachios, roughly chopped
Natural yoghurt or coconut yoghurt (unsweetened)
Pure maple syrup
Method
In a large pan, melt the extra 1 tbs coconut oil and sprinkle with the 3 tbs coconut sugar.
Place the sliced peaches into the pan over the coconut sugar and cook on medium to high heat until golden brown.
Turn the peach slices over and cook for a further few minutes until golden on the other side. Once the peaches are cooked, set aside.
Place the buckwheat flour, baking soda, sea salt, vanilla powder and coconut sugar into a large mixing bowl.
Then add the almond milk, coconut oil and egg yolks and gently stir to combine.
In a medium bowl whisk the eggwhites until stiff and then fold into the mixture.
Place your waffle pan onto the stove to heat up. Once hot lightly spray with oil.
Place the mixture into the waffle pan. The amount will vary depending on the size of your waffle pan. My pan takes about ¼ cup each side of the pan.
Cook for about 2 minutes on high heat, then turn the waffle pan over and cook for a further few minutes. 
Remove the cooked waffles from the pan then repeat with the remaining mixture. 
To serve, place the waffles onto a plate, add a generous dollop of natural yogurt, some caramelised peaches, a drizzle of dark chocolate, a glug of pure maple, and sprinkle with pistachios. Enjoy!!
Free Resources
Click on the links below to print or save this recipe to your device.

Print friendly recipe PDF