This week's new recipe are these sticky date and spiced pear puddings with cognac spiked caramel sauce. They're lush, sweet, and decadent, with the perfect touch of spice. And they look super cute too, especially topped with those fresh pear slices that add an extra layer of texture and freshness to the dessert.
I was actually invited by the team at Carter Grange Homes to cook this recipe (+ others) in their beautiful Brighton East Show Home here in Melbourne using my favourite Miele appliances. We shot and filmed this one and also a lemon and blackberry cake with vanilla and juniper frosting which you can check out here.
These puddings are a definite crowd pleaser and perfect for any occasion. They look beautiful and best of all you can prepare everyone's dessert at the same time. Perfect for when you want to prepare something quick that also looks impressive. And don't get me started on that lush and silky cognac caramel sauce. Yum!
This pudding recipe DOES require a steam oven to cook so if you don't have a steam oven find a friend that does and tell them you'll bring dessert when you invite yourself over. ☺ You could try steaming them in a stovetop steamer but I haven't personally tested this method myself.
You're absolutely going to love this recipe. Let me know if you give them a go @gatherandfeast and feel free to ask any questions.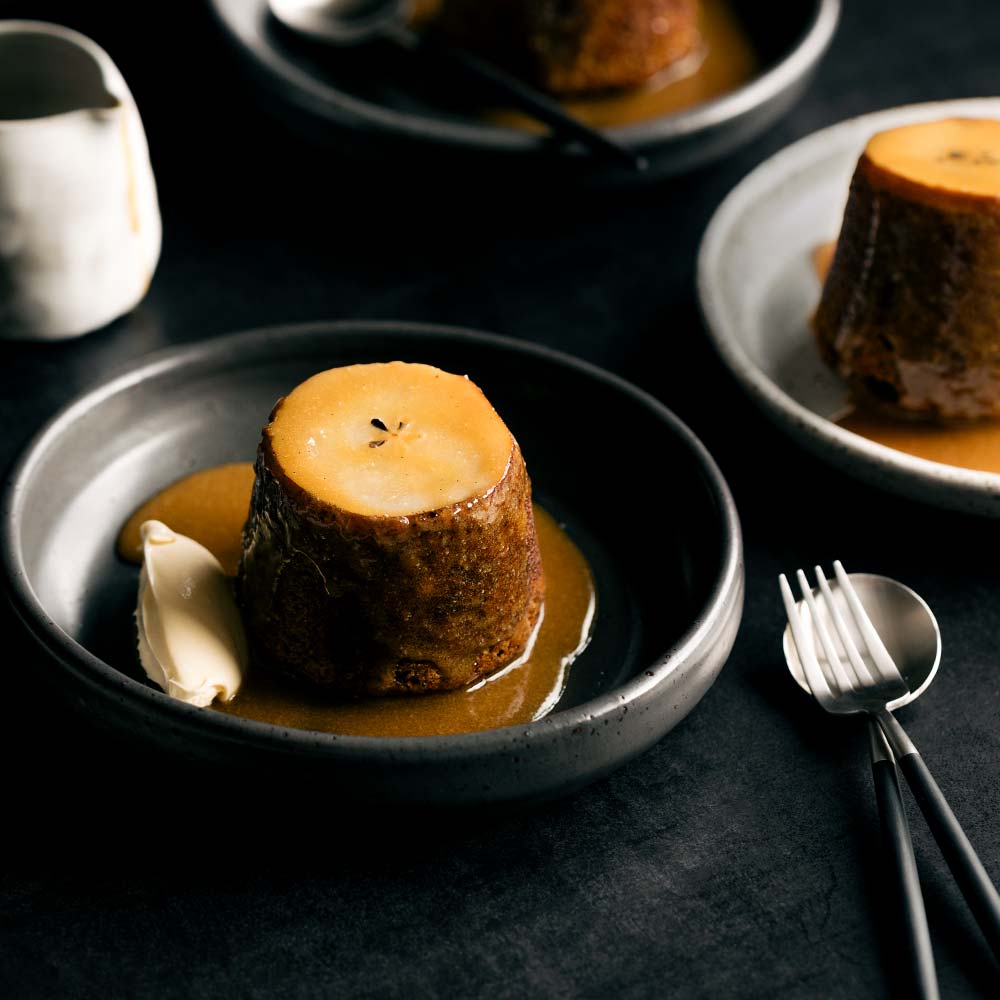 Ingredients

25 minutes preparation time + 25 minutes cooking time

6
Puddings
225g Medjool dates, pitted and roughly chopped 1 teaspoon baking soda
1 1⁄4 cups hot water, freshly boiled
1 egg
3⁄4 cup (150g) raw castor sugar
3 tablespoons (20g) vanilla bean paste or vanilla extract 1 1⁄4 cups (180g) plain/all-purpose flour
1 teaspoon baking powder
1⁄2 teaspoon sea salt
1⁄2 teaspoon ground allspice
1⁄4 teaspoon ground clove
1-2 firm pears, thinly sliced

Cognac Spiked Caramel Sauce
70g salted butter
1 1⁄2 cups (320g) brown sugar
1 cup (225g) thickened cream/heavy cream
1 tablespoon (10g) vanilla bean paste or extract
1 teaspoon sea salt flakes
3 tablespoons cognac, you could also use whisky or brandy, or leave it out
Crème fraîche to serve
Method
Add the pitted dates to a medium-sized bowl.
Add the 1 teaspoon bi-carb soda and 1 1⁄4 cups boiling water.
Let sit for 5-10 minutes to allow the dates to soften.
In a large mixing bowl whisk together the egg, 3⁄4 cup sugar, and 2 tablespoons vanilla until light and fluffy.
Mash the dates with a fork until 'pulpy'.
Fold the date mixture into the whipped egg and sugar.
Add the 1 1⁄4 cups flour, 1 teaspoon baking powder, 1⁄2 teaspoon salt, 1⁄2 teaspoon ground allspice, and 1⁄4 teaspoon ground clove.
Fold to combine.
Lightly grease 6 pudding moulds.
Add 3-4 slices of pear to the bottom of each mould.
Divide the date batter between each of the moulds.
Steam at 100°C for 25 minutes.
Remove from the oven and set aside for 5 minutes.
While the puddings are steaming let's make the caramel sauce.
Add the 70g butter, 1 1⁄2 cups brown sugar, 1 cup thickened cream, and vanilla to a heavy-based saucepan.
Stir on medium heat until the butter has melted and the sugar has dissolved.
Allow to simmer on low heat for 5-7 minutes.
Remove from the heat and add the cognac and salt.
Stir to combine then set aside until ready to use.
Once the puddings are ready, turn them out onto a serving plate, pour over some of the caramel sauce, and serve with crème fraîche or fresh cream.