This week's new recipe are these beautiful Spiced Chocolate Gugelhupfs, aka. Baby Bundt Cakes. These little delights were inspired by an upcoming trip I have planned to Berlin next week for a secret Miele event where they will be revealing a revolutionary innovation in cooking. Very exciting!!
Gugelhopfs are traditionally light yeasted marble cakes baked in large bundt molds. In this recipe, I have put my own little twist on the gugelhupf and have created a cake version of this sweet treat. No yeast or kneading involved! The cake itself is light with a moist crumb and spiced dark chocolate swirled through the batter. Delicious!
These baby bundt cakes are the perfect little sweet treat for any occasion, especially Christmas because of all their lovely spices.
Enjoy!

PS: If you're not already, be sure to follow me over on Instagram for the latest from G&F and also updates on my trip to Berlin next week.  @gatherandfeast
Props I used in this post:
Ingredients Bowls: Mud + Bridget Bodenham + Marmoset Found + Lemons Ceramics
Cake Stand: Sophie Harle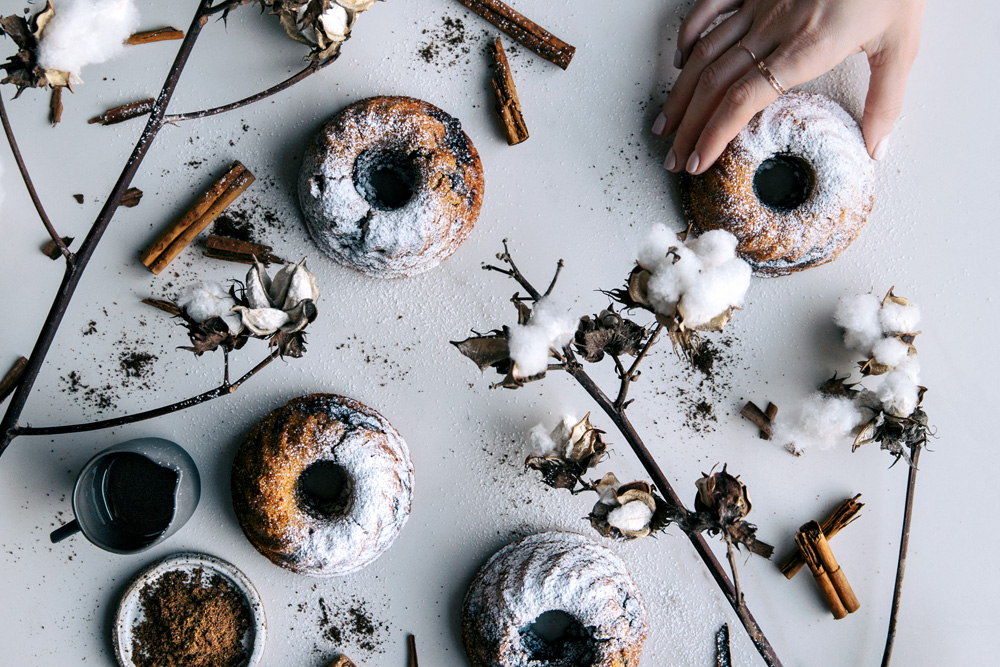 Ingredients

50 min

12-24
Cake Mixture
250g good quality salted butter
2 tbs vanilla paste or extract
5 eggs, separated
300g whitespelt flour (or good quality plain flour)
250g coconut sugar (or 200g brown sugar)
1 tsp baking powder
¼ cup almond milk or milk
½ cup brandy (optional, add ¼ cup extra almond milk or milk if not using brandy)

Chocolate Spice Swirl
200g good quality dark chocolate
50g salted butter or coconut oil
3 tbs coconut sugar or brown sugar
1 tbs cacao powder
1 tsp vanilla 
1 tbs cinnamon
½tsp allspice
¼tsp clove
2 tbs brandy (optional)
¼tsp fleur de sel (flaked sea salt)
Method
Preheat your oven to 180 degrees Celsius (350F) and grease 2 x 12 bundt mould trays or one large bundt tin, set aside.
Add all the chocolate spice swirl ingredients (except the brandy) into a small saucepan and melt gently over low-medium heat. Once melted, set aside to cool slightly and stir in the brandy. 
In a large mixing bowl beat the butter, sugar, and vanilla until light and fluffy.
Add the egg yolks and beat until well combined.
Add the flour and baking powder and lightly fold into the butter mixture until partially combined.
Add the milk and brandy and fold through until the mixture is just combined.
Gently fold in the whipped egg whites until well combined. 
Very gently swirl and fold ¾ of the chocolate spice mixture through the cake batter and scoop into prepared cake tins. 
Dollop the remaining chocolate spice mixture into the batter creating little chocolate pockets.
Place into the oven and bake for 30-35 minutes. 
Remove from the oven and set aside to cool slightly.
Dust with icing sugar or cacao. Enjoy!