I seem to always be experimenting with different ingredients and flavour combinations, and my latest creative success is this buckwheat and berry crumble. I have made many crumbles in my time but never with buckwheat flour so decided to give it a go. I've teamed this buckwheat crumble topping with fresh strawberries, blackberries, and a sprinkling of fresh mint. The tartness of the berries and freshness of the mint plays nicely with the nutty, earthiness of the buckwheat and hazelnuts. The combination is delightful! I like to serve it warm with fresh organic cream, but you could also serve it with yoghurt or a dairy-free alternative like coconut yoghurt.
Side note: I am also very excited about a recent product discovery I made... Vanilla Bean Powder! I discovered Loving Earth Vanilla Bean Powder at my local health food shop not long ago, and am already obsessed! It is pure organic vanilla bean pods ground into a powder. I often use vanilla bean paste in cooking but found some brands contain additives like sugar syrups or even alcohol. If you don't want to use whole vanilla bean pods or paste this is a great alternative. The vanilla powder comes in an airtight amber jar, so it's easy to keep stored in the pantry. My little jar is lasting forever! It's very economical. I highly recommend.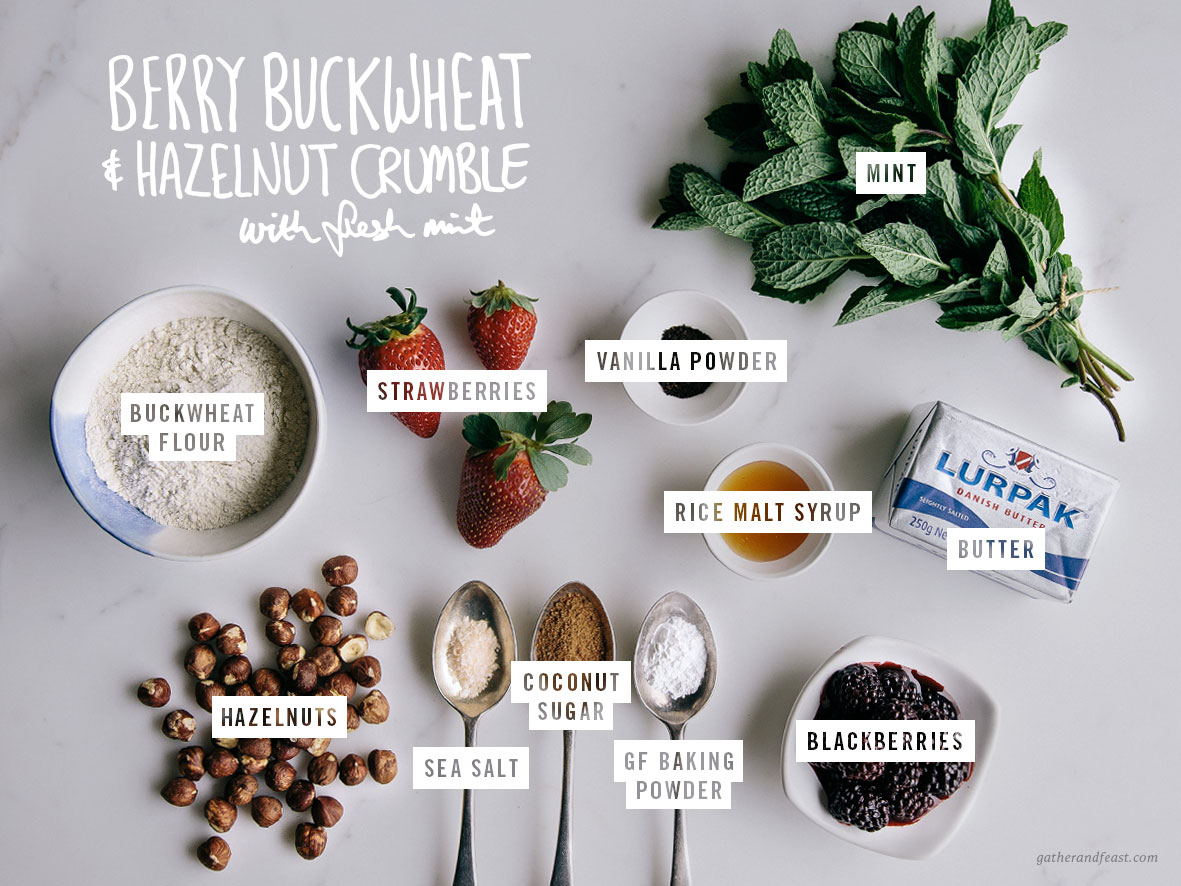 Ingredients

VEG, GF, RSF

50 mins

6
Berry Mix
​​500g fresh or frozen blackberries
2 250g punnets fresh strawberries
1 small bunch of fresh mint
3 tbs rice malt syrup
​
Crumble
2 cups buckwheat flour
1 ¾ cups roughly chopped hazelnuts
125g cold butter, chopped into small cubes
¼​ cup coconut sugar
½ cup rice malt syrup
1 tsp baking powder
1 tbs vanilla powder
Large pinch of sea salt
Fresh cream to serve
Method
Pre-heat your oven to 180 degrees celsius.
Slice the strawberries and mix them in a bowl with the blackberries, rice malt syrup, vanilla, a few fresh mint leaves and set aside.
Mix the buckwheat flour in a bowl with the coconut sugar, vanilla, sea salt and rice malt syrup.
Add the chopped butter into the flour mixture and mix in with your fingertips to create a crumbly texture.
Add the chopped hazelnuts to the mixture and stir to combine.
Place the berry mix into a baking dish then sprinkle the crumble mixture on top.
Pop the dish into your pre-heated oven and bake for 30 minutes.
Once cooked, take the crumble from the oven and let it cool for 5 minutes.
Serve with freshly torn mint leaves and fresh cream.

(You could also swap the butter for coconut oil and serve with coconut yogurt)
Free Resources
Click on the links below to print or save this recipe to your device.

Print friendly recipe PDF

Tablet friendly recipe PDF