This week's recipe is my delicious homemade granola. It contains no refined sugar and has no added oils. I have used tahini and pure maple syrup as the binders and their combination along with the vanilla bean is super delicious! It's the way the clusters are created that gives this granola the perfect texture. I leave about ⅓ of the mixture whole and blend the remaining ⅔ in a food processor.
Today I have served the granola with fresh creamy vanilla almond milk (my almond milk recipe still needs a little tweaking before I share it with you all ☺) and fresh blueberries. You could also serve it with natural yoghurt and any fruit of your choice. I might also try making these into granola bars at some stage, for a great snack on the go. I'll be sure to upload the recipe if I do.
What's your favourite granola breakfast combination?
Have a wonderful week!


Props I used in this post:
Bowl: Bridget Bodenham
Napkin: Muji
Rings: Lott Studio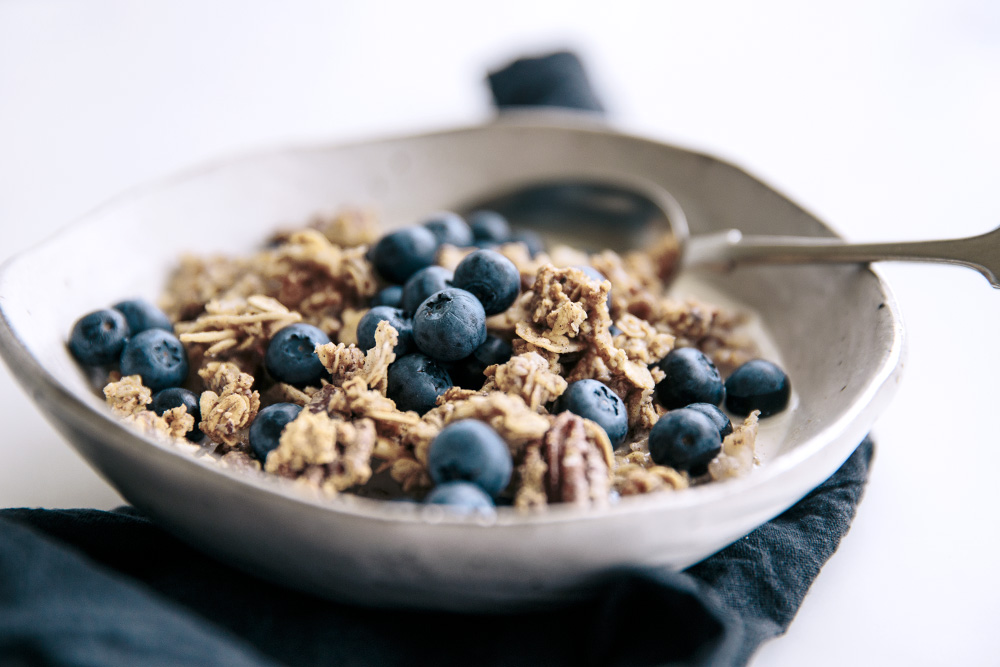 Ingredients

RSF, VGN

45 mins

20
3 cups oats
1½ cups roasted almonds, whole
1 cup raw pecans, whole
2½ cups flaked coconut
1 tbs vanilla powder
1 tbs cinnamon
1 cup pure maple syrup
¾ cup hulled tahini
Pinch sea salt
Method
Add the oats, almonds, pecans, coconut, vanilla and cinnamon to a large mixing bowl and stir until combined. 
Now take about 4-5 cups of the mixture and place into a food processor with the tahini. 
Pulse a few times in the food processor until coarsely chopped.
Add the coarsely chopped mixture back into the bowl with the whole granola mix.
Add the maple and sea salt and stir well to combine.
Pour the granola mix out onto two large paper lined baking trays and bake in a 170 degree celcius oven for 30-35 minutes.
Remove the granola from the oven and set aside to cool. 
Serve with milk (of your choice) or yogurt and fresh fruit. I have served mine with fresh vanilla almond milk and blueberries. 
Store the remaining granola in an airtight container in the pantry.