Spring has sprung here in Australia and it's just lovely! Sunshine, late night sunsets, and a new season of fruit and vegetables; fresh beans and peas, bright jewel toned radishes and baby carrots, goat's milk cheeses and fresh ricotta. So delicious!
For this week's new recipe I thought I'd combine a few of the things I LOVE about spring into one dish; 'Fresh Ricotta with Broad Beans and Rye Sourdough'. The fresh green beans with the zesty lemon and garlic toasted rye crumbs are just delicious combined with the creamy ricotta! The perfect sharing pre-dinner snack, light lunch or cheese board addition.
I have used fresh broad beans in this recipe but you could also use fresh shelled peas or even sugar snap peas if you have trouble finding broad beans. Also I've served this dish with rye crackers but feel free to use any cracker you like. You could also serve it with thinly sliced crusty bread. For all my northern hemisphere friends entering Autumn (Fall), you could substitute the broad beans for an autumnal vegetable like sauteed kale or broccoli.
Enjoy!

PS: Stay tuned for my 'Spring Grazing Board'... recipe hitting the site next week!

Props I used in this post:
Plate: Bridget Bodenham
Ingredients Bowl: Marmoset Found
Rings: Lott Studio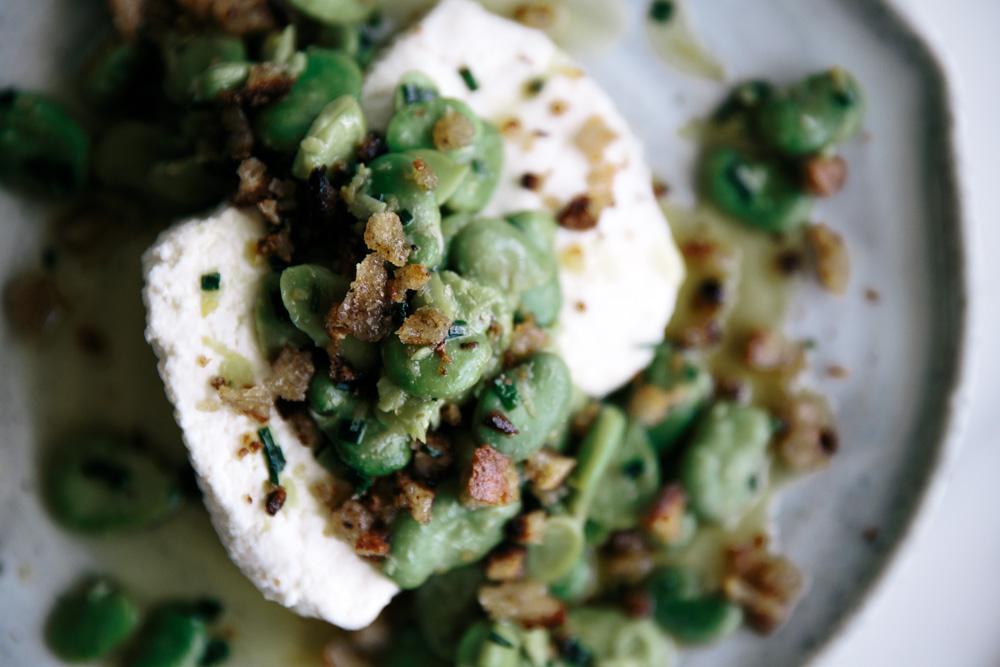 Ingredients

VEG

15 mins

10
400g fresh ricotta cheese
2 cups broad beans, shelled (you could also use fresh peas)
1 small bunch chives, finely chopped
Zest & juice of 1 lemon
2-3 slices rye sourdough bread, finely chopped
1 small clove garlic, crushed
Extra virgin olive oil
​Flaked sea salt
Method
Place the ricotta onto a serving dish and set aside.
In a small fry pan add the breadcrumbs, garlic, a small glug of olive oil and a pinch of salt.
Cook the breadcrumbs on medium-high heat until lightly browned and crisp. Then remove from the pan and set aside.
Next, saute the broad beans in a little olive oil until bright green. This should only take a couple of minutes.
Add the chives, lemon zest and lemon juice to the broad beans and a generous pinch of salt. Mix well.
Scoop the broad bean mixture over the ricotta and then sprinkle with the breadcrumbs.
Drizzle a little extra olive oil and a sprinkling of sea salt.
​Serve with crackers or fresh crusty bread.