This week's new recipe is these delicious fruit and nut balls. They look a little impressive but are so easy to make and taste amazing. The roasted nuts, oats, and coconut, mixed with the sweet chewy dates, a pop of sea salt, and that dark chocolate coating - SO yum.
The key to these is the texture inside. It's 'rough' due to the fact that we don't use a food processor, instead, we simply mix the mixture together with our hands. The result is the most delicious roasty, chunky, chocolaty treat.
These are best stored in an airtight container in the fridge for up to a month (although they probably won't last that long, especially if you have others in the house).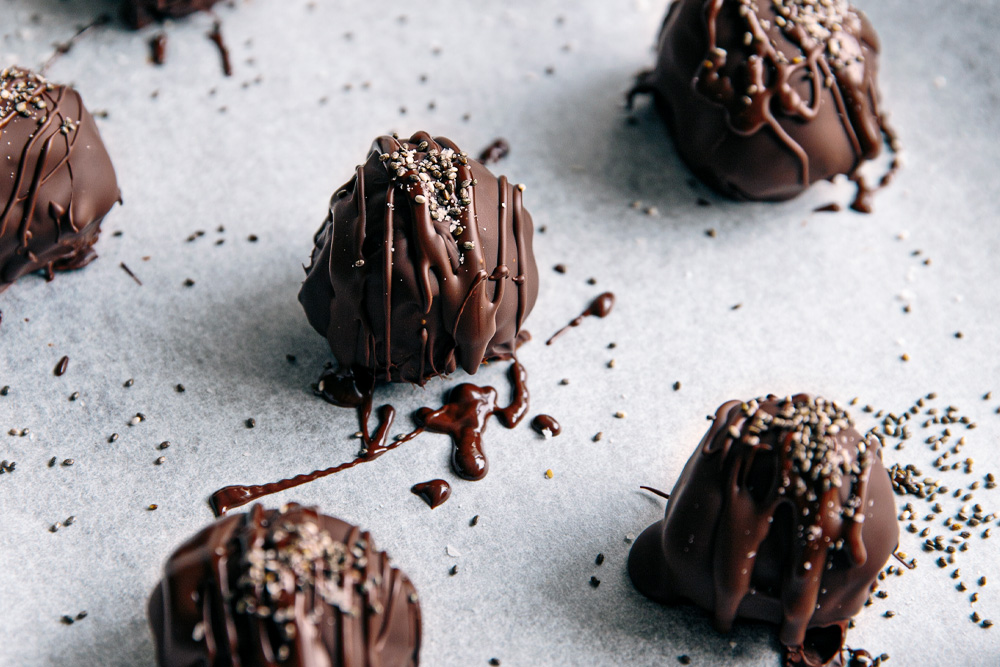 Ingredients

GF, Dairy-free, VEG, VEGAN

30 minutes (+ setting time)

12-16
½ cup rolled oats
½ cup roughly chopped roasted almonds
½ cup flaked coconut
1 tbs chia seeds
½ tsp vanilla extract or paste
1 tbs coconut oil -OR- olive oil -OR- butter
1 cup pitted Medjool dates -OR- if you can't get Medjool dates use 1 cup packet of pitted dates that have been soaked in boiling water for 5-10 minutes then drained
200g dark chocolate
Method
Preheat your oven to 180C/350F (fan forced).
In a medium-sized mixing bowl combine the oats, almonds, coconut, chia seeds, vanilla, and coconut oil, then mix to combine.
Spread the mixture onto a paper-lined baking tray and bake at 180C/350F for 8 minutes or until golden.
Remove from the oven and set aside.
Add the pitted dates, the toasted mixture, a pinch of salt, to the same mixing bowl (no need to wash or rinse) then mix well with your hands to combine.
Scoop 1 tbsp sized balls of the mixture and roughly form them with your hands.
Place onto a tray and pop into the freezer to set.
Melt ⅔ of the chocolate over low heat.
Once melted add the remaining chocolate and remove the pot from the heat, then stir until all the chocolate has melted.
Remove the balls from the freezer and coat in the chocolate and top with a sprinkling of chia seeds.
Now pop them into the fridge to set for a few hours or overnight.
Store in an airtight container or jar in the fridge. Enjoy! x