It's spring here in Australia! The days are getting longer, the nights warmer, and we're fast approaching my favourite time of the year, entertaining season. This year I'm super excited about entertaining in our newly transformed backyard! Just over a year ago now Mike and I moved into our new home and have been busy transforming the garden from a bare muddy swamp into a beautiful green space that we can both enjoy, and most importantly, entertain in. I'll have to share some before and after photos with you all once it's complete.
With the end of the year fast approaching I thought I'd create a menu with some new recipes perfect for entertaining and also share a little table styling inspiration. For this little gathering I had the pleasure of partnering with the guys from Royal Doulton who recently sent me pieces from their beautiful new 'ED' series collection. As you can see the pieces featured in the photos look beautiful! 
For this setting I have combined the Cobalt Blue Chevron, Charcoal Grey Lines and Taupe Stripe sets, along with some pieces of the Charcoal Accents and Serveware Accessories range. The Cobalt Blue Chevron pieces have now become a favourite of mine to use around the house.
The featured recipe in today's post is my Spring Spaghetti with Fresh Clams, Herbs, Chili & Roasted Almonds. This light and delicious pasta dish is super simple to make and packed full of flavour. I have used fresh vongole (clams) in this recipe but feel free to use mussels or your favourite seafood. For a vegetarian version, butter beans make a delicious seafood replacement.
Check out the full lunch menu and recipes below, and stay tuned for the Lemon, Olive Oil Vanilla Cake with Yoghurt Cream & Chamomile which will be online in the next few weeks!
Enjoy!

THE MENU
Sourdough Bread with Lime & Black Pepper Butter with Gin Pickled Cucumber
Cheese & Antipasto Selection - French brie with fresh honeycomb, comte, gorgonzola with fig relish, olive oil roasted almonds, chili herb anchovies with smokey dark rye crackers
Green Salad with Avocado & Fresh Parmesan Shavings
Bright Spring Spaghetti with Fresh Clams, Herbs, Chili & Roasted Almonds
Lemon, Olive Oil Vanilla Cake with Yoghurt Cream & Chamomile (recipe coming in the next few weeks)
Lime & Black Pepper Butter
100g good quality salted butter (I use cultured butter)
Zest of 1 lime
Freshly cracked black pepper
¼ tsp lemon myrtle (optional)
 
Mix the butter, lime zest, black pepper and lemon myrtle to combine.
Roll into a small log using baking paper and place into the fridge to firm up.
Gin Pickled Cucumbers
1-2 Lebanese cucumbers thinly sliced
1-2 tbs good quality gin or lime juice
1 tsp juniper berries, crushed
 
Add the cucumber, gin or lime juice, and juniper berries together and set aside ready to use. 
Serve fresh crusty sourdough bread with the lime pepper butter and cucumbers.
Cheese and Antipasto Selection
French Brie with fresh honeycomb
Comte, French firm cheese
Gorgonzola with fig relish
Warm olive oil sea salt roasted almonds
Warm wild olives
Chili and fresh herb anchovies
Good quality extra virgin olive oil and thick balsamic 
Smokey dark rye crackers
Fresh sourdough bread
Props I used in this post:
Serving Plates & Bowls: ED Cobalt Blue Chevron, ED Charcoal Grey Lines, ED Taupe Stripe 
Salad Dish: Olio Wooden Server
Bread Serving Platter: ED Serving Board
Cheese & Antipasto Plates: ED Serving Platter, ED Charcoal Accent Plates & Bowls
Flower (Jug) Vase: Olio Black Jug, Olio White Jug
This post is in partnership with Royal Doulton. As always, all thoughts and opinions are my own.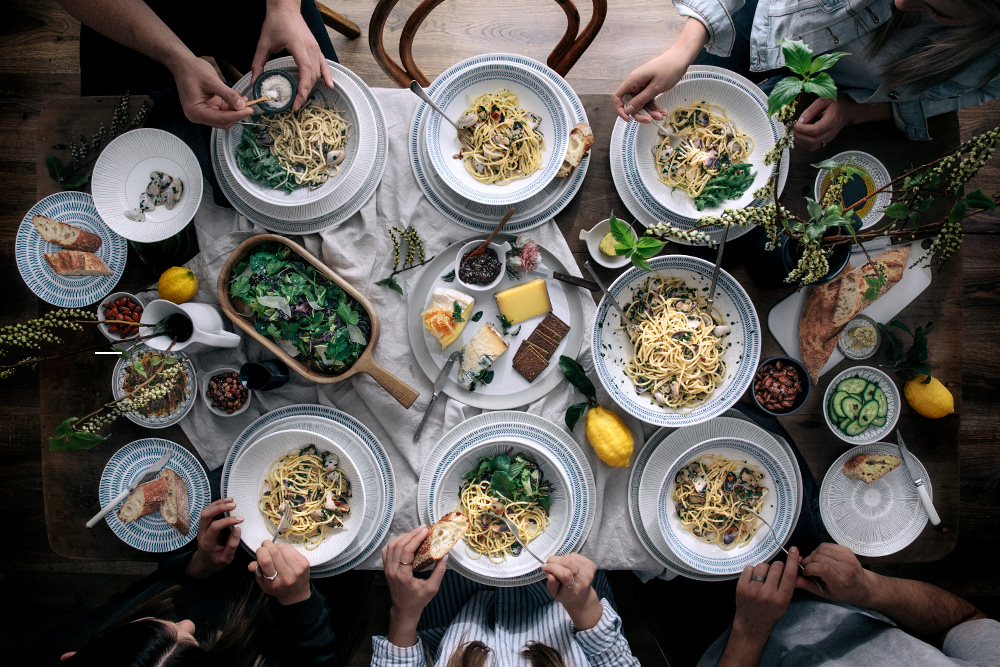 Ingredients

RSF, DF, VEG, VGN Options

25 mins

4-6
800g fresh vongole (also known as clams or pipi's) -- or mussels -- or butter (lima) beans for a vegetarian version 
400g good quality spaghetti
4 cloves garlic, finely chopped or crushed
Large pinch chili flakes (add as desired)
Small bunch of fresh oregano, finely chopped
Bunch of chives, finely chopped
Large bunch of parsley, finely chopped
Zest of 1 large lemon 
1 cup white wine
Extra virgin olive oil
Flaked sea salt
1 cup roasted almonds, roughly chopped
Method
Soak the vongole in a large bowl of cold water overnight in the fridge (this will remove any sand that could be in the vongole).
When ready to use, rinse the vongole a couple of times in fresh cold water, set aside.
Cook the spaghetti al dente as per packet instructions.
While the spaghetti is cooking, in a large saucepan add a couple of tablespoons of extra virgin olive oil, then add the garlic and chili flakes. Saute on low heat for a few minutes until the garlic is soft.
Turn up the heat and add the fresh herbs, lemon zest, a large pinch of sea salt and the clams (or butter beans). Give the pan a good shake.
Add the white wine and place the lid on the pan, shaking the pan as it cooks.
Cook for 4-5 minutes until the vongole have opened or the butter beans have warmed through.
Discard any unopened vongole.
Once the spaghetti is cooked drain and add into the pan. Toss or stir with tongs to combine.
Top with the roasted almonds, extra lemon zest, chili flakes, sea salt and a drizzle of extra virgin olive oil. Serve immediately. Enjoy!