This week's new recipe is these delicious chicken, coconut, and Thai basil bowls, my take on 'chicken larb'. It's fresh, light, full of flavour, and super quick and easy to put together. Everyone in our family LOVED this one and have requested it many times since.
If you're after a vegetarian version simply use roughly crumbled firm tofu in place of the chicken, and lemon or lime juice in place of the fish sauce.
Enjoy the recipe and please let me know if you have any questions.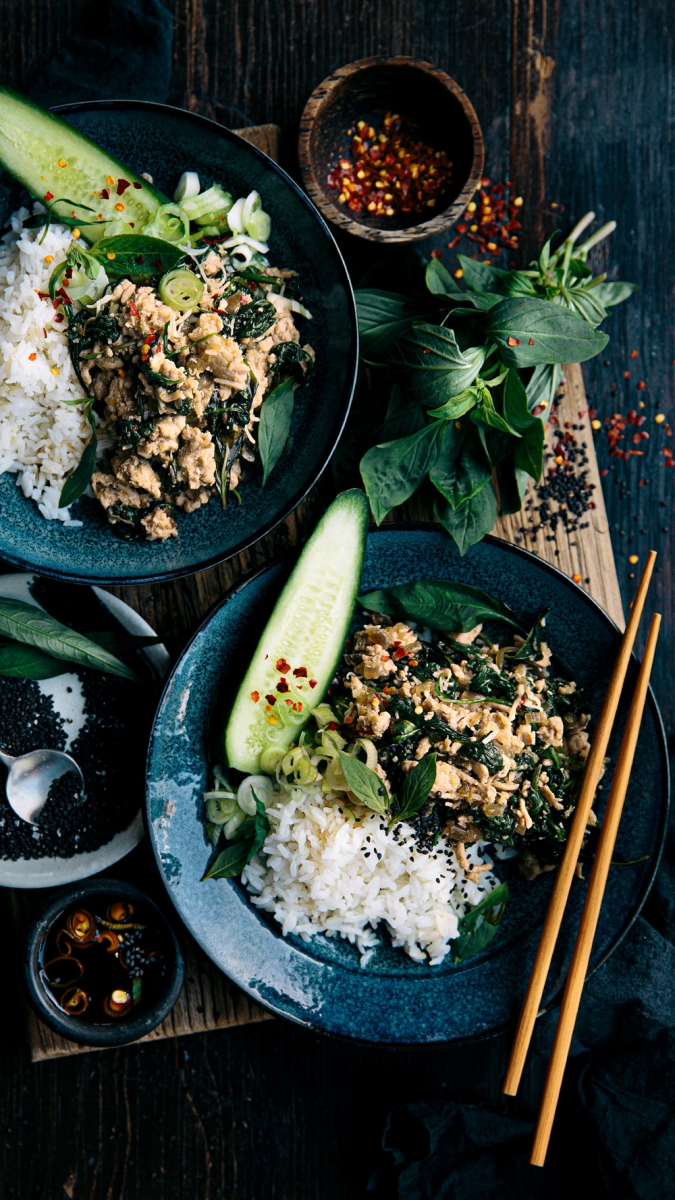 Ingredients

DF, VEG VGN OPTION

30 minutes

4
For The Bowls
1 tbs coconut oil -OR- neutral oil
1 red onion, finely chopped
Pinch red chili flakes, to your taste
500g free-range chicken mince -OR VEG OPTION- 500g firm tofu, roughly crumbled
⅓ cup shredded coconut
3 cloves garlic, finely grated or crushed
1 x 3-inch piece of fresh ginger, finely grated
5 tbs Tamari -OR- 3-4 tbs soy sauce
2 tbs toasted sesame oil
1 tbs fish sauce (optional)
180g fresh baby spinach
A handful of fresh Thai basil leaves (roughly 10-15g)
A handful of fresh Vietnamese mint leaves (roughly 10-15g)
1½ cups jasmine rice, rinsed in cold water
1 tbs coconut oil

To Garnish
Small bunch of spring onions, finely sliced
2 Lebanese cucumbers, sliced diagonally in half
Sesame seeds
Method
In a small saucepan add the coconut oil, rinsed rice, and a little salt.
Add the boiling water, bring to a boil, then turn down to low heat and simmer with the lid on for 15 minutes. DO NOT remove the lid at any time. We want all the steam trapped in the pot which helps create that perfectly fluffy rice.
After the 15 minutes turn off the heat and leave the rice to sit for 5 minutes with the lid on.
Remove the lid and fluff up the rice with a fork. Set aside until ready to use.
In a large frying pan or wok add 1 tbs coconut oil or neutral oil, the finely chopped red onion, and chili flakes. 
Sauté the onion and chili on medium to low heat until the onion is translucent.
Add the chicken and shredded coconut and sauté on medium to high heat until the chicken has browned.
Add the garlic and ginger and sauté for a minute or two.
Next, add the tamari, sesame oil, fish sauce (optional), and baby spinach.
Sauté on medium heat until the spinach has wilted.
Add the fresh Thai basil and Vietnamese mint and stir to combine.
Serve with the coconut rice, top with spring onions and sesame seeds, and fresh cucumber on the side. Enjoy! x