This week's new recipe is these delicious banana chocolate chip muffins. They're moist and fluffy all at the same time, and also super easy to make.
We usually enjoy them as they are, plain and warm from the oven, but if you would like to spruce them up a little you can top them with cream cheese mixed with a little maple syrup and vanilla, some fresh banana slices, and chocolate flakes (like I've shown here). So cute and so good!
Enjoy the recipe and the step-by-step video and please let me know if you have any questions in the comments below. I LOVE hearing your feedback and seeing the photos you all send me of your beautiful creations - @gatherandfeast #gatherandfeast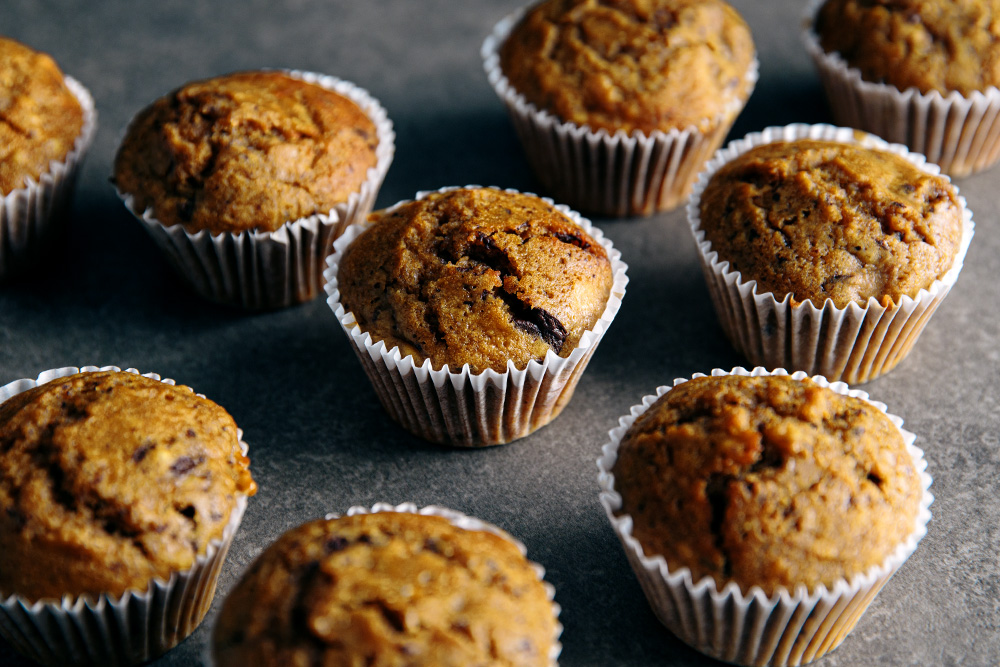 Ingredients

VEG, DF Options

30 minutes

12
Muffins
3 large overripe bananas, mashed
3 eggs
1 tsp vanilla extract
⅓ cup olive oil
1 cup milk of your choice (I used drinking coconut milk)
¾ cup coconut sugar (or raw or brown sugar)
2¼ cup spelt flour (or plain flour)
1 tsp of baking powder
½ tsp bicarb soda
Pinch sea salt
1 tbs apple cider vinegar
⅓ cup thick natural yoghurt or coconut yoghurt
150g dark chocolate, roughly chopped (or ⅓ cup cacao nibs or ¾ cup raisins or ¾ blueberries)

Vanilla Cream Cheese Frosting (if using)
500g cream cheese
​​​​​3 tbs pure maple syrup
1 tbs vanilla extract
Pinch sea salt
 
Dark chocolate, finely chopped
Fresh banana, sliced
Method
Muffins
Preheat oven to 180C/350F (fan-forced).
Mash the bananas in a large mixing bowl.
Add the eggs, milk, vanilla, and olive oil and whisk to combine.
Fold in the flour, sugar, baking powder, baking soda, sea salt, apple cider vinegar, natural yoghurt, and dark chocolate.
Line a 12 hole muffin tray with 12 large patty pans.
Scoop the mixture into the patty pans. I find it easiest to use a ladle.
Bake at 180C/350F (fan-forced) for 20 minutes.
Remove from the oven and set aside to cool slightly.
Serve the muffins warm as they are OR for something a little more extravagant, cool completely and serve topped with vanilla cream cheese or thick yoghurt, fresh banana, and dark chocolate. Enjoy!

Vanilla Cream Cheese Frosting (if using)
Combine the cream cheese, maple, vanilla, and sea salt in a stand mixer with the paddle attachment and beat until smooth.
Top each cooled muffin with a dollop of cream cheese mixture, some fresh banana slices and chocolate flakes.