This week's new recipe is a caramel, date and fresh ginger self-saucing pudding. This comforting and delicious dessert is also vegan and uses only a few key ingredients to prepare - hopefully, you have most of them in your pantry already!
I'll always try to give you guys multiple ingredient options where I can so feel free to swap-in ingredients if necessary. Today I've used oat milk but you could use almond, rice, coconut, or dairy milk if you don't need a vegan recipe. For the sweetener, I've used coconut sugar but feel free to use brown sugar or panela. For the flour, I've used whole spelt but feel free to use plain spelt, wholemeal flour, or plain flour. I've used a coconut yoghurt but feel free to use whatever unsweetened yoghurt you have on hand. 
I personally love fresh ginger so I've added more than the recipe suggests but feel free to adjust the ginger to your taste, testing the batter as you go. 
Enjoy the recipe!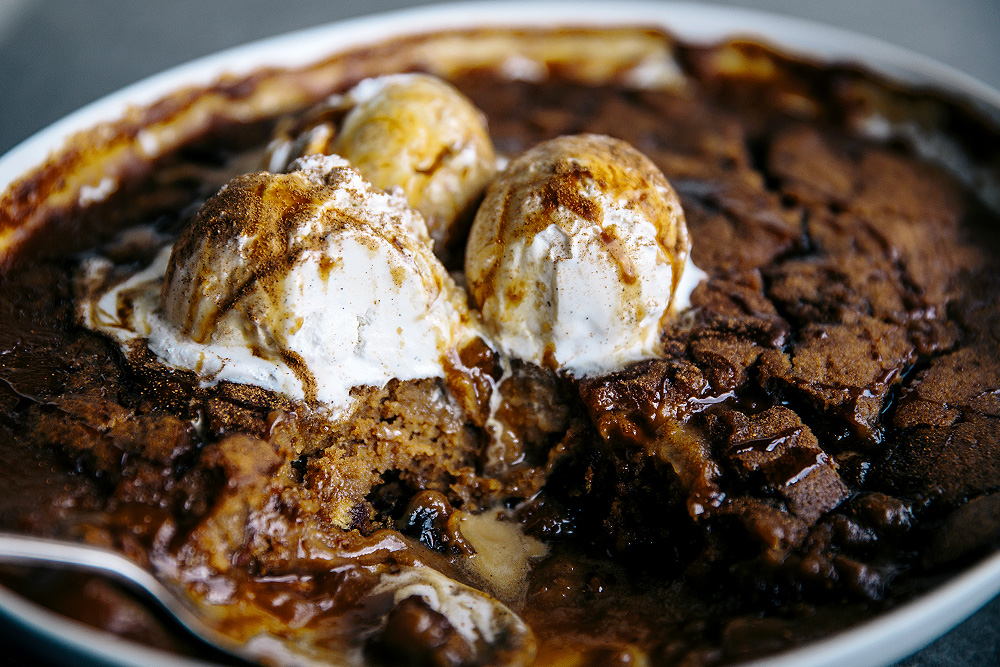 Ingredients

VGN, RSF

1 hour

6-8
½ cup olive oil
¾ cup milk of your choice - I've used unsweetened almond milk
½ cup coconut sugar (or brown sugar)
10 medjool dates, pitted & finely chopped -OR- 180g pitted packet/cooking dates, finely chopped
1 tbs vanilla paste or extract
1-inch piece of fresh ginger, finely grated (roughly 1 tbs) - add more or less depending on your taste
Pinch sea salt
1½ cups whole-spelt flour or wholemeal flour
1 tsp baking powder
½ cup yoghurt
½ cup coconut sugar
¼ cup pure maple syrup
½ cup coconut milk or almond milk
1½ cups boiling water
3-4 tbs cognac, whisky or brandy (optional)
½ inch piece of fresh ginger, finely grated (roughly 1 tsp)
½ tsp sea salt
Method
Preheat your oven to 180°C/350°F (fan forced oven).
In a mixing bowl whisk together the olive oil, milk, sugar, dates, vanilla, fresh ginger, and sea salt.
Add the flour, baking powder, and yoghurt and fold through.
Pour and spread the mixture evenly into a baking dish (roughly 6-8 cup capacity).
In the same mixing bowl (less washing up!) combine the coconut sugar, maple, milk, ginger, and boiling water and stir until the sugar has dissolved.
Carefully pour the hot liquid over the pudding batter. I like to pour the liquid over the back of a spoon so it spreads evenly and doesn't create a hole in the centre of the pudding.
Bake the pudding for 40-45 minutes.
Remove the pudding from the oven and let it rest for 10 minutes before serving.
Serve the pudding warm with your favourite ice cream, yoghurt or cream.
Dust the pudding with a little cinnamon and enjoy!