I had the privilege of experiencing some of the most amazing food and local fresh produce on my recent trip to Europe. One of my most memorable meals was ironically one of the simplest.
While exploring a little town on Lake Como, Mike and I decided to grab a quick lunch at this quaint unassuming little restaurant, before catching a ferry back to our hotel on the other side of the lake. I wasn't expecting my meal to be anything special, but boy was I in for a surprise. Shortly after ordering the waiter arrived with the most beautiful caprese salad, layered with perfectly sliced mozzarella, tomatoes, finely chopped basil and a generous drizzle of olive oil. It was utter perfection!
Here my friends is my recipe for the perfect caprese salad. It is so simple anyone could make it. You could serve it as a BBQ salad, a dinner side or as a light lunch on its own with some crusty bread or hearty crackers.
The freshness of the produce makes all the difference in this salad. As there are only three key ingredients you want them to be of the highest quality. Unfortunately Australian tomatoes may not be as intense in flavour as Italian tomatoes (why is that?!), so why not try truss, home-grown or organic tomatoes to ensure a fuller flavour. I also like to use a buffalo milk mozzarella, as it gives a smoother, milkier flavour and texture.
Sometimes simple is best and this salad is a testament to that.
Enjoy!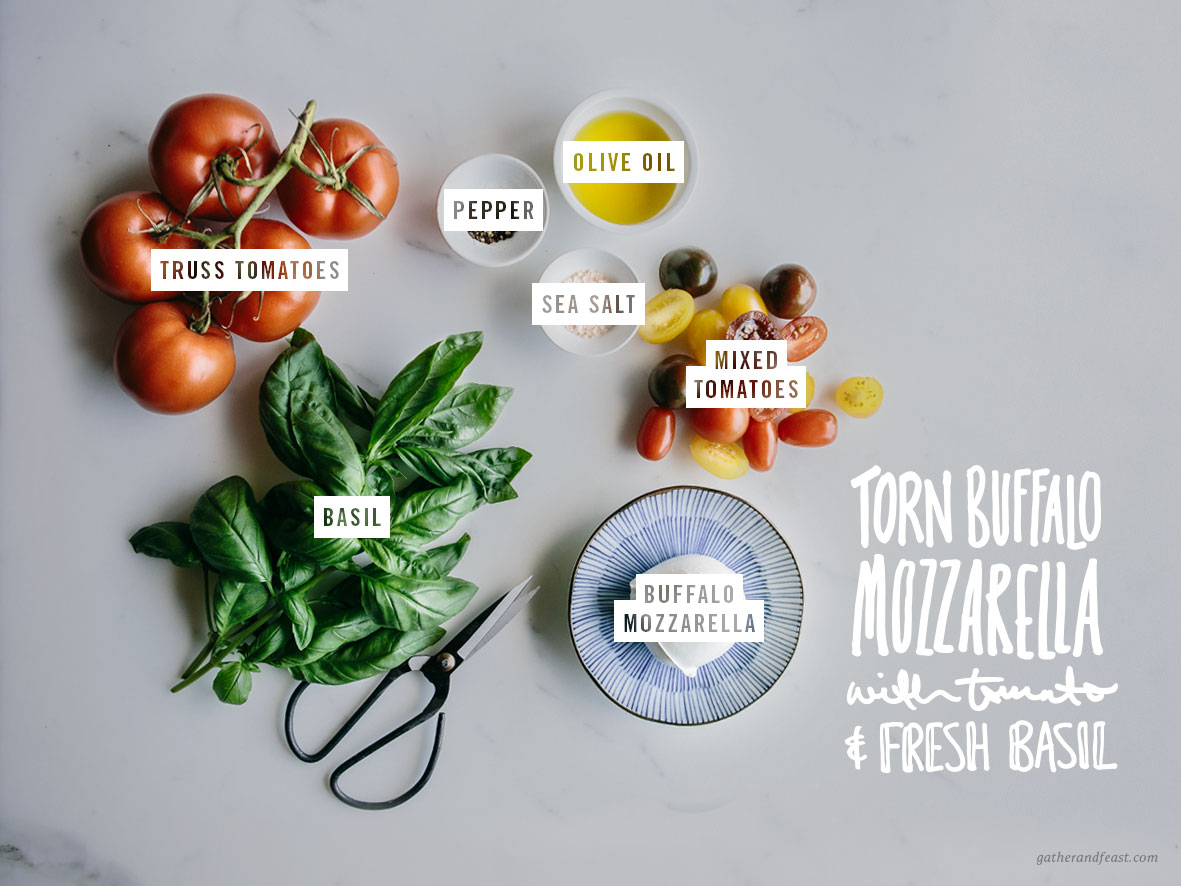 Ingredients

GF, VEG

15 mins

4 - 6
250g of buffalo mozzarella
3 medium truss tomatoes
200g of mixed tomatoes
(grape, yellow, black)
A small bunch of fresh basil
Cold pressed extra virgin olive oil
Sea salt
​Freshly cracked pepper 
Method
Slice the medium truss tomatoes and place them on a serving plate.
Next, chop the small mixed tomatoes in half (I like to mix it up length ways and across ways) and add them around the medium tomatoes.
Tear up the lovely buffalo mozzarella and place it over the tomatoes.
Pick the basil leaves off their stems and scatter them over the tomatoes and mozzarella.
Finally, drizzle with olive oil and sprinkle with salt and cracked pepper.
Serve with crusty bread or some crackers (also perfect served as a side dish or side salad). 
Free Resources
Click on the links below to print or save this recipe to your device.

Print friendly recipe PDF

Tablet friendly recipe PDF