This week my friends, I made labneh for the very first time!! If you have never heard of labneh it's simply natural greek yoghurt that has been strained to remove its whey (the watery liquid), resulting in a beautifully thick consistency, while still preserving the yoghurt's tangy taste. I used a nut milk bag (these can be found at most kitchen stores), and drained the yoghurt into a bowl overnight. The yoghurt strained perfectly and the labneh was thick and delicious! I served it as a dip drizzled with olive oil, sprinkled with sumac, and served it with spelt crackers and olives. Yum! Funny enough, the hardest part was working out where and how to hang the yoghurt bag overnight. Mike ended up grabbing a clothes rack from the laundry, and hung it over the kitchen bench. My friend Marla was telling me that her mum strains hers from the tap over her bath! Hilarious, but effective.
For this weeks recipe I've teamed up the labneh with some lamb and pinenut koftas and charred cos lettuce. Yes you did read correctly, charred cos lettuce! Now you might be thinking, cooked lettuce? Ew! But trust me, the charred lettuce tastes amazing! The trick is to cook the lettuce so it's charred and warm on one side, but still crisp and fresh on the other, then serve it immediately with a drizzle of olive oil, and a squeeze of lemon juice. Oh yes! It's the perfect addition to a BBQ lunch, dinner or middle eastern feast.
I cooked the kofta balls in a hot pan, browned them on both sides, and then placed them into the oven for a further 10-15 minutes. You could also leave them in the pan on low heat to cook all the way through or even cook them on the BBQ. Just ensure they are cooked the whole way through before removing them from the pan or BBQ grill. You could also make the kofta balls in advance and store them in the fridge or freezer until you are ready to cook them.
Enjoy the recipe and let me know how you go with your labneh if you decide to make your own.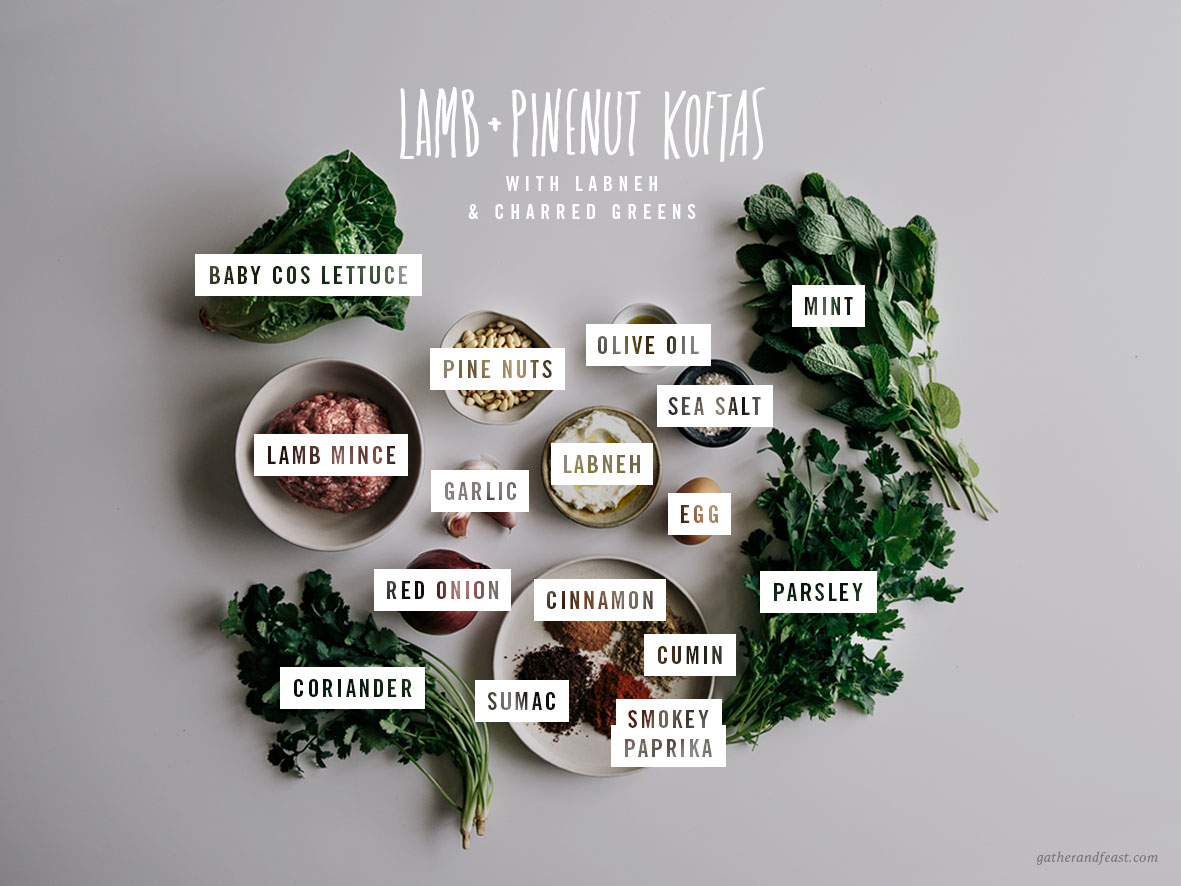 Ingredients

GF, RSF

1 hr

6
500g fresh lamb mince
½ bunch coriander, finely chopped including stalks
½ bunch parsley, finely chopped
½ small red onion, very finely chopped
2 cloves garlic, finely chopped
½ cup toasted pine nuts
1 tbs smokey paprika
1 tsp cumin
½ tsp cinnamon
1 egg
1 tsp flaked sea salt
 
1½ cups labneh (or thick greek yoghurt)
Olive oil
1 tbs sumac
Fresh mint leaves for sprinkling
 
2-3 baby cos lettuce, cut in half
Olive oil
Half a lemon
Sea salt
Method
Mix the lamb mince, red onion, garlic, coriander, parsley, egg, pine nuts, smokey paprika, cumin, cinnamon and sea salt in a large bowl to combine.
Roll the mixture into balls roughly 1½ tablespoons in size.
Place a large pan on medium heat and add a glug of olive oil.
Now add the kofta balls to the hot pan and cook until they have browned well on each side.
Remove the kofta balls from the pan, place them on a paper lined baking tray and pop them in the oven at 180 degrees celcius for about 10 minutes, then remove and set aside to rest for 5 minutes (you could leave the kofta balls in the pan to cook through but I like to just brown them in the pan then finish cooking them in the oven to ensure they don't dry out).
Using the same pan you used to brown the kofta balls, add a little glug of olive oil and a sprinkling of salt, then add the lettuce halves face down. Cook on extra high heat for about 30 seconds, then remove from the pan and place onto a serving plate.
Squeeze half a lemon over the lettuce and set aside to serve.
Place the kofta balls into a serving dish and sprinkle with fresh mint, extra pine nuts and sea salt.
Spread the labneh on a serving plate, drizzle with olive oil and sprinkle with the sumac.
Serve the kofta balls with the labneh and charred lettuce.

*This recipe is a great sharing dish and can be easily doubled to serve more people.
Free Resources
Click on the links below to print or save this recipe to your device.

Print friendly recipe PDF

Tablet friendly recipe PDF