This week's new recipe are these cinnamon sugar-rolled triple chocolate chunk cookies. And yes, they're as delicious and decadent as they sound.
These cookies are thiiiick! Crispy on the outside and gooey on the inside. If you have a sweet tooth or just love a good cookie you're going to LOVE these.
I've used a mix of dark, milk, and white chocolate in these but feel free to use all dark chocolate, or a mix of milk and dark, or your favourite.
Also, you don't need to bake all 15 cookies at once. These cookies store perfectly as cookie dough balls in the freezer, ready to bake whenever you need, even one cookie at a time! Just add an extra minute or two to the baking time.
Hope you love these and please let me know if you have any questions.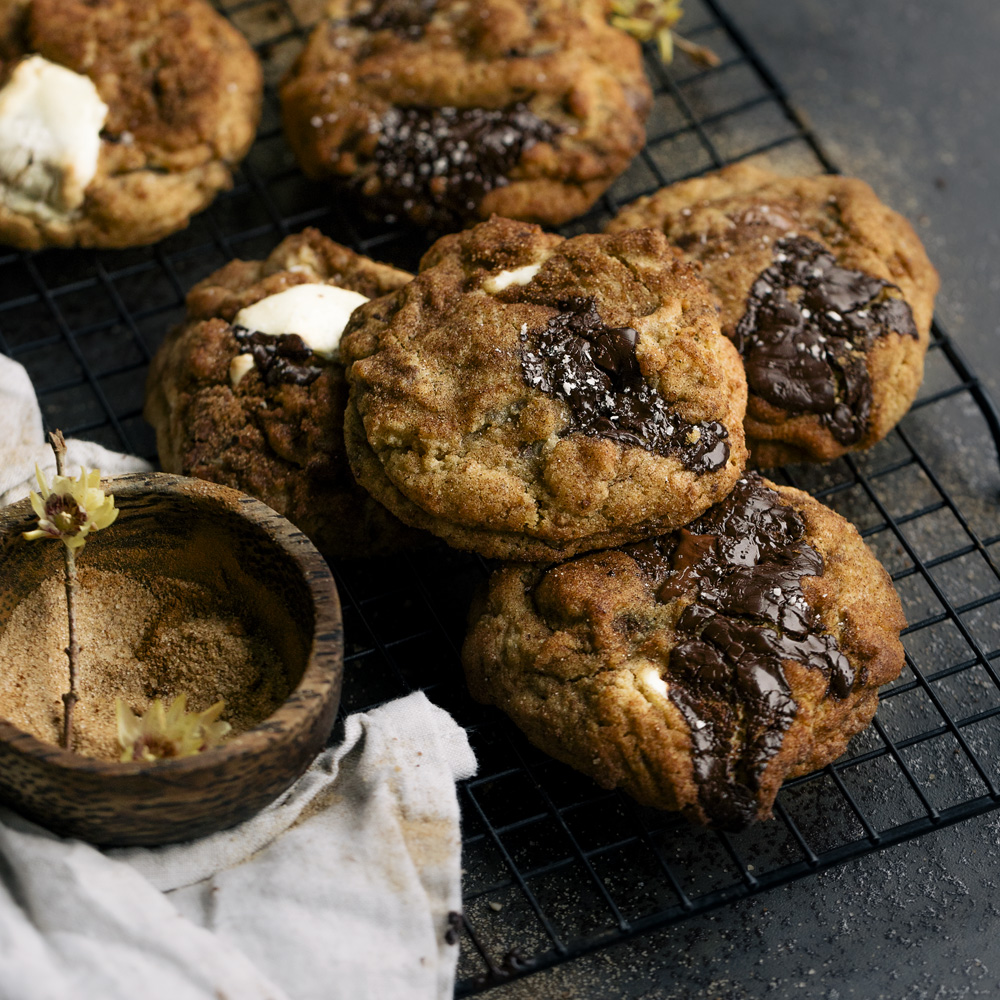 Ingredients

55 minutes + resting time

Makes 15-16 cookies
225g (1 cup) cold butter
100g (1/2 cup) raw castor sugar or castor sugar/granulated sugar
140g (3/4 cup) firmly packed brown sugar
10g (1 tablespoon) vanilla bean paste or extract
2 cold eggs
375g (3 cups) plain/all-purpose flour
12g (1 tablespoon) cornstarch
4g (1/2 teaspoon) baking soda/bi-carb soda
7g (1 teaspoon) baking powder
7g (1 teaspoon) salt
300g (roughly 2 cups) dark/bittersweet + milk + white chocolate, roughly chopped (or simply dark or milk chocolate)
 
3 tablespoons raw castor sugar or castor sugar/granulated sugar
1 1/2 teaspoons ground cinnamon
1/2 teaspoon flakey salt
Method
Using a stand mixer with the paddle attachment or hand beaters, cream the 225g butter, 100g raw castor sugar, 140g brown sugar, and 1 tablespoon vanilla until light and fluffy.
Add the 2 eggs and beat to combine.
Add the 375g plain/all-purpose flour, 1 tablespoon cornstarch, 1/2 teaspoon bi-carb soda, 1 teaspoon baking powder, 1 teaspoon salt, and 300g roughly chopped chocolate, and mix until barely combined.
In a small bowl combine the 3 tablespoons raw castor sugar, 1 1/2 teaspoons ground cinnamon, and 1/2 teaspoon flakey salt.
Roughly form the dough into large 80g balls then roll them in the cinnamon sugar.
Place the cinnamon sugar rolled balls onto a paper-lined baking tray and place them into the fridge to rest for at least 1 hour and up to 24 hours (you could also freeze them to bake on a later date).
Preheat your oven to 200°C/390°F (fan forced).
Arrange and evenly space about 5 of the rested dough balls onto a baking tray, allowing room around the dough balls to flatten while baking.
Bake at 200°C/390°F for 10 minutes. To achieve that gooey soft centre it's important not to cook the dough past the 10-minute mark.
Remove from the oven and allow the cookies to cool for 30 minutes. The cookies will continue to set as they cool. Enjoy!