Here's the ultimate weekend breakfast, made complete with these delicious fresh Aussie raspberries and blackberries. Fluffy buttermilk crispy-edged pancakes - filled with bursts of warm fresh blackberries, and topped with creamy mascarpone, fresh raspberries and blackberries, a generous drizzle of maple syrup, and sprinkled with seeds and lemon balm. Yum!
For this recipe, I was after a large surface area to add lots of toppings so I made these into wide pancakes. Feel free of course to make smaller versions if you prefer. Just note that smaller pancakes will cook a little faster, so look out for the air bubbles which will form earlier on the mixture before you flip to cook on the other side.
For special occasions or just a treat, I like to use a more indulgent mascarpone topping. Other times I'll top my pancakes with a thick natural Greek yoghurt.
I've topped the pancakes with sunflower and hemp seeds as I love their texture and always have them on hand in my pantry. You could also use pepitas, or even roughly chopped pistachios or macadamias.
This recipe also works perfectly with an egg replacer. I use 'Bob's Red Mill Egg Replacer' for those with egg allergies/intolerances. 
As always, please let me know if you make the recipe @gatherandfeast, and feel free to ask any questions. Enjoy!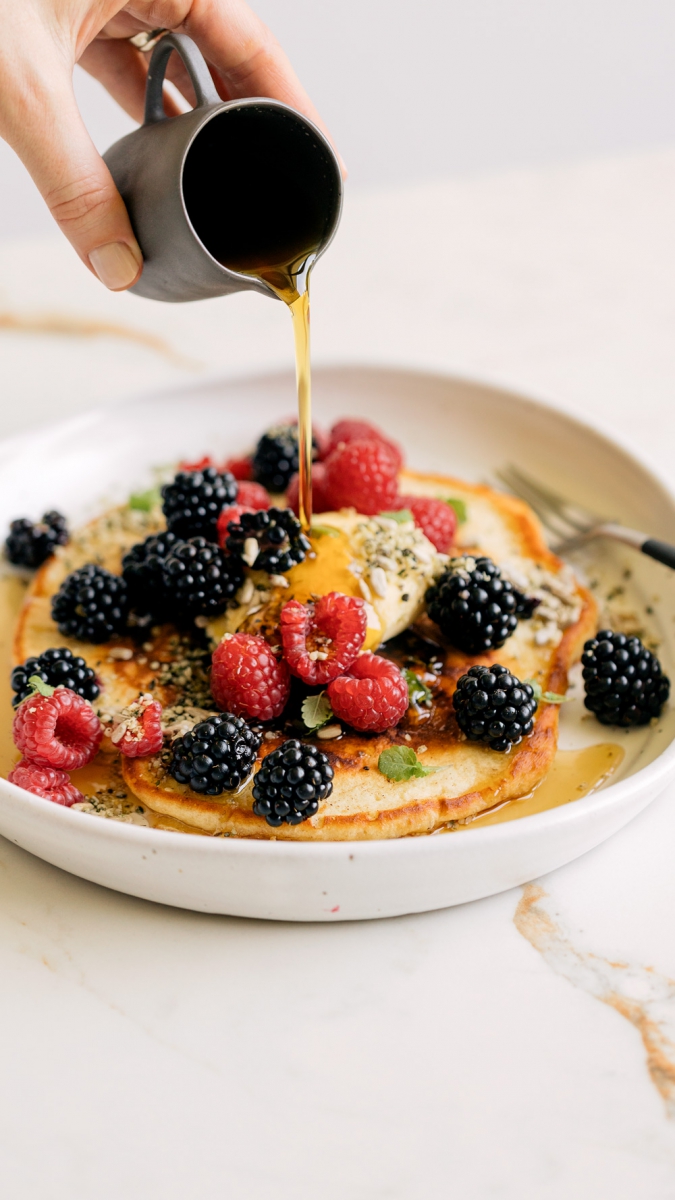 Ingredients

25 minutes - 10 minutes to prep, 15 minutes to cook

4-6
Pancakes
250g plain flour
1/2 teaspoon baking powder
1/2 teaspoon bi-carb soda
2 tablespoons raw sugar
1/2 teaspoon salt
480ml buttermilk
2 eggs
3 tablespoons butter, melted
125g fresh blackberries
Butter for frying

Toppings
4 large spoonfuls of mascarpone or thick natural yoghurt
125g fresh raspberries
125g fresh blackberries
1-2 tablespoons sunflower seeds and hemp seeds
Roughly 1⁄2 cup pure maple syrup
Micro lemon balm (optional)
Method
In a large mixing bowl add the plain flour, baking powder, bi-carb soda, raw sugar, and salt, then whisk to combine.
Make a well in the centre of the flour mixture and add the buttermilk, eggs, and melted butter.
Now whisk the eggs into the buttermilk.
Gently bring in the flour from the sides and whisk until just combined. You want the mixture to be barely combined and relatively lumpy.
Gently fold through the fresh blackberries using a spatula or large spoon.
Place a large fry pan onto medium heat, add a knob of butter, and allow to melt.
Add roughly 1 to 1 1⁄2 cups of the pancake mixture to the pan to form a large pancake.
When you see air bubbles forming on the mixture, flip the pancake over to cook the other side (this will usually take a few minutes).
Remove from the pan and repeat with the remaining mixture.
Top the pancakes with a dollop of mascarpone or thick greek yoghurt, lots of fresh raspberries and blackberries, a sprinkling of sunflower and hemp seeds, a generous drizzle of pure maple syrup, and a sprinkling of micro lemon balm leaves or fresh mint leaves.