For me, the best part about Christmas pudding is enjoying it with my Grandma's special brandy sauce. She recently passed on this treasured recipe to me and I now have the responsibility of preparing it on Christmas day (although she's not quite ready to hand over the pudding making duties yet… "one thing at a time" she said) ☺.
Now, Grandma's brandy sauce is SO good, but pretty much consists of butter, eggs, sugar and brandy... so to compliment my Quick & Healthy Christmas Pudding recipe I have created this almond milk based crème anglaise. Hello!
This crème anglaise is gluten, dairy and refined sugar free, and ideal for those with allergies or strict eating plans they continue through the Christmas period (not me! At Christmas time I'm all about that yummy brandy sauce). You could also swap the almond milk for normal dairy milk.
This smooth, silky and light crème anglaise works fabulously with my warm spiced, Quick & Healthy Christmas Pudding. Delicious!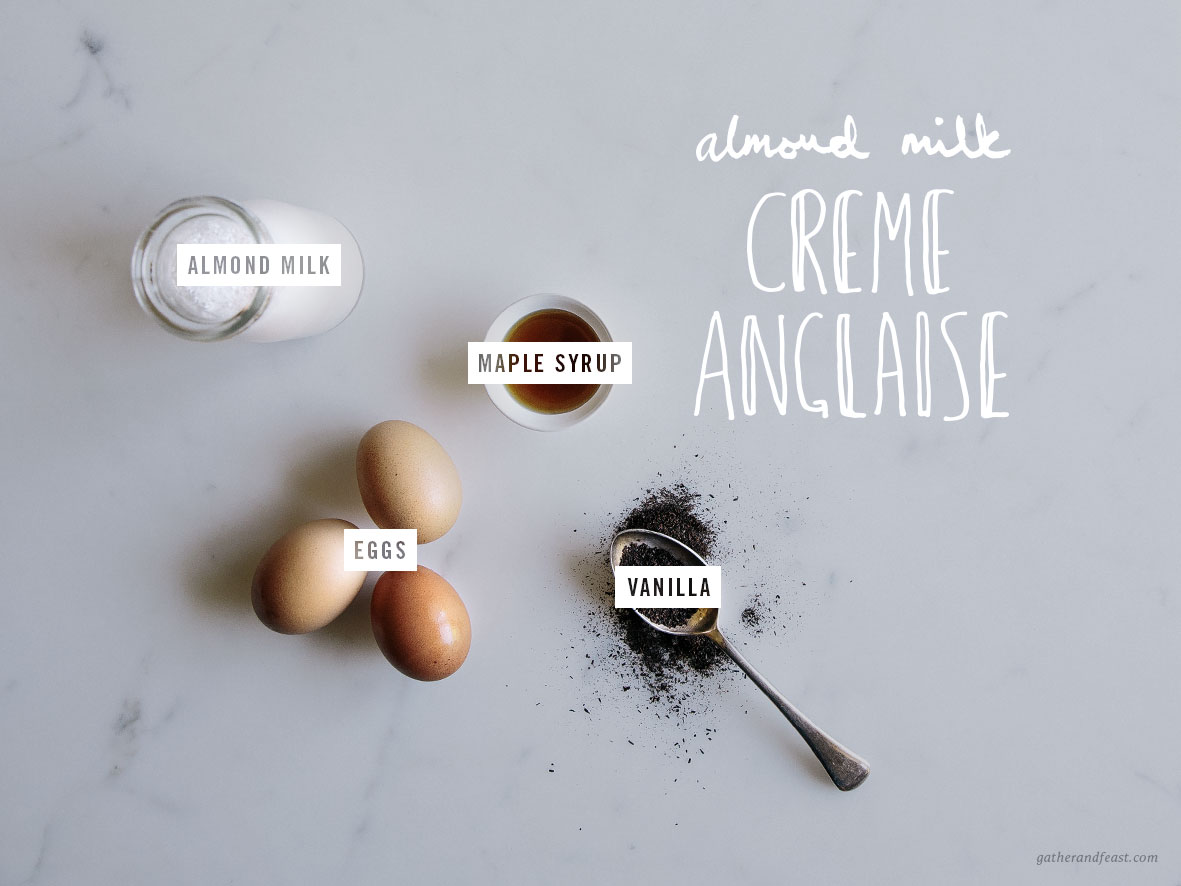 Ingredients

VEG, GF, RSF

20 mins

8 - 10
500ml unsweetened almond milk
2 eggs
2 tbs corn flour
1 tsp vanilla bean powder or paste
2 tbs maple syrup (only one tbs if your almond milk is sweetened)
2 tbs brandy (optional)
Method
Heat the almond milk with the vanilla and maple in a small saucepan, bring to boiling point and remove from the heat.
In a medium mixing bowl beat the eggs and 1 tbs of the cornflour until light and slightly aerated.
Quickly pour the hot milk over the egg mix and whisk well.
Pour the mixture back into the saucepan and cook over a gentle heat. 
Mix the extra 1 tbs of corn flour with a tsp of water and add to the milk mixture.
Continue stirring non stop with a wooden spoon until the anglaise thickens and coats the back of the spoon.
Remove from the heat and keep whisking for a few minutes to ensure the anglaise stays smooth as it cools.
Serve warm or cold. Delish!
Free Resources
Click on the links below to print or save this recipe to your device.

Print friendly recipe PDF

Tablet friendly recipe PDF