Here's a little entertaining inspiration for your next friends or family gathering. This beautiful decadent cheese board is filled with some of my favourites, creamy truffle brie on sweet anise tortas, a buttery tangy blue with roasted walnuts, and a smooth earthy mature goats cheese with spiced pear paste. Delicious!
The key to create a beautiful and also delicious cheeseboard is to choose a diverse range of cheeses. Whether you have three, five, or seven cheeses featured (best practice is to stick to odd numbers), you want to prioritise a mix of tastes and textures. A soft creamy brie or camembert or washed rind, a beautiful creamy tangy blue, a fresh or mature goat cheese, cheddar, semi-hard, etc. For an even greater visual impact choose cheeses with different shapes, colours, and sizes, and pair with interesting and in season local produce.
Below you'll find a list of the cheeses and also accompaniments I used in this scene. I've showcased some of Australia's diverse and divine cheeses that I am so lucky to have access to. Definitely spoiled for choice!
Now that I've shared my favourites, what's your 'must-have cheese' on a delicious and decadent cheeseboard?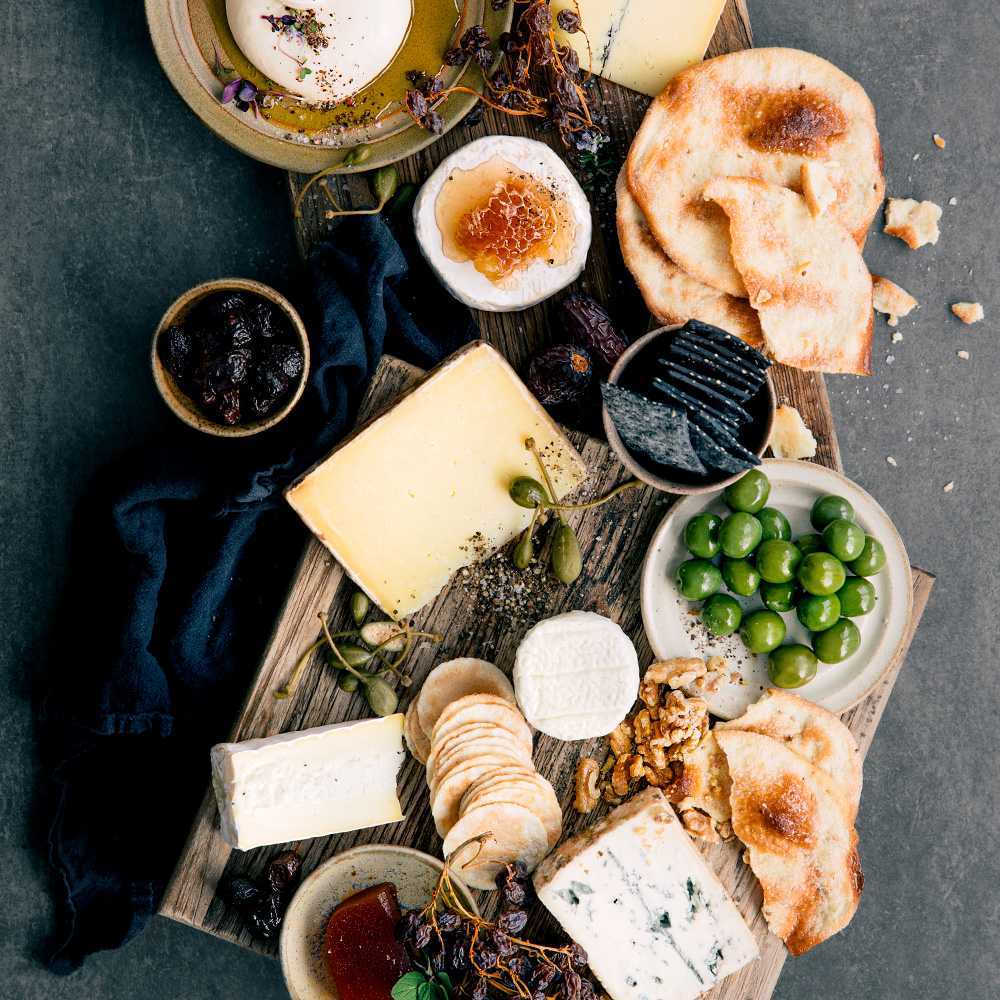 Ingredients

15 minutes

10-15
Cheeses
'That's Amore' Burrata - soft & milky. Drizzle with extra virgin olive oil & top with fresh herbs & freshly cracked black pepper.
'Section 28' Mont Priscilla - a semi-hard cheese, buttery, sweet & smooth, with a beautiful line of ash running through its centre.
'Milawa' Goats Milk Camembert - a delicious earthy camembert. Perfect with fresh honey or honeycomb.
'Bay of Fires' Cloth Cheddar - a beautiful clothbound cheddar.
'Holy Goat' La Luna Goats Cheese - tangy & peppery with a beautiful moonscape rind (one of my favourite cheeses).
'Tamar Valley' Truffle Brie - a decedent smooth creamy brie with a truffle filled centre. Need I say more!?
'Berry Creek' Riverine Blue - a creamy & fruity buffalo milk blue.

A special mention to one of my favourites that didn't make it - 'Meredith Dairy' Marinated Goats Cheese. I always have this in our fridge, perfect for salads, avo toast, pasta, etc, but also perfect on a cheeseboard.
​
Accompaniments
'Ines Rosales' Tortas with Anise - slightly sweet large round tortas
Lavosh & Wafer Crackers
Muscatels
Medjool Dates
Spiced Pear Paste (quick tip - jams also work wonderfully instead of cheese pastes - fig, dark berry, etc)
Fresh Honeycomb
Roasted Walnuts
Caper Berries
Green Sicilian Olives
Dried Kalamata Olives
Freshly Cracked Black Pepper
Method
Arrange the cheese and accompaniments onto a large serving board or platter.