Here's a delicious new recipe that's quick and easy and makes for a more substantial appetiser or snack, toasted ciabatta with buffalo mozzarella, fresh nectarine, prosciutto, and thyme.
These toasted ciabattas are best enjoyed straight after they've been made, but if you do have leftovers they can be toasted again or grilled in the oven.
If summer fruits aren't in season feel free to substitute the nectarines for thinly sliced pear. You could even lightly grill them, delicious!
Today I've used ciabatta but feel free to use focaccia, or Turkish bread would also be a good option - something light and airy with a little crunch when toasted.
I've used buffalo mozzarella and fior di latte, but you could use any fresh milky mozzarella you have available. Burrata and stracciatella are also delicious on these.
For this recipe, I partnered with the guys from Kave Home who recently sent me some of their beautiful dinnerware and also the Mareluz outdoor furniture collection featured in the video (perfect for spring/summer upon us here in Aus). For anyone interested, they have created an exclusive 15% off discount code - just use 'KAVEFEAST15' at checkout on their website.
As always, please let me know if you make the recipe @gatherandfeast, and feel free to ask any questions. Enjoy!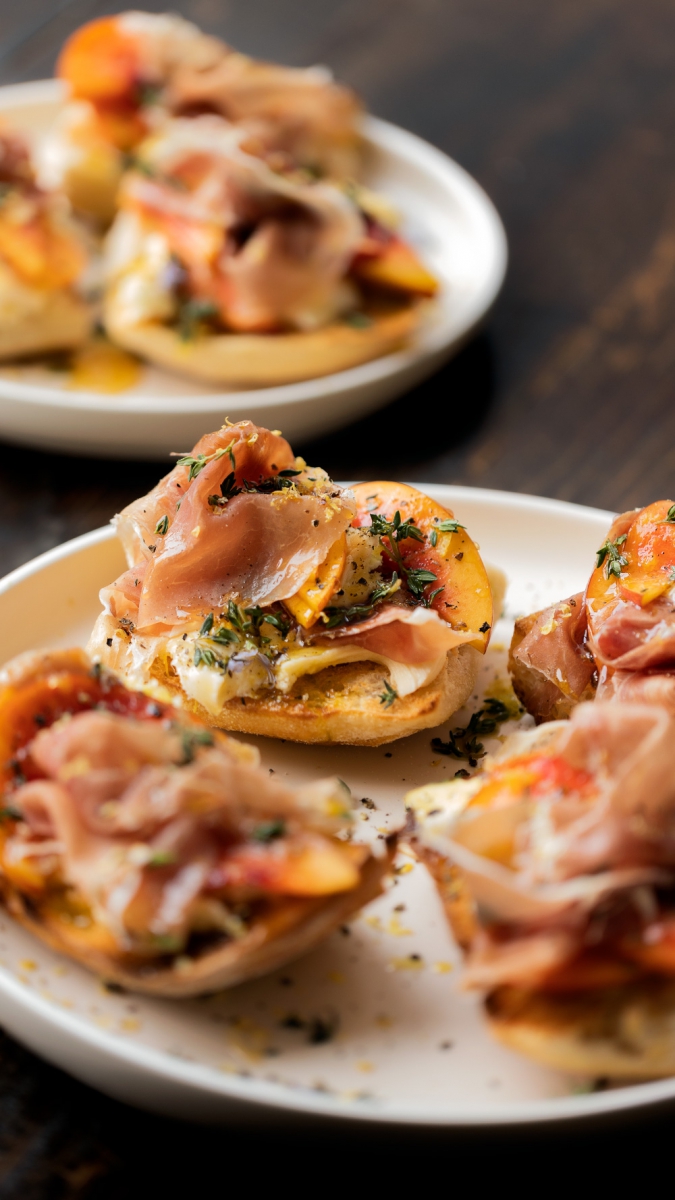 Ingredients

5 minutes prep time + 5 minutes cooking time

4-8
4 slices of ciabatta or focaccia, cut in half again to make smaller snack-sized pieces
250g (2 x 125g balls) buffalo mozzarella, fior di latte or buratta
2 ripe yellow nectarines or peaches, thinly sliced (see notes for other fruit options)
150g prosciutto, sliced paper thin
A few sprigs of fresh thyme leaves
Zest of 1 lemon
Roughly 2-3 tablespoons honey
Good quality extra virgin olive oil, for drizzling
Flakey sea salt
Freshly cracked black pepper
Method
Lightly toast the ciabatta or focaccia.
While still warm, top with freshly torn pieces of buffalo mozzarella, sliced nectarines, and prosciutto.
Sprinkle over the fresh thyme leaves and freshly grated lemon zest.
Drizzle with honey and a generous drizzle of extra virgin olive oil.
Sprinkle with flakey sea salt and freshy cracked pepper.
Serve immediately and enjoy!​​​​

Notes: You could also use rockmelon/cantaloupe in place of the nectarines. During the autumn/winter months you could substitute the fruit for thinly sliced pear.