I'm super excited about this weeks new recipe! 
It's not your typical classic apple tarte tatin. I've given it a little healthy 'Gather & Feast' makeover ☺. The pastry is made with stoneground spelt flour and gives the tart a lovely crumbly texture and flavour. It's perfect served with crème fraiche, ice cream or natural yoghurt.
Enjoy friends, and let me know how you go!
Also thanks to the guys at Falcon Enamelware for my beautiful new baking trays and serving plates featured in today's post!


Props I used in this post:
Deep Plates: Falcon Enamelware
Fry Pan: Scanpan
Bowls: Marmoset Found & Mud
Milk Jug: Bridget Bodenham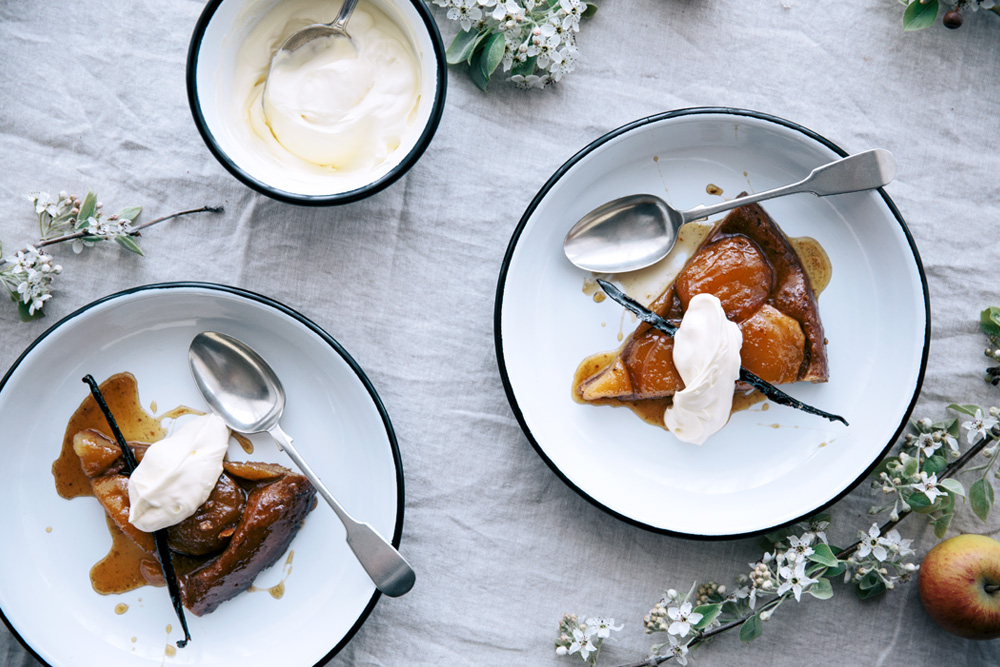 Ingredients

RSF, VEG

1 hr 15 mins

4-6
250g stone ground sifted spelt flour
3 tbs coconut sugar
Pinch sea salt flakes
1 tsp cinnamon
125g good quality butter, cold
1 egg, lightly beaten
 
8 medium sized apples ('Granny Smith' or 'Pink Lady' apples. I used 'Pink Lady')
150ml pure maple syrup
⅓ cup raw honey
60g good quality butter
2 whole vanilla beans, split & seeded
Pinch sea salt flakes 
Method
Pre­heat your oven to 180 degrees celcius.
Sift the spelt flour into a large mixing bowl and then add the coconut sugar, sea salt flakes and cinnamon.
Grate the cold butter into the flour mix.
Blend the butter into the flour mix with your fingers.
Add the egg and mix well.
Gently knead the dough until just smooth and form into a ball.
Cover the dough ball and place in the fridge to rest for about 30 minutes.
Once the dough has rested, remove from the fridge and roll into a large circle about ½ cm thick (I find it's easiest to roll the dough out onto a large piece of baking paper).
Place the rolled dough back into the fridge to rest while you prepare the apples.
Peel, core and chop the apples in half, then set aside.
Add the maple, honey, vanilla beans and butter into a heavy based oven proof frying pan.
Simmer the maple mixture until the butter has melted, and then for a further 5 minutes.
Place the apples into the maple mix and simmer for a further 10 - 15 minutes, then remove from the heat.
Remove the rolled dough from the fridge and place over the warm apple mix, pressing the edges of the dough down and around the apples.
Place the pan into the pre­heated oven for 30 minutes.
Remove from the oven and let sit for 5 minutes.
Turn out the tart onto a serving plate (be careful as the syrup will be very hot).
Serve with crème fraiche, ice cream or natural yoghurt. Enjoy!
Free Resources
Click on the links below to print or save this recipe to your device.

Print friendly recipe PDF

Tablet friendly recipe PDF