I just love fresh mexican food! Avocado, smokey paprika, coriander, chili, beans… so many great flavours! This week's new recipe is my take on the famous fish taco. It's super easy to prepare, really delish and makes the perfect sharing meal when entertaining friends. Simply place all the ingredients in the middle of the table and have your guests create their own taco creations. Easy and a bit of fun!
I like to bake my fish in the oven as Mike doesn't like the smell of fish cooking in a pan (I mean who really does like fishy smells?). This makes the process even easier; to cook and wash up! Total win/win!
In other news, our new house is really coming along now and we should be moving in in a few weeks! Which means a brand new kitchen! Woo! Follow along on Snapchat for some behind the scenes fun @gatherandfeast).
Enjoy the recipe!

Props I used in this post:
Serving Plates: Bridget Bodenham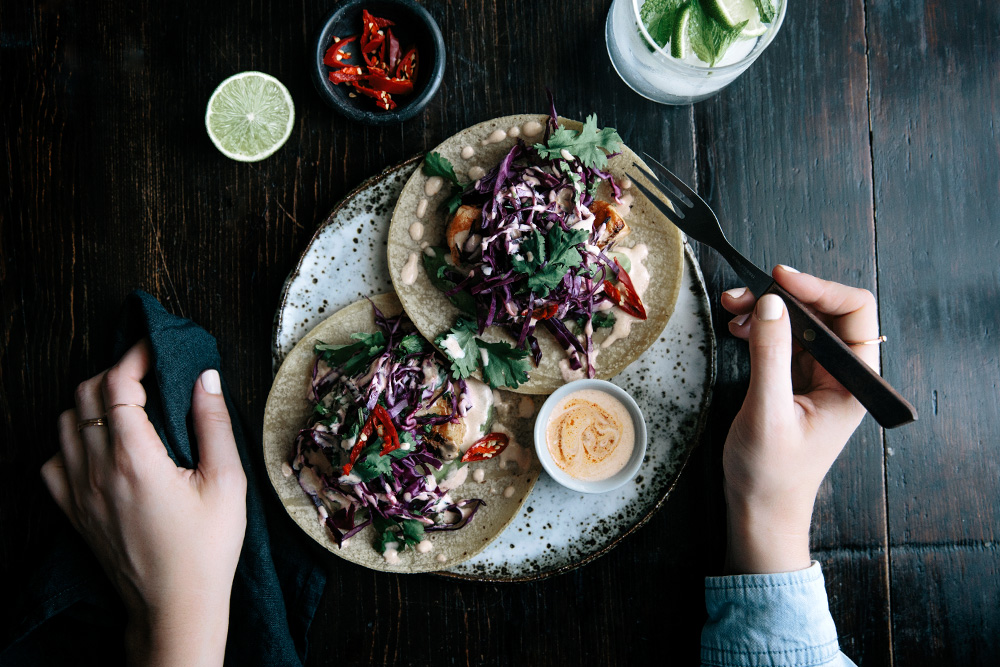 Ingredients

GF, RSF

45 mins

4-6
12 x 100% corn tacos (I used 'La Tortilleria')
800g fresh fish (I love to use salmon but feel free to use your favourite fish)
3 tbs smokey paprika
½ red cabbage
1 large bunch coriander, finely chopped
1-2 avocados
3 large lemons
½ cup good quality mayonnaise 
1 tsp - 1 tbs chipotle chili - depending on how spicy you like it (I use marinated chipotle chili)
Olive oil
Sea salt
Method
Place your fish fillets into a large bowl or dish, sprinkle with smokey paprika, a generous drizzle of olive oil and a large pinch of sea salt. Mix thoroughly to coat the fish. 
Place the coated fish into a paper lined baking tray and bake at 180 degrees for 20-30 minutes depending on the thickness and type of fish. For salmon fillets, I would cook mine for about 20 minutes as I like a medium cooked fish (I like to use an oven as I find it's easier and also Mike doesn't like the smell of fish cooking in a pan ☺). While the fish is cooking it's time to prepare the salad.
Finely slice the red cabbage and add to a large mixing bowl. Next add the coriander, juice of 1 lemon, about 2 tbs olive oil and a pinch of sea salt. Mix to combine and set aside.
Heat your tacos according to packet instructions.
Mix together the mayonnaise, juice of 2 lemons, chipotle and a pinch of sea salt until smooth and set aside.
Slice your avocados and set aside.
Now once the fish is cooked we are ready to assemble. 
Place some fish onto each taco, followed by a couple of slices of avocado, some salad and a drizzle of the chipotle mayonnaise. You could also add some fresh chili if you like it hot. Alternatively you can place all ingredients on the table and let guests/family create their own tacos. Enjoy!
Free Resources
Click on the links below to print or save this recipe to your device.

Print friendly recipe PDF