This week's new recipe is this delicious Nectarine & Roasted Walnut Salad. It's fresh and light, full of flavour and texture, and super easy to throw together. The perfect salad for entertaining this holiday season.
I love to use goats cheese in this salad but feel free to use a feta or fresh soft mozzarella if you prefer. You can also easily make the salad vegan by using a vegan cheese substitute. Peaches or fresh mango would also make a delicious substitute for the nectarine, and if summer fruits aren't in season where you are you could also use apples, pears, or figs instead.
I like to toast up a batch of the walnuts and store them in a jar in the fridge, ready for a salad like this. The salad then becomes even quicker to throw together on the day. The walnuts will store in an airtight jar in the fridge for a few weeks.
I personally don't pre-mix a dressing. I simply drizzle with a little extra virgin olive oil, some thick balsamic, and a sprinkle of pepper right before serving. It's easy and looks pretty in contrast with the other colours and textures in the salad.
Hope you all enjoy! x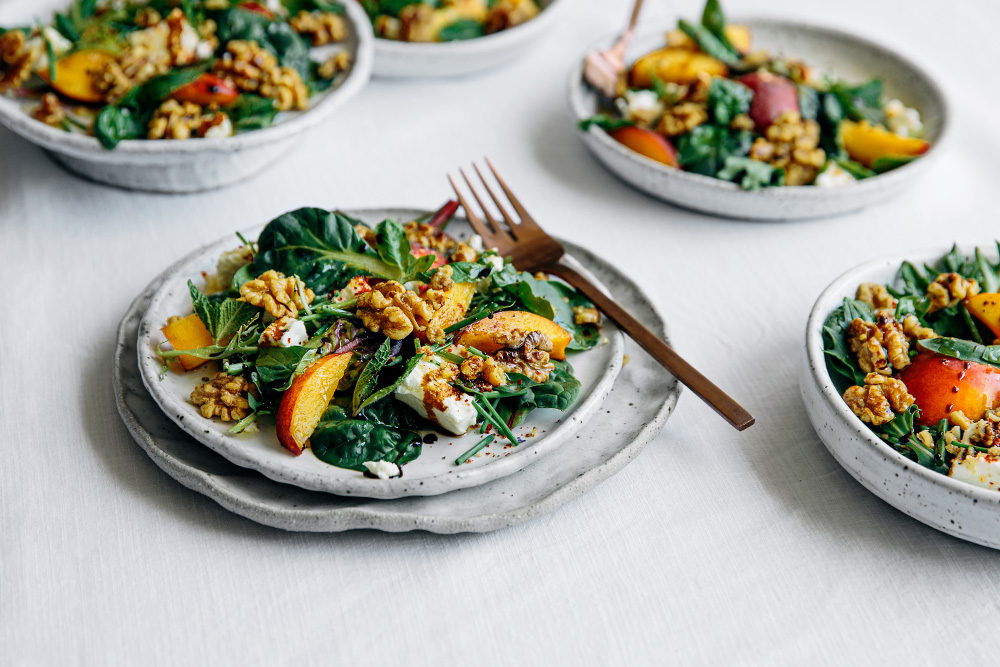 Ingredients

GF, RSF, VEG

20 minutes

6-8
¾ cup walnuts
4 large handfuls of mixed lettuce leaves
1 small bunch fresh basil leaves
1 small bunch fresh mint leaves
1 small bunch fresh chives, roughly chopped
6 fresh nectarines, pitted & sliced into eighths
120g goats cheese - you could also use feta cheese or fresh mozzarella Aleppo pepper flakes or chili flakes
Extra virgin olive oil
Balsamic vinegar
Sea salt
Freshly cracked black pepper
Method
Place a fry pan onto medium heat, add the walnuts, a little drizzle of olive oil, a sprinkle of sea salt, and toast until golden, stirring regularly so they don't burn.
Remove the walnuts from the heat and set aside to cool.
In a large serving bowl, add the lettuce leaves, basil, mint, and chives, then toss to combine. NOTE: Keep aside some small basil and mint leaves to garnish the top of the salad.
Arrange the nectarines on top and crumble the goats cheese.
Sprinkle over half of the toasted walnuts.
Roughly chop the remaining walnuts and sprinkle over the top along with the small basil and mint leaves.
Just before serving drizzle with extra virgin olive oil and balsamic vinegar.
Sprinkle with Aleppo pepper or chili flakes and some freshly cracked pepper.
Serve immediately and enjoy!