It's that time of the year again... New Year's health and fitness resolutions! I've just started a mini detox after the Christmas 'silly' season and now I'm back into my normal fitness routine ready for the new year. Go me! ☺ It's also peak time for green smoothies, emerging in full force on all our social feeds! ☺
I thought I'd kick off this New Year with a healthy new smoothie recipe! This blend is now one of my favourites and to quote my husband "I just want to keep drinking it". Yep, it's pretty good!
The smoothie recipe is great as is, but I also love to turn it into a smoothie bowl. Smoothie bowls are perfect for those mornings when your appetite calls for something a little more filling. I like to top mine with my favourite muesli or granola and a heap of fresh fruit. A little more interesting and satisfying (especially for hungry husbands). 
Smoothie bowls are also a great idea when breakfast entertaining. Simply set up a fresh fruit and granola bar and people can create their own smoothie bowls. Super easy and a bit of fun!
Enjoy the recipe and have the most wonderful New Year celebrations everyone! I can't wait to see all the exciting things that 2016 has in store.
Much love,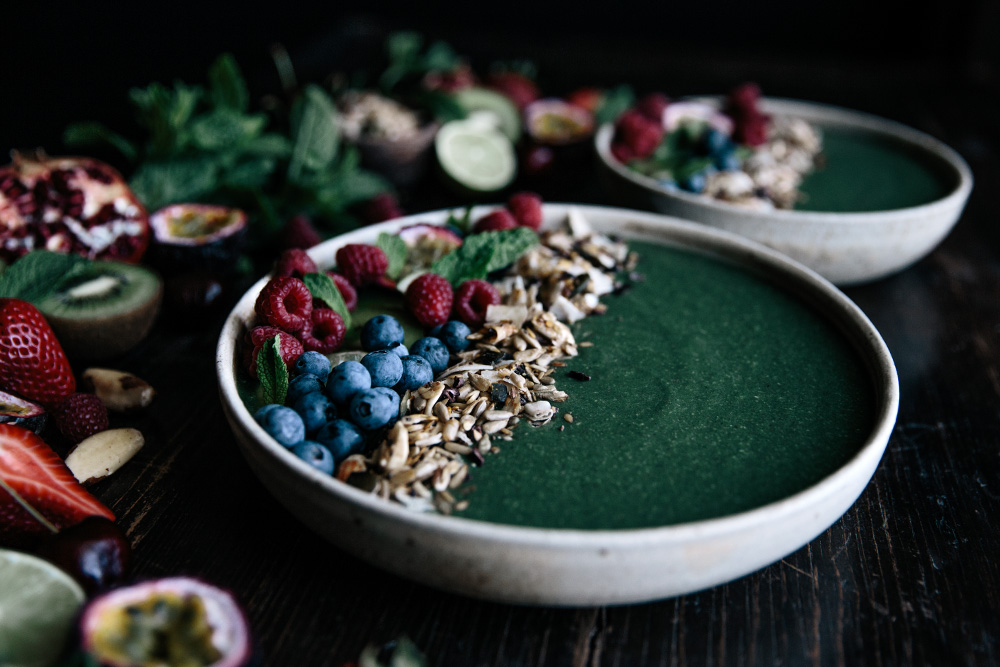 Ingredients

GF, RSF, VGN

5 mins

2 (or 1 large smoothie)
2 cups baby spinach
1 large frozen banana
½ lebanese cucumber, roughly chopped
1 medjool date (stone removed)
5 brazil nuts (you could also use a tbs of nut butter instead)
2 tbs coconut paste* (or you could use flaked or shredded coconut)
1 tsp spirulina powder
¼ tsp vanilla powder
½ cup almond milk
¾ cup water
½ cup ice

Smoothie bowl toppings (optional): Fresh raspberries, passionfruit, kiwifruit, blueberries and a muesli or granola of your choice (I used Loving Earth's paleo mix)
*Coconut paste can be found in most health food stores or even the health food aisle in your supermarket. I use Loving Earth's coconut paste.  
Method
Add all the smoothie ingredients into a blender and blend until very smooth.
Pour into a bowl, sprinkle over your favourite toppings, and enjoy!

You could also add a little extra water and enjoy it as an ice cold smoothie.
Free Resources
Click on the links below to print or save this recipe to your device.

Print friendly recipe PDF

Tablet friendly recipe PDF