Light, fresh and seriously yum, this pasta dish is a family favourite and was one of the first meals I ever cooked for my husband Mike when we first started dating. "Does this pasta have any meat in it?" I recall him asking, implying he was probably not going to be a fan of this strange vegetarian pasta dish. "No, no meat, but I think you'll still like it". Now, ten years later it's still one of his favourite meals! Go figure.
My mum is gluten intolerant, so I grew up on all kinds of gluten free products and have tried and tested many gluten-free pasta brands in my time. Even now after leaving home I still like to use this gluten-free pasta as I sometimes find it's not as heavy as a normal durum wheat pasta. I use the brand 'San Remo' here in Australia. I find it keeps its shape and texture more than other gluten-free brands I have tried, and believe me, I have tried many in my time, resulting in pasta dishes that were more like a plate of mush with bits in it! Mmm delicious. Of course feel free to use a normal durum wheat spaghetti in place of the gluten-free if you prefer.
Enjoy!

Props I used in this post:
Serving Bowl: Sophie Harle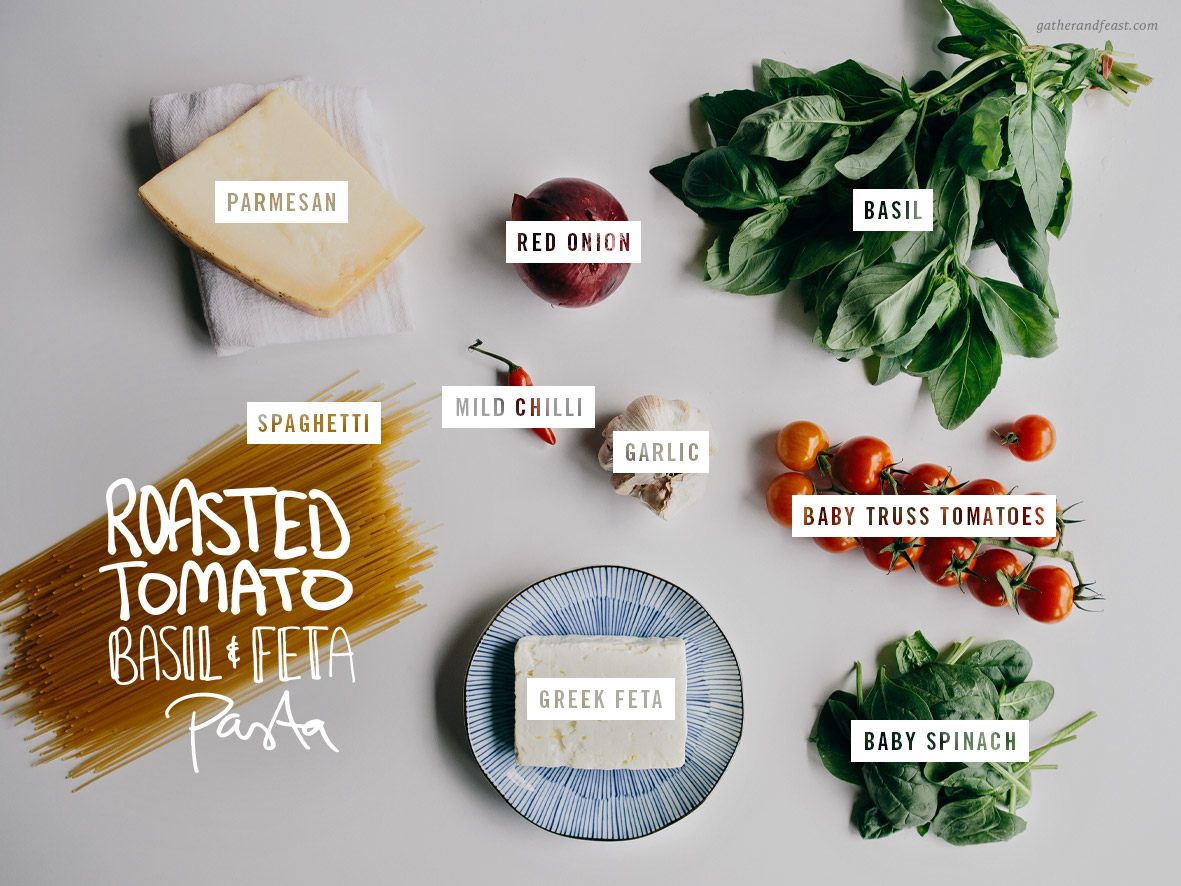 Ingredients

GF, VEG

40 mins

4
12-15 baby truss tomatoes
250g packet gluten free spaghetti 
(in Australia I use 'San Remo')
1 large bunch fresh basil, chopped
250g greek feta, crumbled
2 cloves garlic, finely chopped 
1 red onion, finely diced
1 small mild chilli
2 large handfuls fresh baby spinach
A small chunk parmesan
Olive oil
Sea salt
Freshly cracked pepper 
Method
Pre-heat your oven to 180 degrees celcius.
Place the truss of tomatoes onto a baking tray and drizzle with olive oil and a sprinkling of salt and pepper.
Next place the tomatoes in the oven for 20-30 minutes until the tomato skin starts to blister and look soft.
When ready take the tomatoes out of the oven to cool and remove each truss, ready for placing into the pasta.
Next place a large pot of water on to boil.
Once the water is boiling rapidly, add the pasta (I like to cook mine for about a minute less than the packet suggests, to ensure it keeps its shape and texture).
Drain the pasta and drizzle some olive oil through.
While the pasta is cooking, sauté the red onion and chilli in olive oil on low heat.
Then add the garlic and a sprinkling of salt.
Once the onion, chilli and garlic are soft, add the baby spinach and wilt, then add feta and basil.
Stir this mix through the cooked pasta and then add the truss tomatoes and freshly shaved parmesan.
Serve into bowls and add freshly cracked pepper and salt. 
Free Resources
Click on the links below to print or save this recipe to your device.

Print friendly recipe PDF

Tablet friendly recipe PDF